Fidelity, founded in 1946, has been a landing spot for self-directed investors for decades. The firm manages over two trillion and is the largest retirement provider in the nation. However, Fidelity is new to the robo-advisor arena, having launched its offering in August 2016.  
A robo-advisor is an automated investment advisory service that builds and manages diversified portfolios using a computer algorithm in place of a human, alongside low-cost ETFs. Although portfolio management is automated, you can call Fidelity and speak with a representative if you have a customer service question.
Investment Approach
Fidelity Go takes a unique approach on its investment philosophy. It has crafted portfolios built by a team from Geode Capital Management and Strategic Advisors. Geode is not new to Fidelity. Geode acts as a sub-advisor on a host of Fidelity's funds and brings a similar management style to the existing managed account team.
Also, just because you are using a Fidelity product doesn't mean all of these funds are Fidelity funds. Fidelity has its own funds, but it also uses iShares for Fidelity Go – which are a family of ETFs managed by BlackRock.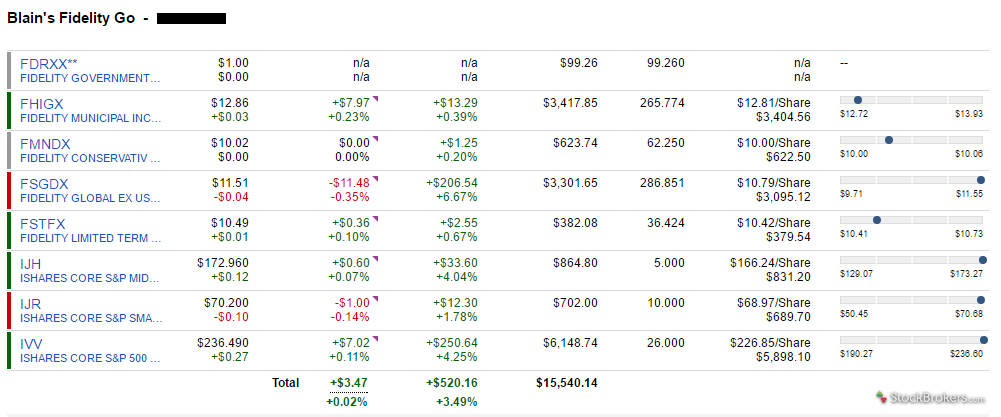 Through iShares, BlackRock tracks a bond or stock market index. The point is, your return is meant to mimic the market without the costs incurred by paying active management fees. According to fund-tracker Morningstar Inc., 81% of BlackRock's core ETFs have outperformed mutual funds.
Cost
Fidelity Go charges an all-in fee of 0.35% (up to 0.40% for taxable accounts), which includes its advisory fee and fund expense ratio charges.
One confusing aspect of Fidelity Go's pricing is how the website explains it on its FAQ section. Fidelity Go charges an advisory fee of .35%, and the underlying average expense ratio is about .10% – making the total fee .45%. But the reason the fee is only .35% is because Fidelity offers a "variable fee credit" – which means Fidelity gives clients a credit and the total cost is .35%.
Fortunately, Fidelity made significant enhancements to the representation of these fees in 2017, and clients will find a much cleaner breakdown of costs during the onboarding experience.
| View All Fees | Fidelity Go | Wealthfront | Betterment | Schwab Intelligent Portfolios | TD Ameritrade Essential Portfolios |
| --- | --- | --- | --- | --- | --- |
| Total AuM | NA | $10 Billion | $11.8 Billion | $30.6 Billion | $1.7 Billion |
| Minimum Deposit | $5,000.00 | $500.00 | $0.00 | $5,000.00 | $5,000.00 |
| Annual Fee - $5,000 | 0.35% | 0.25% | 0.25% | 0.00% | 0.30% |
| Annual Fee - $25,000 | 0.35% | 0.25% | 0.25% | 0.00% | 0.30% |
| Annual Fee - $50,000 | 0.35% | 0.25% | 0.25% | 0.00% | 0.30% |
| Annual Fee - $100,000 | 0.35% | 0.25% | 0.25% | 0.00% | 0.30% |
| Annual Fee - $1,000,000 | 0.35% | 0.25% | 0.25% | 0.00% | 0.30% |
| Cost | | | | | |
Fidelity Go requires a $5,000 minimum deposit, and an investor with $5,000 at Fidelity Go will pay the same 0.35% as an investor with $200,000. One way to translate this annual fee: a Fidelity Go customer pays $1.46 per year per every $5,000 invested. For instance, an investor with $5,000 pays $17.50 a year (0.35 x 5,000) – or about the cost of a large pizza. An investor with $50,000 pays $175 for the year (0.35 x 50,000), and an investor with $100,000 pays $350 a year (0.35 x 100,000), akin to the price of dinner in Manhattan and a Broadway play.
Those fees are much smaller than the average fees of registered investment advisors, who on average charge 1.4% for clients with $100,000 according to Cerulli Associates, a firm that tracks the financial services industry. A client with $100,000 would pay $1,400 per year with an advisor, while a Fidelity Go customer with the same assets would pay only $350 per year.
Tools
During registration, you can use your current Fidelity brokerage credentials to speed things along. Being a current client, I appreciated this focus on simplicity.
One of my favorite aspects of Fidelity Go is the sign-up process. The company recommends a portfolio for you and then you can send it to yourself in an email. It's really quite helpful, because you can review it later or even show it to your spouse. Also during registration, you can use your current Fidelity brokerage credentials to speed things along. Being a Fidelity brokerage client, I appreciated this focus on simplicity.
Once your account is established, it is immediately viewable alongside your other Fidelity brokerage accounts. For current Fidelity clients, this is a nice benefit that keeps the Fidelity Go experience seamless. Furthermore, even if you are not already a Fidelity brokerage client, you can still utilize all of Fidelity's research tools; yet another benefit of having the entire experience under the same roof.
Fidelity brokerage benefits aside, when you click to view your Fidelity Go account details, you are taken to a customized overview page showing your current portfolio balance, goal status, portfolio value over time, return, current allocation, and holdings details.
The layout is a minimalistic design, which was clean, however it left me wanting more. Much more.
Considering Fidelity is a retirement services leader in the United States, I expected a more polished and feature-rich experience.
The "Balance over time" chart was awkward in its design as your initial deposit initiates a spike in the chart and then almost flatlines from there as any return cannot offset that large initial uptick. Until you have enough data to smooth this out, say six to 12 months at least, it isn't that useful. Instead, I recommend viewing the "Future" view.
Further down the page, the portfolio allocation pie chart is helpful but the holdings listing is excessively large. For ongoing portfolio monitoring, I stuck to the Fidelity brokerage area.
Lastly, the goals functionality is very basic. You simply type in your goal of how much money you want to have for retirement, save, and then it tells you if you are on or off track. In my case, my goal of $2,000,000 left me with a "Target Not Likely".
To make matters worse, beyond several simple paragraphs of text, there was no educational content or tools to help me make a more accurate estimation of what my goal should be or what I should change to reach it. At the least, the goal tracker should be able to tell me if I should save an additional $x to increase the likelihood of reaching my goal.
For more advanced retirement projections, clients can use Fidelity's full retirement calculator, which runs several hundred simulations to calculate your Fidelity Retirement Score (RTS). The tool is clean and easy to use, although it isn't as sophisticated as Betterment and Wealthfront, which both provide a more quality experience. Surprisingly, the tool cannot be found inside the central Fidelity Go experience, and I imagine most Fidelity Go clients are not even aware of its existence.
Overall, considering Fidelity is a retirement services leader in the United States, I expected a more polished and feature-rich experience. The foundation and basics are there, but Fidelity Go will need to improve over the course of 2018 if it wants to challenge industry leaders.
Other Notes
Fidelity Go doesn't offer tax loss harvesting, which several of its competitors offer. Tax loss harvesting is a service that "harvests" — or sells — losing investments to offset the gains from winning investments, and can minimize capital gains taxes. This service is only useful on taxable accounts, because retirement accounts either defer taxes until retirement, as with a traditional IRA, or offer tax-free growth (Roth IRA).
Final Thoughts
The foundation the company has laid for robo-advisor Fidelity Go is strong; however, it has room to improve.
Fidelity is a highly respected and trusted brand that has been offering brokerage services since 1946. The foundation the company has laid for robo-advisor Fidelity Go is strong; however, it has room to improve, especially with the goal-tracking experience.
That said, the best part of Fidelity Go is gaining access to all of Fidelity's services and managing multiple accounts. Knowing that your assets are being held at the nation's largest retirement provider at such a discounted price is compelling, to say the least.
Related Guides
Methodology
To find the best robo-advisors we assessed, rated, and ranked eight different firms. Instead of relying on website information and marketing materials as most editorials do, we opened and funded an account with each robo-advisor to acquire a true client experience.
Reink Media Group (RMG) remains committed to providing transparent and unbiased reviews of various financial services and segments, including Robo-Investment Advisors ("RIA's"). Although exempt from registration as an investment advisor under the Investment Advisors Act of 1940, 15 U.S.C. §80b-1, et seq, RMG works tirelessly to ensure compliance with all applicable Security and Exchange Commission rules and regulations for entities which perform reviews and/or receive payments for advertising and solicitation. Please be advised that for purposes to this Review, RMG utilized a live account with actual funding which was later closed once the Review's test period was complete.
---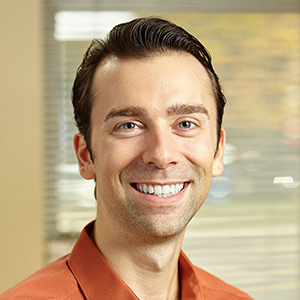 Reviewed by Blain Reinkensmeyer Blain heads research at StockBrokers.com and developed the site's annual review format, which broker executives consider the most thorough in the industry. He has placed over 1,000 stock, options, forex, and crypto trades since 2001.
---
Ratings Overall
*Fidelity Go was not included in the latest annual review, as a result this data may not be up to date.
Summary
Cost
Investment Approach
Platforms & Tools
Compare Fidelity Go
Find out how Fidelity Go stacks up against other brokers.