Charles Schwab Review
February 16th, 2016: This Review has been updated to reflect the latest research and results from the 2016 Review.
The iconic brand of Charles Schwab is one with which nearly every investor is familiar. The full-service broker was founded in 1973, and as early 2016, Schwab was home to a staggering $2.51 trillion in total client assets. From advisory services to research, active trading, customer service, ease of use, and more, Schwab understands what it means to provide a high-quality offering.
Trade Source, a brand-new client dashboard experience that began rolling out to all clients in early 2015, is a terrific foundation for offering clients a full view of their portfolios. With Trade Source, clients can see a clean summary of their portfolios, positions, overall market averages, order status updates, and even news alongside technical events impacting their holdings. The new experience came out of Charles Schwab's client testing area, Test Drive, so it was molded with client feedback from start to finish.
At the time of publishing our 2015 annual review in February last year, one of our goals was to see Trade Source add real-time streaming data. Not only were real-time streaming quotes integrated, but so too were Markets and Ideas areas for market news and trade idea generation. The icing on the cake is the All-In-One Trade Ticket (an optionsXpress innovation) brought seamlessly into the experience. Our only gripe with Trade Source is not being able to customize the different modules by enabling /disabling them and changing their locations.
Commissions & Fees
Whether trading stocks or options, Charles Schwab is right in line with its closest full-service competitors. Its $8.95 flat-rate stock trades are less expensive than both ETRADE and TD Ameritrade ($9.99), while slightly more expensive than Fidelity ($7.95) and Scottrade ($7). The same goes for option trades, which run at $8.95, plus $.75 per contract.
Investors trading ETFs will also enjoy Charles Schwab as the leading broker in its offering of commission-free ETFs, with 214 in total. Mutual funds are a low point, as transaction fee funds come with a $76 per-trade charge (per buy, $0 to sell), the second highest in the industry.
| | Charles Schwab | E*TRADE | Fidelity | TD Ameritrade | Scottrade |
| --- | --- | --- | --- | --- | --- |
| Stock Trade Fee (flat) | $8.95 | $9.99 | $7.95 | $9.99 | $7.00 |
| Options Base Fee | $8.95 | $9.99 | $7.95 | $9.99 | $7.00 |
| Options Per Contract Fee | $0.75 | $0.75 | $0.75 | $0.75 | $0.70 |
| Mutual Fund Trade Fee | $76.00 | $19.99 | $49.95 | $49.99 | $17.00 |
| Commission Free ETFs | 229 | 118 | 91 | 101 | 0 |
| Commissions & Fees | | | | | |
| Overall | | | | | |
Customer Service
Offering 24/7 support, Charles Schwab delivers a consistent and often memorable experience. I will never forget originally opening my Schwab account, when, within an hour of completing the application, a Schwab representative called me to personally welcome me as a new client and answer any initial questions I had. Most recently, during our testing for the 2016 Broker Review, Schwab once again impressed us with its courteous and knowledgeable representatives.
When it comes to service, I expect that from Schwab. Being a full-service brokerage, I want to feel confident trusting them with my nest egg and knowing there is always someone ready to assist me or offer guidance. Competitors TD Ameritrade, Merrill Edge Scottrade, and Fidelity give Schwab a run for its money, as they, too, are very consistent.
If there is one major con I found with Charles Schwab's service, it's with email support. Year after year our testing has found it to be extremely inconsistent and surprisingly bad. Over half of our inquiries took over a day to receive a response, and in multiple occasions reps would simply not answer our questions, or answer poorly, and tell us to call in. As the hands-down worst experience out of the full-service brokerages, we highly recommend avoiding email service in favor of phone or live chat. See: Best Brokers for Customer Service.
Research
Charles Schwab provides the highest quality of research compared to any of the brokers I've tested here at StockBrokers.com. Accessing a wealth of independent research alongside Schwab's own in-house research is simple. When I pull up a quote for Apple (AAPL), the summary page has a similar feel to competitors TD Ameritrade, ETRADE, and Fidelity; however, Schwab is the only broker to offer its own in-house Equity Rating.
With so much research available for traders today, I appreciate the fact that Schwab puts its own viewpoint front and center whenever possible. This is where Schwab really distinguishes itself, as none of its competitors offers such unique depth. What is even more impressive is the staff of experts Schwab has on board providing market commentary and analysis (25 as I write this review). To be able to see experts such as Liz Ann Sonders, Schwab's Chief Investment Strategist, interviewed on Bloomberg TV and thereafter to be able to read her latest editorial on the Schwab site is pretty awesome.
The standard charting functionality is basic yet well built, as small details are not overlooked. Whichever settings you apply to one chart are automatically saved as the default, so every time a fresh chart is loaded, you do not have to spend time re-configuring it to your liking. Schwab offers 34 different indicators that can be added which are more than enough for the average investor. I really enjoyed having the ability to easily view historical charts dating as far back as 1980.
Platforms & Tools
Charles Schwab currently offers clients access to two different platforms: StreetSmart.com (web-based) and StreetSmart Edge (desktop-based). Like TD Ameritrade, both StreetSmart platforms are available to all clients, regardless of account minimums or trade activity.
StreetSmart.com is a browser-based platform recommended for clients looking for more out-of-the-box functionality and less advanced features. Real-time streaming watch lists, alerts, conditional orders, and slightly more advanced charting functionality make up the bulk of this platform's offering. What I enjoyed most was the platform's ease of use. That said, StreetSmart.com is noticeably outdated and I found myself preferring Trade Source instead.
One other important caveat to note regarding StreetSmart.com is that it runs on Java, a programming language that has lost favor in today's modern web environment. Google Chrome and Microsoft's new Edge browser no longer support Java, which means customers who want to access StreetSmart.com have to use Mozilla Firefox, legacy Internet Explorer, or Safari (Mac).
Charles Schwab's desktop-based platform, StreetSmart Edge, is a very robust platform that requires a slight learning curve, as all active trader platforms do, to become acquainted with it. Everything is fully customizable, from two different platform color schemes to custom layouts, which can be built on the fly for quick access to different screens.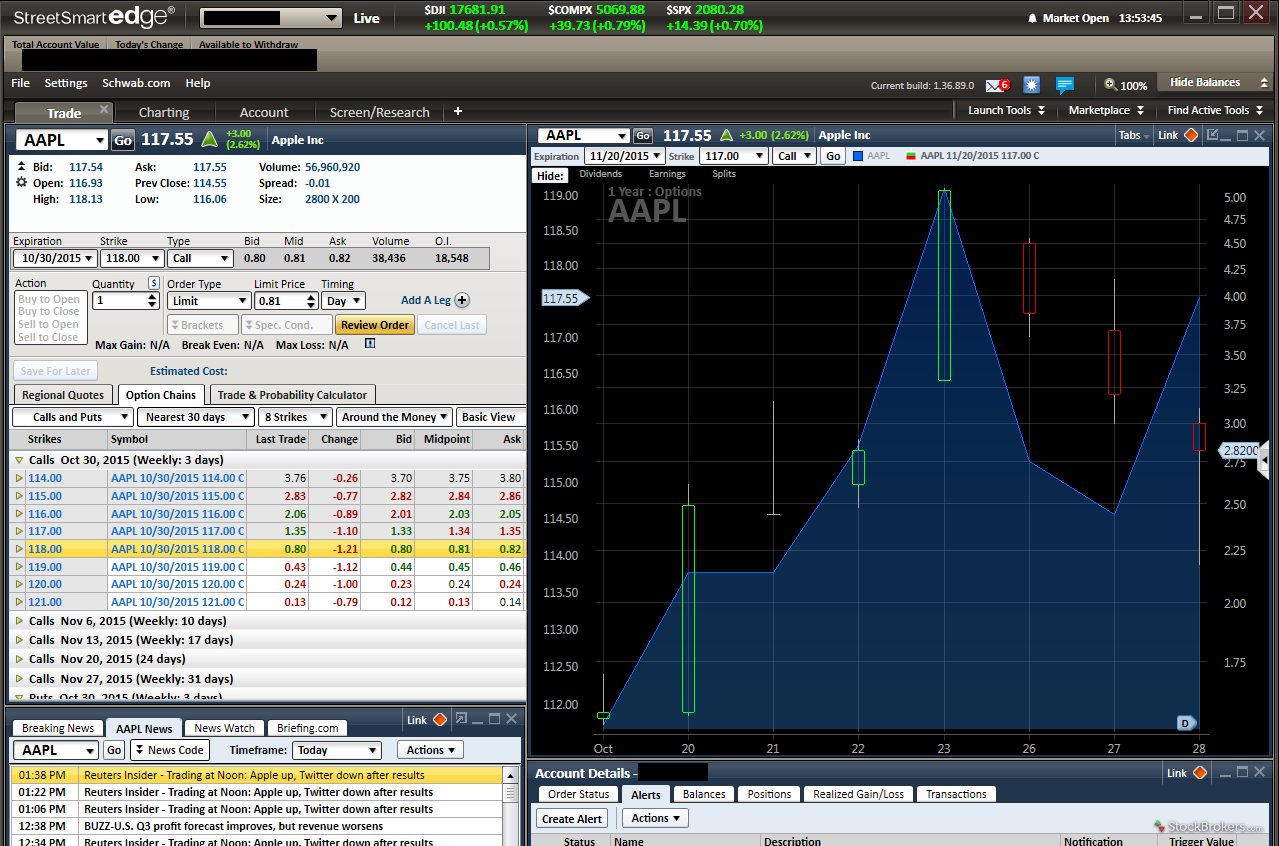 Some of the features that stood out during my testing of StreetSmart Edge included the High/Low streamer, a great tool for day traders looking to keep tabs on momentum stocks intraday. The "Launch Tools" button allows for quick access to the platform's products, and I liked the pop-up notifications that let me know whenever any of my orders triggered, were filled successfully, etc. For positions you currently hold, markers appear on the charts to show you when and at what price you purchased the stock, a feature most of Schwab's competitors do not have.
Options traders will love the easy-order entry, thanks to a customizable version of optionsXpress's infamous all-in-one trade ticket. Analyzing theoretical positions is also a breeze using the Trade & Probability Calculator, another ported tool from optionsXpress. In 2015, Schwab even added the Walk Limit order type. To prevent adjusting limit orders as they sit live, Walk Limit will "walk" your order to try to get the most favorable price within the National Best Bid or Offer (NBBO); and yes, it came from optionsXpress.
Lastly, advanced charting is much cleaner and more robust on the platform compared to StreetSmart.com, and almost feels like Adobe Photoshop, as studies and drawings can be added quickly, hidden, or removed with a simple click. Traders who require 8, 12, 16, or 20-plus charts running at once, though, will find StreetSmart Edge less flexible than, say, thinkorswim by TD Ameritrade or TradeStation. Overall, the platform is easy to love.
Mobile Trading
Charles Schwab's mobile offering includes apps for nearly all major devices: smartphones (Apple and Android), tablets (Apple but not Android), as well as even Apple Watch. No matter which platform clients are using, the experience is consistent and generally enjoyable.
That said, Charles Schwab's mobile apps lack core functionality in two key areas: quotes and alerts. Our testing, which focuses on the Apple iOS platform, found that even basic stock price alerts cannot be set. Worse yet, quotes are real-time but require manual refreshing, a functionality all of Charles Schwab's full-service competitors offer. See: Best Brokers for Mobile Trading.
On the positive side, fingerprint login (Touch ID support) was integrated into the mobile experience in 2015 as well as support for three- and four-legged options trades. To find fresh options trade ideas, clients can use Idea Hub, an optionsXpress creation, and filter through lists such as "Big Movers," "Earnings," "Premium Harvesting," and "Buy Write."
Other Notes
Since Charles Schwab acquired optionsXpress in 2011, the integration has been an ongoing process. Schwab has meticulously ported over specific features and functionality from optionsXpress over the years. Eventually, optionsXpress will be shut down and its clients will be migrated over to Schwab; however, an exact date for this migration has not yet been announced.
In 2015, Charles Schwab became the first online broker to launch a robo-advisor service. Called Schwab Intelligent Portfolios, the automated portfolio management service charges its clients no annual management fees or account service fees. This review does not cover robo-advising; however, Schwab Intelligent Portfolios is impressive to say the least. As of year-end 2015, Schwab Intelligent Portfolios had $5.3 billion in client assets under management (AUM). Due to Schwab Intelligent Portfolios, we awarded Charles Schwab No. 1 for Broker Innovation in our 2016 Review.
Final Thoughts
Charles Schwab is a highly-respected broker with a very balanced offering. Clients have access to a plethora of quality research and innovative new experiences like Trade Source, not to mention the largest selection of commission-free ETFs in the industry.
Charles Schwab's platforms and tools, including the mobile apps, continue to improve thanks to the ongoing integration of optionsXpress. Beyond independent investing, clients interested in life planning, personalized strategies for their portfolios, and making the most of retirement will also find Schwab a great fit.
---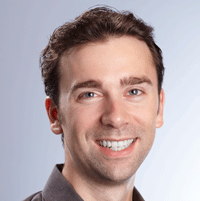 Reviewed by Blain Reinkensmeyer Blain heads research at StockBrokers.com and has been involved in the markets since placing his first stock trade back in 2001. He developed StockBrokers.com's annual review format six years ago which is respected by broker executives as the most thorough in the industry. Currently maintaining funded accounts with more than a dozen different US regulated online brokers, he's executed thousands of trades through his career and enjoys sharing his experiences through his personal blog, StockTrader.com.
---
Ratings Overall
Best in Class
Overall
Offering of Investments
Platforms & Tools
Research
Investor Education
Order Execution
Options Trading
Banking
Offering of Investments
Platforms & Tools
Research
Customer Service
Banking
Overall
Platforms & Tools
Research
Investor Education
Overall
Research
Customer Service
Investor Education
Compare Online Brokers
Find out how Charles Schwab stacks up against other brokers.
---
Commissions & Fees
Commission Notes
With Schwab as your online broker, what you see is what you get. Charles Schwab applies a simplified flat-fee based commissions structure with few catches or fine print notes. There are no limits on total trade size or price, and the site simply let's investors know that if they are trading positions of over 10,000 shares or $500,000 that they may be eligible for a special handling and/or pricing.

Stock Trades - All online trades are a flat $8.95. Our research found no additional fees or charges for trading stocks under $1 or trading during pre and post market hours

If using the Schwab automated phone system to place a trade, a $5 fee will be added to the order. There is a $25 additional fee for broker assisted trades.

Options Trades - Options trades are $8.95 + $0.75 per contract. For orders including a equity leg plus an options leg, there is no base commission for the option leg. Thus, the $8.95 base rate is only charged once.

Mutual Funds - All transaction fee mutual funds cost $76.00 per trade. Note, unlike most brokers, Charles Schwab alongside Fidelity only charge for the original purchase. There is no additional charge for selling.

For investors seeking No Transaction Fee (NTF) funds, Schwab offers clients access to its OneSource Funds. OneSource funds are NTF, No Load (NL) funds selected based on a variety of factors, the biggest being past performance.
Trade Commissions Breakdown
Stock Trade Fee (flat)*
$8.95
Stock Trade Fee (per share)*
N/A
Options Per Contract Fee*
$0.75
Options Exercise Fee
$8.95
Options Assignment Fee
$8.95
Mutual Fund Trade Fee
$76.00
Broker Assisted Trades Fee
$25.00
Minimum Deposit
$1,000.00
Margin Rates
$25,000.00 to 49,999.99
8.00%
$50,000.00 to $99,999.99
7.00%
$100,000.00 to $249,999.99
6.88%
$250,000.00 to $499,999.99
6.75%
$500,000.00 to $999,999.99
6.75%
Above $1,000,000.00
6.25%
Miscellaneous Fees
Treasury Trade Fee
Varies
IRA Annual Fee
$0.00
IRA Closure Fee
$50.00
Returned ACH Fee
$25.00
Returned Wire Fee
$25.00
Stock Certificate Processing Fee
$500.00
Stock Certificate Delivery Fee
N/A
Paper Statement Fee
$0.00
Paper Confirmation Fee
$0.00
Domestic Wire Fee
$25.00
International Wire Fee
$25.00
---
Account Features
Compare Charles Schwab
Select one or more of these brokers to compare against Charles Schwab.
arrow_drop_upBack to top