Merrill Edge Review
February 16th, 2016: This Review has been updated to reflect the latest research and results from the 2016 Review.
Merrill Lynch was acquired by Bank of America in January 2009 and Merrill Edge was formally launched in June 2010. Despite the acquisition, Merrill Edge is not restricted to customers from Bank of America. Instead, any investor can open a Merrill Edge account.
Naturally, there are synergies for those who are already customers of Bank of America. From viewing all accounts together to managing those accounts, transferring funds, updating contact information, universal logins, etc., and qualifying for free monthly trades, Bank of America makes it an easy win for current banking customers.
Commissions & Fees
Merrill Edge is a full-service broker that offers equities and options trading. Regular stock trades are a flat $6.95 per trade with no additional charges for stocks less than $1 per share. Options trades cost $6.95, plus $.75 per contract. Compared to other full-service brokers such as TD Ameritrade, Fidelity, Charles Schwab, ETRADE, and Scottrade, Merrill Edge offers the lowest rates.
| | Merrill Edge | TD Ameritrade | Charles Schwab | Fidelity | E*TRADE |
| --- | --- | --- | --- | --- | --- |
| Stock Trade Fee (flat) | $6.95 | $9.99 | $8.95 | $7.95 | $9.99 |
| Options Base Fee | $6.95 | $9.99 | $8.95 | $7.95 | $9.99 |
| Options Per Contract Fee | $0.75 | $0.75 | $0.75 | $0.75 | $0.75 |
| Mutual Fund Trade Fee | $19.95 | $49.99 | $76.00 | $49.95 | $19.99 |
| Commissions & Fees | | | | | |
| Overall | | | | | |
Alongside its competitive commissions structure, Merrill Edge also offers something unique that its competitors do not: free trades. Qualifying for free trades each month is possible through the Preferred Rewards program. Customers can receive up to 30 free equity trades per month with a three-month average combined balance of at least $50,000 (Platinum status) or up to 100 free trades per month with a three-month average combined balance of at least $100,000 (Platinum Honors status). Benefits through the Preferred Rewards program extend beyond free trades as well, with money market savings boosts, credit card bonuses, and more.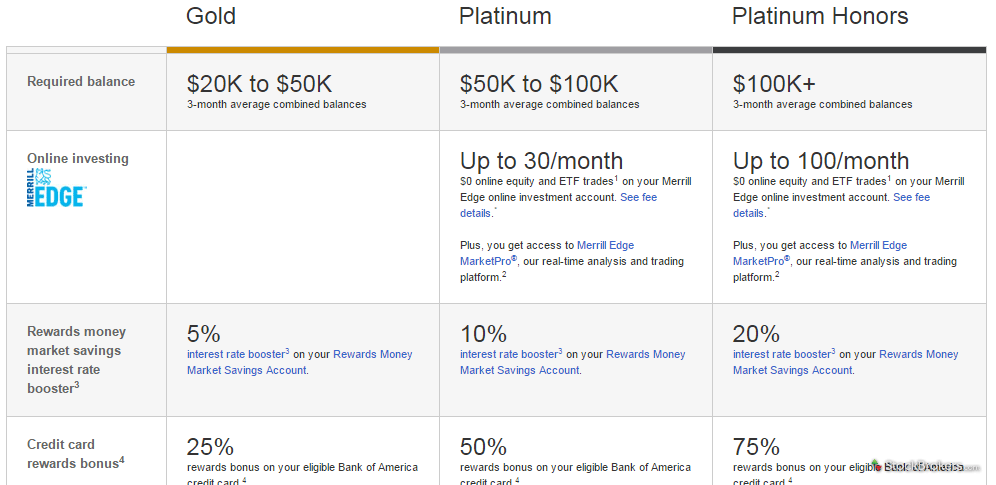 Customer Service
Through our testing of Merrill Edge's phone and email support, we found the broker to be excellent. Merrill Edge's phone support was No. 1 in our 2014 Review, #4 in our 2015 Review, and #1 again in our 2016 Review, and for good reason. Every broker rep we spoke to was friendly, knowledgeable, and professional. It is very apparent Merrill Edge trains its staff well and understands what it takes to provide consistent, high-quality support for its customers.
Our email support experience was similar to phone. The broker responded to all of our email inquiries with clean templates and thorough responses. Clearly, Merrill Edge customer service reps understand what it means to go above and beyond to help the customer. The only negative we uncovered with email support was response times, which averaged between 1 – 2 business days per response.
The icing on the cake for Merrill Edge customers was its live chat which was an all-round winner, finishing No. 1 in the industry. Overall, Merrill Edge finished at the top – No. 1 overall for customer service, showing its dedication to excellence in the art of quality customer care.
Research
Merrill Edge uses both Morningstar and Lippers as its primary research providers. Typically, online brokers use one or the other, so to see Merrill Edge use both is an extra benefit for clients. Thanks to this dual-provider offering, Merrill Edge's ETF and mutual funds research is very strong and extremely thorough. For example, pulling up a quote of SPY reveals not only the infamous Morningstar Style Map but also the Lipper Ratings.
For equities research, pulling up a quote for Apple (AAPL) reveals three research report providers: Bank of America Merrill Lynch, Morningstar, and S&P Capital IQ. While three report providers is above average, it is still lower than the leading brokers in research, including Charles Schwab, Fidelity, and TD Ameritrade, which offer clients access to six or more research reports.
Despite not having a large selection of report providers available to clients, Merrill Edge still offers clients great coverage of equities that will satisfy the vast majority. This includes both ETFs and mutual funds research, where we also found Merrill Edge excelled. Overall, while Merrill Edge trails its larger competitors, the broker still finished with a Best in Class accolade (top five) in our 2016 Review. See: Best Brokers for Research.
Ease-of-Use
Thanks to being owned by Bank of America, Merrill Edge is a natural win for current customers. As a Bank of America customer myself, I found the account-opening process extremely straightforward. Much of my information was prefilled for me, which was a nice touch, and immediately after completing the application, funding the account was a breeze, thanks to the account linking. Now when I log in to my Bank of America account, I can see all my bank, credit cards, loan, and investment accounts right on the same screen. If I want to access Merrill Edge, I simply click and go.
Focusing on the Merrill Edge website, the broker covers the main bases I expect to see: site-wide quote bar with sticky quotes (meaning they remain as you navigate the site, so you do not have to constantly keep re-entering the symbol) and real-time quotes. Looking ahead, however, it would be nice to see streaming real-time quotes not limited to just the Streaming Quotes application.
In 2014 Merrill Edge released numerous updates to its website design, navigation, and flow. In 2015 a new customizable holdings page was released, providing customers the ability to select then drag and drop columns into place. The site was already good before the rollouts over the past two years, but with these latest enhancements in place, it has become great.
Performing research, placing trades, and managing my account are also all very straightforward. All in all, Merrill Edge makes it easy for customers to perform the tasks they want, when they want, and is an excellent fit for current Bank of America customers.
Platforms & Tools
Merrill Edge's offering for active traders is a mixed bag. While the broker does offer an active trader platform, Merrill Edge MarketPro, which is well built and has a variety of bells and whistles, there are several critical drawbacks. First, there are no one-click buy and sell buttons for speedy order entry, nor a way to bypass the order confirmation window. Second, complex options are not supported. Third, direct market routing nor advanced order types such as conditional orders are supported.
On the positive side, 66 technical indicators are available for charting, the stock alerts functionality is robust, and the options functionality is strong across the board. Furthermore, in 2015 the platform was updated to provide a clear look and feel, which we appreciated. MarketPro even offers high-quality executions, thanks to its commitment of not accepting payment for order flow (for a deeper dive, see our report on Order Execution). Active traders desire all these great assets, yet they can't trade on the fly. Until Merrill Edge can clear its key hurdles, the broker is holding itself back from attracting the Holy Grail of clientele: the active trader.
One other important caveat to note regarding MarketPro is that it runs on Java, a programming language that has lost favor in today's modern web environment. Google Chrome and Microsoft's new Edge browser no longer support Java, which means customers who want to access MarketPro have to use Mozilla Firefox, legacy Internet Explorer, or Safari (Mac). Accessibility is critical to the customer experience, and we expect to see Merrill Edge address this issue before 2016 concludes. See: Best Brokers for Platforms & Tools.
Mobile Trading
On the mobile front, Merrill Edge supports the Apple iPhone, iPad, and the new Apple Watch, alongside Android smartphones. All things considered, I found the apps to be good, but not great. They accomplish their job by allowing customers to perform core actions: pull real-time quotes, see a chart, view their watch lists (syncing with the site is a nice plus), set basic alerts, and place basic trades.
In 2015, Merrill Edge improved the holdings screen by revamping the layout and added an optional iOS notification center widget. Updates aside, however, the apps still lack depth and could be kicked up a notch with the addition of Touch ID (fingerprint login), after-hours trading, customizable dashboards, streaming real-time quotes, and push notifications, for example. See: Best Brokers for Mobile Trading.
Other Notes
One area in which Merrill Edge excels that is not covered under our traditional testing is with retirement and investment advisor offerings. Approximately 1,700 of Bank of America's 2,000 retail locations have a financial services advisor, and Merrill Edge's website is packed with clean, thorough, and educational content. Through the website's Guidance and Retirement Center, customers can conduct goal planning for all of life's many events, use calculators to determine areas for improvement, read educational articles, watch videos, schedule 1-on-1 appointments, and more.
Final Thoughts
Merrill Edge provides investors with several key highlights: excellent customer service, up to 100 commission-free trades each month through its Preferred Rewards program, robust research, and great ease of use for Bank of America customers. The primary drawbacks revolve around the broker's basic mobile apps and lack of active trader capabilities: no trading on the fly, no conditional orders, max two legged options, and no direct market access.
Overall, Merrill Edge provides customers with a well-rounded offering. Casual investors will find the broker to be a very good fit, and Bank of America customers will discover that the broker is an excellent extension of the Bank of America brand.
---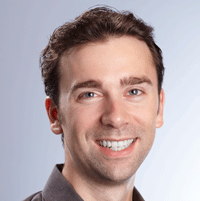 Reviewed by Blain Reinkensmeyer Blain heads research at StockBrokers.com and has been involved in the markets since placing his first stock trade back in 2001. He developed StockBrokers.com's annual review format six years ago which is respected by broker executives as the most thorough in the industry. Currently maintaining funded accounts with more than a dozen different US regulated online brokers, he's executed thousands of trades through his career and enjoys sharing his experiences through his personal blog, StockTrader.com.
---
Ratings Overall
Best in Class
Overall
Commissions & Fees
Research
Customer Service
Ease of Use
Investor Education
Banking
Overall
Research
Customer Service
Ease of Use
Investor Education
Banking
Overall
Commissions & Fees
Research
Customer Service
Compare Online Brokers
Find out how Merrill Edge stacks up against other brokers.
---
Commissions & Fees
Commission Notes
Merrill Edge commissions structure details below:

Stock Trades - $6.95 per trade.

Through the Preferred Rewards program, customers can receive up to 30 $0 equity trades per month with a 3-month average combined balance of atleast $50,000 (Platinum status) or up to 100 free trades per month with a 3-month average combined balance of atleast $100,000 (Platinum Honors status).

There is no additional charge for trading stocks under $1 or OTCBB. Also, broker assisted trades are $29.95.

Options Trades - $6.95 + $.75 per contract.

Mutual Funds - $19.95 per online trade. Any sale within 90 days of original purchase will result in a $39.95 early redemption fee.

International Trading - International Trading is not currently offered.

Other Investments - Merrill Edge does not support futures and forex.
Trade Commissions Breakdown
Stock Trade Fee (flat)*
$6.95
Stock Trade Fee (per share)*
N/A
Options Per Contract Fee*
$0.75
Options Exercise Fee
$6.95
Options Assignment Fee
$6.95
Mutual Fund Trade Fee
$19.95
Broker Assisted Trades Fee
$29.95
Minimum Deposit
$0.00
Margin Rates
$25,000.00 to 49,999.99
7.75%
$50,000.00 to $99,999.99
7.75%
$100,000.00 to $249,999.99
6.38%
$250,000.00 to $499,999.99
6.38%
$500,000.00 to $999,999.99
6.13%
Above $1,000,000.00
5.50%
Miscellaneous Fees
IRA Annual Fee
$0.00
IRA Closure Fee
$49.95
Returned ACH Fee
$30.00
Returned Wire Fee
$0.00
Stock Certificate Processing Fee
$25.00
Stock Certificate Delivery Fee
N/A
Paper Statement Fee
$5.00
Paper Confirmation Fee
$3.00
Domestic Wire Fee
$24.95
International Wire Fee
$24.95
---
Account Features
Compare Merrill Edge
Select one or more of these brokers to compare against Merrill Edge.