Fidelity Investments Review
February 16th, 2016: This Review has been updated to reflect the latest research and results from the 2016 Review.
Ask most investors if they have heard of Fidelity Investments, and the answer will almost always be yes. As a full-service broker with over 16 million retail brokerage accounts and $1.56 trillion in client assets as of December 31, 2015, clients expect Fidelity to provide ample service offerings and a top-notch client experience. While investment guidance and retirement services are two monster parts of Fidelity's business, they are not the only focal points, as this review will show.
Commissions & Fees
Fidelity, like its closest competitors, uses a simple, flat-fee trading commission structure. Stock trades are $7.95, and option trades run at $7.95, plus $.75 per contract, which are rates similar to those found at TD Ameritrade, ETRADE, Charles Schwab, and Scottrade.
One standout feature of Fidelity's is that among the big online brokers, it has the lowest margin rates for assets between $500,000 and $999,999 (3.75%) as well as for amounts over $1 million (3.75%), with ETRADE not much further behind (4.14% and 3.89%, respectively). Full margin rate schedules can be viewed and compared using the Compare Tool.
| | Fidelity | TD Ameritrade | E*TRADE | Charles Schwab | Scottrade |
| --- | --- | --- | --- | --- | --- |
| Stock Trade Fee (flat) | $7.95 | $9.99 | $9.99 | $8.95 | $7.00 |
| Options Base Fee | $7.95 | $9.99 | $9.99 | $8.95 | $7.00 |
| Options Per Contract Fee | $0.75 | $0.75 | $0.75 | $0.75 | $0.70 |
| Broker Assisted Trades Fee | $32.95 | $44.99 | $25.00 | $25.00 | $32.00 |
| Mutual Fund Trade Fee | $49.95 | $49.99 | $19.99 | $76.00 | $17.00 |
| Commissions & Fees | | | | | |
| Overall | | | | | |
Fidelity offers 85 commission-free ETFs, which is good, however the broker still trails ETRADE, TD Ameritrade, and Charles Schwab, with Charles Schwab leading the industry with 214.
Lastly, Fidelity offers checking accounts, savings accounts, credit cards and debit cards, but no home mortgages. Its credit cards, in particular, stand out in the area of rewards thanks to its Rewards VISA Signature Card, which yields 2% cash back on every purchase. Next to Bank of America Merrill Edge, and Capital One Investing, Fidelity's banking offering is the best in the brokerage space. See: Best Brokers for Banking Services.
Research
Fidelity's shining star is its research, which should come as no surprise. I was extremely impressed with the overall depth and scope of what is available. In fact, so much so, it may seem at times that the amount of research is overwhelming.
Take, for example, equities research. Pull up a quote of Apple (AAPL) and you will find an Equity Summary Score alongside 12 different third-party research reports to navigate through, the largest of any broker. ETFs are not left out either, as we found six third-party research reports available for SPY.
Screening for stocks is also a breeze, thanks to the brand-new stock screener tool that began rolling out in late 2014 and was completed in early summer 2015. Fidelity's new screener is rich with filter options; it's clean, completely mobile friendly, and has set a new benchmark for the industry. Once the stock screener was completed, Fidelity wasted no time launching a brand-new ETF screener as well, which was just as impressive.
Continuing on the topic of innovation, while the experience of conducting primary research has become fairly static across the industry, Fidelity took a huge step forward in 2015 to innovate and bring an entirely new research area to its customers. Every detail was planned out and debated, and right off the bat I was thrilled to discover that, like the new screeners, the new research area is 100% responsive – i.e., completely mobile friendly. Pulling up a quote displays the most important live quote data and company statistics at the top of the page, with a series of modules below for digging deeper.
As of early 2016, the new research experience is only available for stocks, with customers able to swap between both new and old layouts. New modules and features are rolling out every month, so customers still need to use the classic layout to view data such as third-party research reports, SEC reports, and financial statements.
The task of completely rethinking, planning, and executing an entire new research experience for customers is no walk in the park. The one caveat to such an exciting innovation is being forced to still use the old layout. Unfortunately, I found myself frequently navigating between new and old designs, depending on the research conducted, which was annoying. That said, I am really looking forward to watching this new research experience evolve in 2016. Once fully complete, Fidelity's research experience may very well be in a league of its own.
Ease of Use
The ongoing makeover of Fidelity's research area is part of a company-wide effort to bring the Fidelity website into the modern age. In 2012, Fidelity's website was a mess, and in our 2013 Review, Fidelity ranked lowest among its competitors for ease of use, mostly because of its outdated website and extremely small navigation menu.
Fidelity heard us loud and clear, though, and took a big step forward in 2013 and 2014 with the launch of a brand-new navigation menu on its main site that is 10 times better than its predecessor. Then, in 2014, the broker launched a new client summary area that by mid-2015 was a work of art: clean, easy to navigate, personalized, and 100% mobile friendly.
Despite all of these enhancements, one feature I love to use on other brokerage platforms was still missing: a site-wide footer quote/trade dock. Then, in late 2015, I was very pleased to see that Fidelity had begun rolling one out. Real-time quotes that stick with you while you browse the new research area, a market indices overview, and the ability to place trades are all included. As of early 2016, the release is slowly and methodically taking place to ensure a smooth, bug-free experience for every customer.
Customer Service
After finishing No. 1 overall for customer service in our 2015 Review, we were naturally expecting great results again for our 2016 Review, and great results were exactly what we got. Fidelity once again finished as a top broker for customer service, slipping to #2 overall behind Merrill Edge (both brokers consistently rank at the top year after year). Fidelity delivered consistently high-quality service, regardless of whether we were on the phone, emailing, or using live chat. For sub-category email, Fidelity finished first.
Education
In the area of education, Fidelity does a good job of breaking up content, sorting by experience level, category, and content type. Articles, videos, webinars, infographics, and courses are available to clients. Courses organize articles and videos into a step-by-step roadmap and track your progress so you can easily leave and come back later without forgetting your place.
Including infographics crafted in-house (two in total) was a very nice touch and extremely informative. I'd love to see Fidelity flex its creative muscles and develop infographics more often, perhaps like the interactive ones Bloomberg is now known for.
One tip for newcomers: when accessing the Learning Center, skip the category overviews at the top and scroll straight down to the "All Courses and Lessons" section. The filtered category areas are a nice effort but it's too easy to lose track of where you are, not to mention overlook additional content. "Was that article I liked in this category or that category?" is the question I often found myself asking.
Platforms & Tools
Fidelity, like its competitors, does provide active trader services and tools, including two desktop-based platforms and one web-based platform.
Desktop-based platforms include Fidelity's flagship platform, Active Trader Pro, as well as Wealth-Lab Pro. Active Trader Pro comes in both desktop and web flavors, and requires at least 36 or more qualified trades in a rolling 12-month period for access. To unlock Recognia anticipated events and Elliott Wave analysis, 120-plus trades must be made.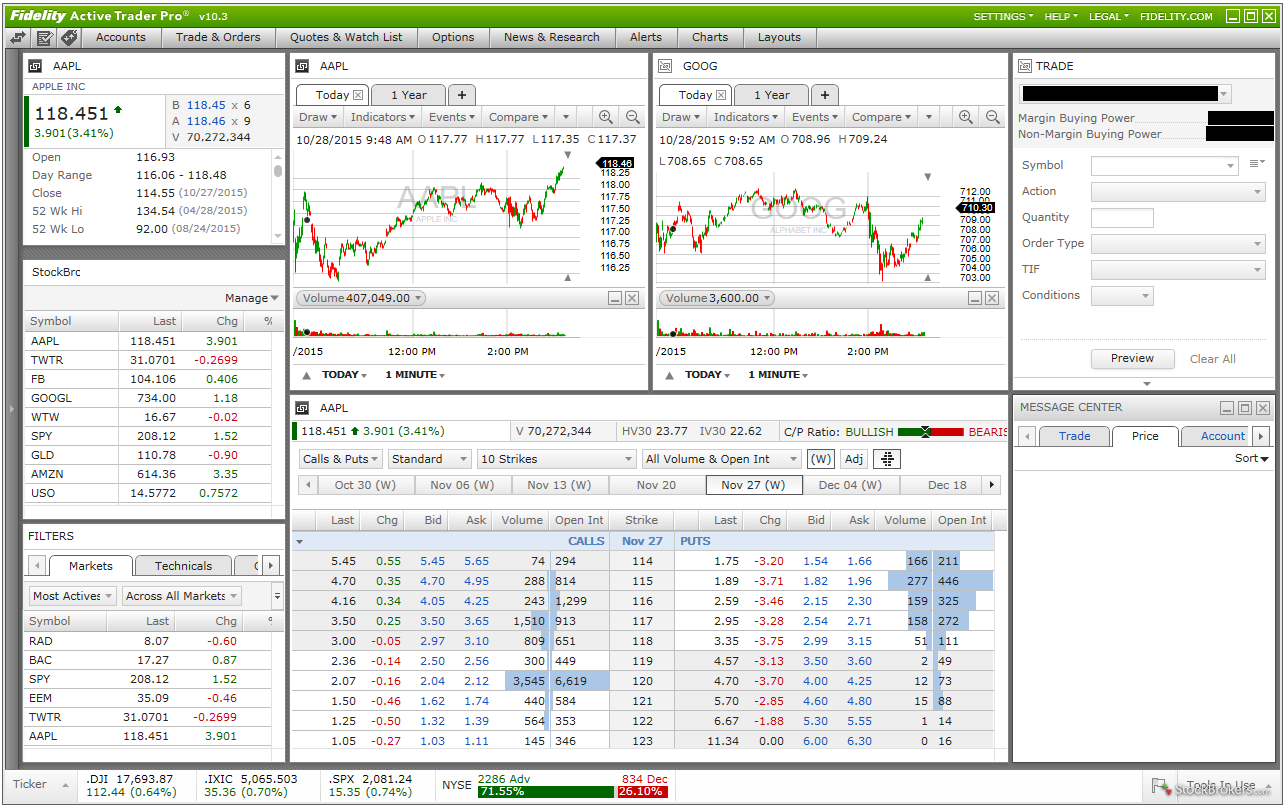 Focusing on Active Trader Pro, on the pros side the design is clean and the features run deep. Tools such as Trade Armor are unique and provide an edge over competing platforms when utilized to their full potential. I also found charting to be clean cut with good functionality throughout. Placing orders was a breeze, and I really felt that the positions overview window was effectively laid out. In 2015, Active Trader Pro launched Daily Dashboard, which is effectively an optional welcome window. Displayed is a market timer with an indices overview, gain/loss heatmap of your positions, headline market news, and quick links to other actionable content.
On the cons side, Active Trader Pro's weak points center primarily around usability. The right sidebar, which can be collapsed, is extremely beneficial to leave open; however, you can't adjust its width. Sizing is also a sticky point with Trader Armor, where only the width can be adjusted but not the height, preventing you from expanding the chart size to view your position markers more clearly (chart customization is also limited). My last primary gripe came with the streaming watch lists, which don't automatically re-filter on the fly. Sorting by column "% Change," for example, will filter your real-time streaming watch list accordingly, but within seconds securities adjust in price and fall out of place.
Pickiness aside, Active Trader Pro's functionality list is robust to the point where it trails only behind the two undisputed leaders in this arena: TD Ameritrade's thinkorswim and TradeStation. To steal a top-two spot from one of these kings, Fidelity will need to muster more depth across the board, from the offering of technical studies to total optional columns in watch lists to usability improvements, etc. That said, Active Trader Pro is a fantastic platform that will please the vast majority of active traders. See: Best Brokers for Platforms & Tools.
Alongside the platforms, Fidelity also offers Active Trader Services (dedicated trading specialists and personalized support), which has even steeper requirements. To qualify, clients must place 120 or more stock, bond, or options trades in a rolling 12-month period and maintain $25,000 in assets across their eligible Fidelity brokerage accounts. With customer service already fantastic, Active Trader Services status is simply the icing on the cake.
Mobile Trading
When it comes to mobile, Fidelity provides apps for all major devices and makes them available to all clients. No prerequisites needed here, unlike the Active Trader platforms. I found the iPhone app easy to use and bug free. Fidelity does an especially good job integrating its banking services into the app, something banking clients will appreciate. One feature I really appreciated was the customizable "home screen cards," which allow for a quick overview of all client products upon login.
In 2015, Fidelity added note-taking functionality, which syncs with its Notebook tool on the main site. To boost alerting capabilities, Actionable Alerts were also rolled out in 2015. Actionable Alerts adds the options "Get Quote" and "Trade" to regular push notifications. Lastly, in 2015, outside of the smartphone ecosystem, Fidelity launched an Apple Watch app and was the only broker to build out an app for the new Apple TV. See: Best Brokers for Mobile Trading.
Other Notes
The topics of order execution and payment for order flow, and what they mean for broker customers blew up in March 2015 with the release of Flash Boys by Michael Lewis. Fortunately, Fidelity customers can sleep well knowing Fidelity offers the best transparency and overall order execution in the industry. For a deeper dive on the topic, head over to our new category page, Best Brokers for Order Execution.
Closing Thoughts
Overall, Fidelity Investments is a very well respected broker, competing among the largest brands in the online broker space. The backbone of Fidelity's success, specialty services and research, will certainly continue to be front and center for many years to come.
What impresses me most about Fidelity is its drive to continue innovation and push forward across all its products to provide the best possible client experience. Especially for a broker with over 16 million clients competing against other powerhouse brands, there is no time to take the foot off the gas pedal. In our 2016 Review, Fidelity finished No. 1 overall, unseating TD Ameritrade as the best overall broker after TD Ameritrade had held top spot for four years.
---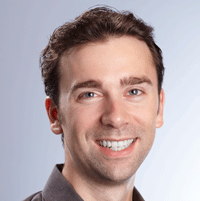 Reviewed by Blain Reinkensmeyer Blain heads research at StockBrokers.com and has been involved in the markets since placing his first stock trade back in 2001. He developed StockBrokers.com's annual review format six years ago which is respected by broker executives as the most thorough in the industry. Currently maintaining funded accounts with more than a dozen different US regulated online brokers, he's executed thousands of trades through his career and enjoys sharing his experiences through his personal blog, StockTrader.com.
---
Ratings Overall
Best in Class
Overall
Offering of Investments
Platforms & Tools
Research
Customer Service
Mobile Trading
Ease of Use
Investor Education
Order Execution
Banking
Active Trading
Options Trading
New Investors
Overall
Platforms & Tools
Research
Customer Service
Mobile Trading
Ease of Use
Investor Education
Banking
New Investors
Overall
Platforms & Tools
Research
Customer Service
Mobile Trading
Investor Education
Overall
Research
Customer Service
Mobile Trading
Compare Online Brokers
Find out how Fidelity Investments stacks up against other brokers.
---
Commissions & Fees
Commission Notes
Fidelity requires no minimum deposit to open an account. To trade mutual funds a $2,500 minimum deposit is needed and for margin trading a $5,000 minimum deposit is required. To access Fidelity's Active Trader Pro platform, at least 36 or more qualified trades in a rolling 12-month period.

Stock Trades: Online trades are $7.95. Broker assisted trades cost $32.95. There are no limits on total trade size or price. Furthermore, there are no additional fees for trading stocks under $1, or for trading during pre and post market hours.

Fidelity also offers 91 commission free ETFs (21 Fidelity funds and 70 iShares funds). iShare funds that are purchased commission free and sold within 30 days of purchase are charged a Short-term trading fee of $7.95.

Options Trades: Options trades cost $7.95 + $.75 per contract. Any exercise or assignment is $7.95. Buy to close orders on options priced $0.10 or less are commission free. All options trades have a maximum charge of 5% of the principal amount.

Mutual Funds: Through Fidelity investors have access to over 12,000 different mutual funds through the Fidelity FundsNetwork. Funds that are not No Transaction Fee (NTF) cost $49.95 per trade. Note, unlike most brokers, Fidelity alongside Charles Schwab only charge for the original purchase. There is no additional charge for redemption (ie selling).

For NTF funds, there is no charge to buy or sell. However, if the fund is sold within 60 days of purchase, a $49.95 short-term redemption fee is charged.

Lastly, broker assisted mutual fund trades are expensive, costing .75% of the total principal amount with a $100 minimum up to a $250 maximum rate.

International Trading: International Trading allows Fidelity customers to trade stocks from 25 countries (16 different currencies) within their primary Fidelity account.
Trade Commissions Breakdown
Stock Trade Fee (flat)*
$7.95
Stock Trade Fee (per share)*
N/A
Options Per Contract Fee*
$0.75
Options Exercise Fee
$7.95
Options Assignment Fee
$7.95
Mutual Fund Trade Fee
$49.95
Broker Assisted Trades Fee
$32.95
Minimum Deposit
$2,500.00
Margin Rates
$25,000.00 to 49,999.99
7.58%
$50,000.00 to $99,999.99
7.08%
$100,000.00 to $249,999.99
6.58%
$250,000.00 to $499,999.99
6.58%
$500,000.00 to $999,999.99
3.75%
Above $1,000,000.00
3.75%
Miscellaneous Fees
Bond Trade Fee
$1 per bond
Treasury Trade Fee
Varies
IRA Annual Fee
$0.00
IRA Closure Fee
$50.00
Returned ACH Fee
$0.00
Returned Wire Fee
$0.00
Stock Certificate Processing Fee
$0.00
Stock Certificate Delivery Fee
$100.00
Paper Statement Fee
$0.00
Paper Confirmation Fee
$0.00
Domestic Wire Fee
$15.00
International Wire Fee
$0.00
---
Account Features
Compare Fidelity Investments
Select one or more of these brokers to compare against Fidelity Investments.