The StockBrokers.com best online brokers 2020 review (10th annual) took five months to complete and produced over 30,000 words of research. Here's how we tested.
Want to buy shares of stocks like Apple (AAPL), Facebook (FB), Disney (DIS), or Uber (UBER)? If so, you will need an online broker account.
Choosing an online stock broker is one of the most important decisions you will make as an investor. This guide aims to introduce online trading and break down the best online brokers available today.
As a previous full-time trader turned hobby enthusiast, since 2001, I have completed over 1,000 trades in my personal portfolio, finishing 2019 with a total 2,574 individual buys and sells.
While the markets are anything but certain, you can feel confident StockBrokers.com has your back in 2020 to help you choose the best broker.
Best Online Brokers 2020
TD Ameritrade - Best for overall and beginners
Fidelity - Best research experience
Charles Schwab - Best for IRA accounts
E*TRADE - Best web platform
Interactive Brokers - Best for professionals
Merrill Edge - Best rewards program
TradeStation - Best platform technology
1. TD Ameritrade
Overall |
Open Account
Exclusive Offer: Get up to $375 and trade commission-free with TD Ameritrade.
TD Ameritrade delivers the ultimate package for investors, including $0 trades, fantastic trading platforms, excellent market research, industry-leading education for beginners, and reliable customer service. This outstanding all-round experience makes TD Ameritrade our top overall broker in 2020.
Why Choose TD Ameritrade:
Excellent trading platform thinkorswim. After spending hundreds of hours testing desktop platforms, I give thinkorswim my top recommendation, thanks to its modern feel and outstanding trader tools. That includes the mobile app, which is my favorite for active traders.
Great for beginner investors. TD Ameritrade has the largest selection of educational materials in the industry by far, with over 200 instructional videos covering every investment topic imaginable. Furthermore, the whole learning center is gamified, tracking your progress as you go with quizzes bringing concepts together at the end of each course.
Robust research. TD Ameritrade provides customers access to its own TV Network and trader magazine. Depth is across the board, as TD Ameritrade also uses proprietary data to analyze millions of tweets to power its Social Signals tool.
Industry-leading technology. TD Ameritrade is the only broker to offer customers the ability to access their accounts from Twitter, Apple Chat, Facebook, and Alexa. Technology and innovation are core parts of TD Ameritrade's DNA.
2. Fidelity
Overall |
Open Account
Trade Commission-Free: No commissions to trade online U.S. stocks, ETFs, and options.1
Fidelity is a value-driven online broker offering $0 stock trades, industry-leading research, excellent trading tools, an easy-to-use mobile app, and comprehensive retirement services. Serving over 30 million customers, Fidelity is a winner for everyday investors.
Why Choose Fidelity:
Terrific for investment research. Research at Fidelity stands out for its 16 equity research reports, excellent in-house market analysis, and quotes experience that is meticulously crafted for maximum usability.
Great for new investors. Behind TD Ameritrade, Fidelity is my second broker recommendation for beginner stock traders. Fidelity offers investors the perfect blend of ease of use, excellent research tools, as well as a great education center.
Excellent mobile app for everyday investors. The Fidelity mobile app is a winner for investors because it is easy to use, packed full of market research, and includes a wide variety of trading tools.
3. Charles Schwab
Overall |
Open Account
Current Offer: $0 online stock, ETF, and options commissions at Schwab.
Founded in 1973, Charles Schwab is a full-service brokerage with over $3 trillion in total client assets. As a low-cost leader offering $0 stock trades, Charles Schwab provides investors excellent stock research, quality trade tools, and professional planning for the future.
Why Choose Charles Schwab:
Excellent market research. Schwab boasts a full lineup of 26 in-house experts who provide numerous articles, known as Schwab Insights, on a variety of market topics throughout each week.
Leader in retirement services. Charles Schwab shines with its Schwab Intelligent Portfolios (robo-advisor) and Schwab Intelligent Portfolios Premium (human advisor) services.
4. E*TRADE
Overall |
Open Account
Current Offer: $0 Commissions for online stock, ETF, & options trades. Join E*TRADE today!
Founded in 1982 as one of the first online brokerages in the United States, E*TRADE understands what investors need to succeed in the market. E*TRADE highlights include $0 trades, two excellent mobile apps, and the Power E*TRADE platform, which is great for options trading.
Why Choose E*TRADE:
Excellent web platform that is a winner for options trading. Our favorite web-platform again this year, Power E*TRADE, combines the best of both worlds: ease of use with fantastic trading tools. While just decent for stock trading, Power E*TRADE is terrific for options trading.
Full-featured mobile apps. Among all the online brokers we track on StockBrokers.com, E*TRADE offers the most mobile app features in a well-designed, easy to use experience.
5. Interactive Brokers
Overall |
Open Account
Exclusive Offer: New clients that open an account today receive a special margin rate.
While Interactive Brokers is not well known for its casual investor offering, it leads the industry with low-cost trading for professionals. Through the Trader Workstation (TWS) platform, Interactive Brokers offers excellent tools and an extensive selection of tradeable securities.
Why Choose Interactive Brokers:
Excellent for professional traders. Interactive Brokers offers customers an arsenal of 63 different order types, the most in the industry by a landslide. Margin rates are also the lowest in the industry, across the board.
Great for day trading. Interactive Brokers does not accept payment for order flow (IBKR Pro only). This makes it's already low pricing even better because there are no hidden execution costs.
Global access. The most diverse offering by a landslide, Interactive Brokers offers trading in 26 countries and over 135 market centers.
6. Merrill Edge
Overall |
Open Account
Current Offer: Invest in a new account and get up to $600.
Backed by parent company Bank of America, Merrill Edge delivers $0 stock and ETF trades with fantastic research and customer service. Better yet, for current banking customers, Merrill Edge's Preferred Rewards program offers the best rewards benefits across the industry.
Why Choose Merrill Edge:
Preferred Rewards. To open an account with Merrill Edge, you do not have to be a Bank of America customer. That said, it is far easier to reach the minimum combined account balance to earn all sorts of perks under the Preferred Rewards program. Here's a list.
Excellent ESG (environmental, social, and governance) research. Merrill Edge offers Stock Story, Fund Story, and Portfolio Story, which makes conducting market research both educational and insightful. Full ESG Reports are also included.
Great customer service. In our national testing, Merrill Edge consistently delivered agent connection times under one minute.
7. TradeStation
Overall |
Open Account
Promo Offer: Commission-Free Trades on Stocks, ETFs & Options Trades.
As a trading technology leader, TradeStation supports casual traders through its web-based platform and active traders through its award-winning desktop platform, all with $0 stock and ETF trades.
Why Choose TradeStation:
Excellent trading platform. TradeStation 10 is a desktop-based, downloadable trading platform for online trading that is robust and full of trading tools. In our testing, TradeStation 10 is rivaled only by TD Ameritrade's thinkorswim platform.
Great mobile app for stocks and options trading. From monitoring multiple watch lists and setting price alerts, to analyzing stock charts and placing trades, TradeStation Mobile provides a fantastic all-around experience for traders.
More Online Brokers
Outside of our top seven online brokers for 2020, there are eight other brokerages we reviewed: Ally Invest, Firstrade, Chase You Invest Trade, SogoTrade, Robinhood, ChoiceTrade, Lightspeed, and Cobra Trading. Here's our high-level takeaways for each broker. To dive deeper, read our full review.
8. Ally Invest, "Backed by Ally Financial, Ally Invest is a low-cost broker providing $0 stock and ETF trades. Ally's complete universal-account management experience and easy to use website makes the brokerage great for current Ally Bank customers and everyday investors alike." Read full review
9. Firstrade, "Firstrade offers $0 stock, ETF, and options trades, and is best known for its easy-to-use website, alongside its Chinese language services. While Firstrade offers Morningstar research and a variety of tools, its overall offering struggles to stand out against household name brands who are also priced at $0." Read full review
10. Chase You Invest Trade, "Chase You Invest Trade provides current Chase Bank customers a convenient way to invest in the stock market. While Chase doesn't provide all the bells and whistles like some of its non-bank competitors, our testing found the site to be easy to use and reliable overall." Read full review
11. SogoTrade, "SogoTrade is an online discount brokerage that charges $4.88 base commissions and supports Chinese-speaking customers. Unfortunately, in a world where $0 trades are the baseline, despite offering five trading platforms for stocks and options, SogoTrade struggles to stand out."
12. Robinhood, "Robinhood used to shine thanks to its easy-to-use mobile app and $0 trades. However, today, all of the largest online brokers offer free stock and ETF trades. As a result, it is much more difficult for Robinhood to outduel the competition." Read full review
13. ChoiceTrade, "While ChoiceTrade advertises free stock trades, unfortunately, monthly costs add up, and, overall, ChoiceTrade provides customers an online investing experience not worth the hassle."
14. Lightspeed, "Lightspeed is a direct-access online brokerage that focuses on serving active and professional traders through its in-house and third-party trading platforms. Casual traders beware, not trading enough means paying high monthly platform fees." Read full review
15. Cobra Trading, "Cobra Trading was founded in 2003 by Chadd Hessing as a direct-access, low-cost online brokerage for professional stock traders. While Cobra Trading offers multiple trading platforms and personalized service, trading costs are more expensive than leader Interactive Brokers."
2020 Category Winners
For the StockBrokers.com 2020 Online Broker Review, all online broker participants were assessed on 236 different variables across eight Core categories. 3,540 data points were collected in total. Here are the 2020 Core category winners. Here's how we tested.
Alongside Core categories, StockBrokers.com ranks brokers by the most popular Investor categories. Here are the 2020 Investor category winners.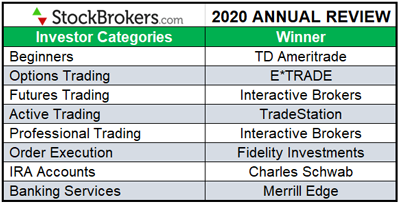 Finally, each year StockBrokers.com honors the brokerages who go above and beyond in the areas that matter most to investors. Here are the 2020 industry award winners.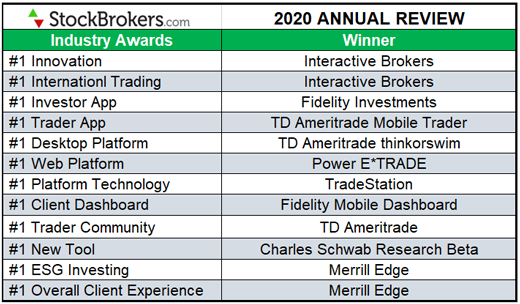 2020 Overall Ranking
Here's the Overall rankings for the 15 online brokers who participated in our 2020 Broker Review, sorted by Overall ranking.

StockBrokers.com online stock broker rankings 2020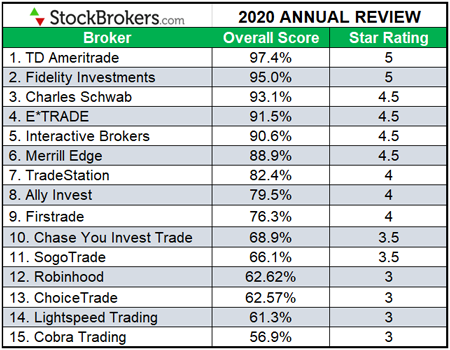 Note: Robinhood does not offer phone support for customers. As a result, Robinhood shows "Not Rated" for Customer Service. To calculate an Overall rating, the points allocated to Customer Service were proportionally allocated to the remaining categories.
How do I choose an online brokerage?
When selecting a new online broker, the first step is to read reviews and see what features matter most to you. Are low-cost trade commissions most important? What about customer service, the trading platform, mobile app, investment research, ease of use, or education? With many brokers specializing in different areas, it is crucial to evaluate all categories by reading full-length broker reviews.
How do I assess trading costs?
When trading stocks online, it is essential to understand what the costs are to buy and sell shares. Fortunately, today in 2020, most online brokers charge $0 to trade shares of stocks. That said, if day trading, additional costs come into play, including routing fees, market data fees, and platform fees.
What trading tools do online brokers offer?
To trade stocks online successfully, some stock traders rely purely on their trading tools. Trading platforms come in one of three forms: desktop, web (browser), or mobile. Advanced charting, scanning, hotkeys, virtual trading, watch lists, ladder trading, Level II quotes, and backtesting are just a sampling of the features some brokers offer. To compare trading platform features, use the online brokerage comparison tool.
Do online brokers offer more than just stocks and options trading?
Are you only trading stocks online, or are you interested in ETFs, mutual funds, options, futures, and forex too? In the United States, different regulations are required for brokers who support more complex asset classes. For example, stocks, ETFs, and options are the most commonly offered, while forex trading is the least commonly offered.
Does every online broker provide a mobile app?
While every online broker offers a mobile app, quality varies widely. Managing a stock brokerage account on the go is certainly important for investors who travel and frequently use their smartphones. To find the best app for stock trading, we scored broker apps on 42 individual features.
Should I care about customer service?
It depends. 24/7 support is essential to some investors, while others may be completely fine using online chat during regular market hours or receiving an email back within one business day. That said, most investors neglect to think about a market crisis like a flash crash. In our experience, it certainly doesn't hurt to have reliable customer service available for whenever the need may arise.
How important is stock research?
There are two types of stock research: fundamental and technical. Fundamental research explores company metrics such as earnings growth, earnings per share (EPS), debt, sales growth, and market capitalization. Meanwhile, technical analysis is all about learning how to read a stock chart and use historical price performance to help you predict future price direction. The best online brokerages offer tools to cover both types thoroughly, and we checked for 54 individual features during our 2020 Review. To compare research features, use the online brokerage comparison tool.
How can I verify if my online broker is regulated?
Online stock brokers operating in the United States and governed by US law are regulated by the SEC and must be members of FINRA and SIPC. To verify whether your online brokerage is regulated, scroll to the footer of their homepage, then read their disclosures. Using the FINRA broker check tool is another easy way to verify compliance.
Do online brokerages also offer banking services?
Many online brokerages do not limit their customers to just online stock trading. Full-service brokerages offer banking services including checking accounts, savings accounts, credit cards, mortgages, and more with deposits of up to $250,000 backed by the FDIC. Bank of America (Merrill Edge) and Chase (Chase You Invest Trade) are two examples of banks that also offer online trading.
Should I worry about security?
Fortunately, at least in the United States, investors do not have too much to worry about when it comes to account security. This is especially true when choosing a brokerage that is large, well known, and properly regulated. Every website should be secured with SSL encryption, and client data should be stored in secure servers. Dual-factor authentication and Face ID are other security protocols quickly growing in popularity.
With $0 trades, how important is order execution?
It is important to understand how your orders are routed and executed. There is a wide variation between quality and poor order execution. Unfortunately, most online stock traders can't tell the difference. To help investors out, we tested brokers and wrote a complete guide to understanding order execution.
Can I trade internationally with my online broker?
While most online brokers do not offer international trading, some do. Nearly every broker supports trading American depositary receipts (ADRs), which offers US investors an easy, simple way to invest in foreign companies. However, if you want to buy physical shares of an international company, then you need to do your research. Interactive Brokers is the leader in this space but is built for professionals. For casual investing, both Fidelity and Charles Schwab offer international stock trading.
Read Next
Explore our other online trading guides:
Methodology
For the StockBrokers.com tenth annual best online brokers review published in January 2020, a total of 3,540 data points were collected over six months and used to score brokers. This makes StockBrokers.com home to the largest independent database on the web covering the online broker industry.

Participation is required to be included. Each broker completed an in-depth data profile and provided executive time (live in person or over the web) for an annual update meeting. Our rigorous data validation process yields an error rate of less than .001% each year, providing site visitors quality data they can trust. Learn more about how we test.
More from the editor
Alongside the StockBrokers.com annual review, our fourth annual international forex brokers review, which includes 30 forex brokers, was also published on our sister site, ForexBrokers.com. Finally, be sure to check the latest financial advisor ratings, which you can view on investor.com.
Still aren't sure which online broker to choose? Email us a question! Whether you are a beginner investor learning the ropes or a professional trader, we are here to help. Email us your online broker specific question and we will respond within one business day.