The best crypto exchanges for US bitcoin trading offer three essential benefits. The first, and most important, is robust security with two-factor authentication, cold storage, and integrated safe wallets. Second is a user-friendly website and platform. Third, they provide access to trading a variety of cryptocurrencies like Bitcoin and Ethereum.
In our assessment and ranking of cryptocurrency exchanges, we focused on traditional exchanges headquartered and regulated in the United States, as well as the incumbent online brokers in the US, which are expanding to offer bitcoin trading on top of regular stock trading (e.g. buying shares of Apple or Google).
Best Crypto Exchanges, US Headquartered
Coinbase - San Francisco, CA
Poloniex - Boston, MA
Kraken - San Francisco, CA
Bittrex - Seattle, WA
Gemini - New York, NY
Robinhood - San Francisco, CA
Here's a breakdown of some of the best crypto exchanges for US residents.
Founded in June of 2012, Coinbase is the largest US-based cryptocurrency exchange, housing over 20 million users. To date, Coinbase has raised $525 million in venture capital, with its headquarters located in San Francisco, California. Coinbase is best known for its easy to use website and crypto trading platform, Coinbase Pro. Coinbase supports 14 different cryptocurrencies for trading, including Bitcoin (BTC), Ethereum (ETH), and Litecoin (LTC), among others.
If buying Bitcoin from a linked ACH account, the average commission is ~1.49%. If buying Bitcoin by selling another cryptocurrency you already hold in your Coinbase Wallet (or vice versa), then the average commission is ~.50%. For example, buying $1,000 worth of Bitcoin would cost ~$15 from a linked bank account.

coinbase homepage
Poloniex was founded in January of 2014. In 2018 the company was acquired by Circle, a global internet finance company. Poloniex currently has a web-platform and mobile app available to customers. The Poloniex mobile app allows customers to chart, trade, and create stop-limit orders on the go. Poloniex is known for offering a wide range of crypto assets and offering competitive commissions and margin rates. Poloniex currently has 58 coins available to trade, 49 of which are available in the US.
Poloniex charges up to 0.25% per transaction but can be as low as 0% for traders who surpass 20 million as market makers or 0.10% for taking liquidity. For example, if a trader who traded less than $25,000 a month bought $1,000 worth of Ethereum (ETH), it would cost them $2.50. This commission range is comparable to competitors such as Kraken and is cheaper than competitors such as Coinbase and Gemini.

poloniex crypto exchange
Kraken was founded in July of 2011 and has raised a total of $111.6M over three rounds of venture capital funding. Kraken offers trading on 18 different cryptocurrencies, including Monero (XMR), Ripple (XRP), and Dash (DSH). Kraken currently offers a web platform but does not have a mobile app.
Kraken uses a maker-taker fee schedule with price incentives based on your trading volume over the last 30 days. For example, the average customer who trades less than $50,000 a month will pay $2.60 in fees for every $1,000 in trading volume. Fees for market makers range between 0% and 0.16%, while fees for takers range from 0.10% to 0.26%. This fee schedule, which is almost identical to Poloniex, is more competitive than competitors like Coinbase and Gemini.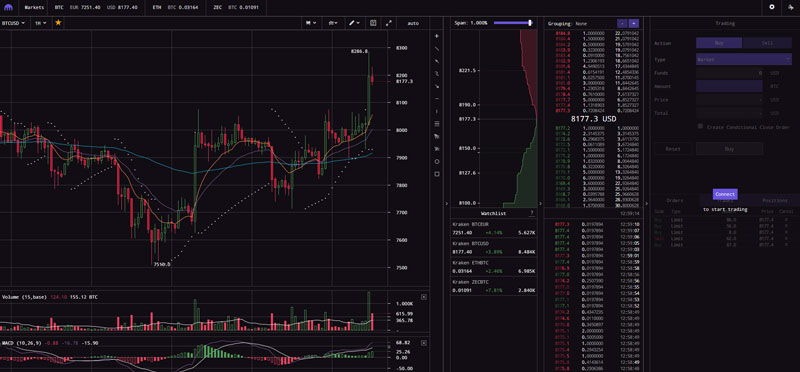 Kraken Platform
Bittrex was founded in Seattle, Washington in 2014. Bittrex offers over 100 tradeable coins, including Bitcoin (BTC), Ethereum (ETH), and Litecoin (LTC). Bittrex, which doesn't provide a mobile or desktop platform, is suited for people who enjoy trading different altcoins. In the US, Bittrex offers fiat trading pairs and deposits in USD for customers in California, Montana, New York, and Washington.
Bittrex has a simple pricing model, and charges a flat 0.25% on all trades. At this commission rate, it would cost $2.50 to buy $1,000 worth of Bitcoin (BTC). Higher-volume traders, those trading more than $25,000 a month, should look at Poloniex or Kraken for discounted pricing.

Bittrex Homepage
Founded in 2015 by the Winklevoss twins, Gemini is a licensed digital asset exchange and custodian built for both individuals and institutions. Gemini lets users buy, store, and sell Bitcoin (BTC), Ethereum (ETH), Litecoin (LTC), Bitcoin Cash (BCH), and ZCash (ZEC), as well as the self-named Gemini dollar (GUSD). Gemini is tailored to individuals who enjoy trading on a mobile app and want to support the advancement of cryptocurrency as a payment method. As evidence, Gemini has partnered with Flexa, a global cryptocurrency payments network, to make cryptocurrency payments an easy and widespread process. Gemini currently has a web and mobile platform available to customers.
Gemini is much more expensive than other exchanges, charging between $0.99 - $2.99 on transactions under $200, and 1.49% on orders over $200. This means it would cost $14.90 to purchase $1,000 worth of Bitcoin (BTC). Overall, Gemini is the most expensive crypto exchange included in this guide, charging more than five times what other exchanges would charge for the same transaction.

Gemini Homepage
Robinhood was founded in 2013 and has received $539M in funding to date. Robinhood Crypto allows users to trade Bitcoin (BTC), Ethereum (ETH), Bitcoin Cash (BCH), Litecoin (LTC), Dogecoin (DOGE), Ethereum Classic (ETC), and Bitcoin SV (BSV). Ten additional coins can be added to a watch list. With the ability to trade stocks, options, ETFs, and crypto all in one app, Robinhood Crypto is best-fitted for users who trade multiple classes of assets.
Robinhood Crypto does not charge a commission for placing crypto trades; however, it generates tiny profits from each order as it is routed. This routing practice, known as payment for order flow (PFOF), is also how Robinhood makes money from stock trades. In their user agreement, Robinhood Crypto states that they may receive activity-based rebates from Crypto exchanges, brokers, and market-makers, among other crypto intermediaries. Bottom line, since Robinhood is not transparent with its pricing structure, there is a possibility the all-in costs per trade are actually much higher than some competitors. Unfortunately, there is no way to know for certain.

Robinhood Crypto
Pricing Details per Exchange
Final Thoughts
Trading cryptocurrencies is becoming more widespread as investors around the globe become more comfortable with blockchain technology and the exchanges that offer online crypto trading. Security enhancements for digital wallets continue to improve as well, providing traders more confidence that buying bitcoin is safe.
When assessing security, ease of use, trading tools, and total cryptocurrencies offered, Coinbase comes out on top for 2019. That said, hopefully this review helps shed light on some of the other US crypto exchanges that also provide a good, clean, competitive offering.
Read Next