With its $4.95 flat trades and a website that provides a bit of everything for everyone, Firstrade puts up a respectable fight with industry leaders. However, we must ask whether that makes Firstrade a legitimate choice to park an investment portfolio. Or is Firstrade a broker not worth the trouble?
This review will break down the facts and reveal the answer.
Commissions & Fees
When it comes to trades, Firstrade tends to keep things simple, offering investors flat-fee stock trades for $4.95 each. Options trades run at $4.95, plus $.65 per contract. Stocks less than $1 also come with higher fees.
On the equities side, Firstrade competes most closely with TradeKing and OptionsHouse, whose trades also run at $4.95 per trade.
Firstrade has an advantage with mutual funds, charging less than its big brother competitors. However, matched up against discount brokers such as TradeKing and OptionsHouse, Firstrade is right in line. Lastly, Firstrade does offer 12 commission-free ETFs, which is a plus. Unfortunately though, this is not a lot compared to Charles Schwab, ETRADE, or TD Ameritrade, which all offer more than 100.
| | Firstrade | Scottrade | Ally Invest | TD Ameritrade | Fidelity |
| --- | --- | --- | --- | --- | --- |
| Stock Trade Fee (flat) | $4.95 | $6.95 | $4.95 | $6.95 | $4.95 |
| Options Base Fee | $4.95 | $6.95 | $4.95 | $6.95 | $4.95 |
| Options Per Contract Fee | $0.65 | $0.70 | $0.65 | $0.75 | $0.65 |
| Mutual Fund Trade Fee | $9.95 | $17.00 | $9.95 | $49.99 | $49.95 |
| Broker Assisted Trades Fee | $19.95 | $32.00 | $20.00 | $44.99 | $32.95 |
| Commissions & Fees | | | | | |
| Overall | | | | | |
UPDATE 02/15/17 – Firstrade reduced its equity and options commissions. Equity trades, including stocks and ETFs, have been lowered to $4.95 per trade (previously $6.95) while options trades have been lowered to $4.95 + $.65 per contract (previously $6.95 + $.75 per contract). Since these new rates were announced after the 2017 Review was finalized, they are not incorporated into Firstrade's star rating for this category.
Customer Service
Firstrade's customer service is good and has improved over last year's testing. In our 2017 Review, Firstrade placed ninth out of 16 brokers for phone support, a positive jump from finishing 12th out of 13 brokers in our 2016 Review. As in 2016, Firstrade's email support once again finished second overall, which is no easy feat. Firstrade's weakest result came with its live chat support, which finished tenth.
Beyond traditional customer service testing, it is important to note that Firstrade does a phenomenal job supporting its Chinese-speaking clients.
Beyond traditional customer service testing, it is important to note that Firstrade does a phenomenal job supporting its Chinese-speaking clients. In 2016, Firstrade made a significant investment to expand Chinese customer service to 24/7 so clients in both the United States and China can have access to quality customer support whenever they need it.
Research
As far as research goes, Firstrade offers clients with a well-balanced experience, thanks to its use of Morningstar as its primary provider. Morningstar is the most popular research provider in the industry, and for good reason – its quality data and unique variables are top notch.
Under Morningstar, Firstrade offers its clients thorough research for stocks, ETFs, and mutual funds. Firstrade extended its offering by adding a new Video Commentary section in 2015, which provides market analysis from Morningstar. Having said that, however, Firstrade still has room for improvement.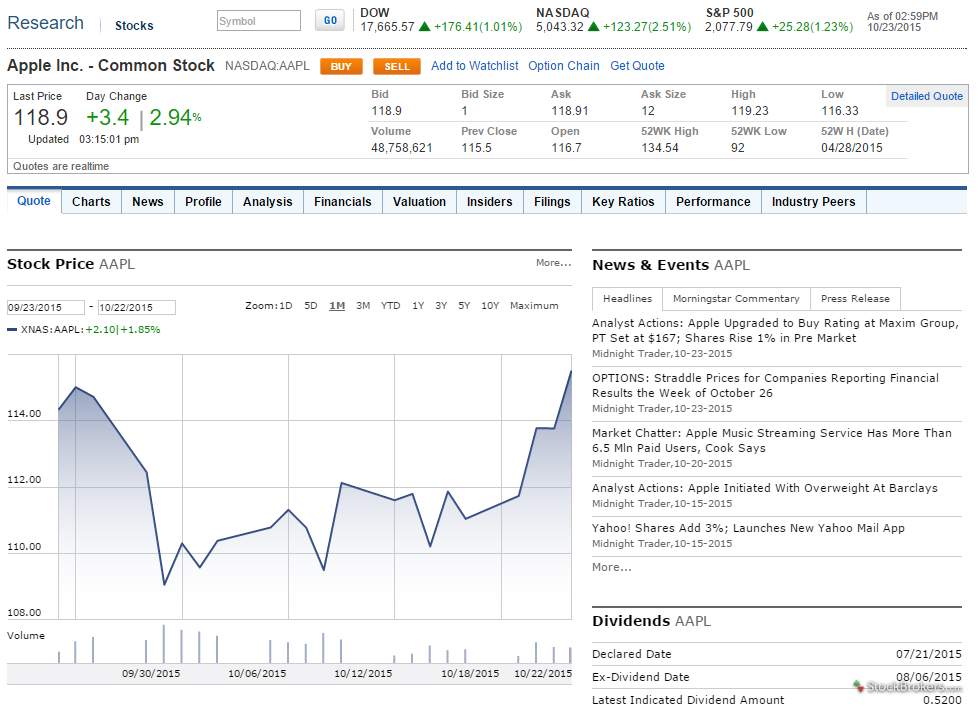 Firstrade offers only one third-party research report for stocks, one for ETFs, and none for mutual funds. Scottrade, which charges just five cents more per trade, provides its clients with three third-party research reports for stocks, one for ETFs, and one for mutual funds. Lastly, pay just $1 more per trade and investors can access 12 third-party research reports offered by Fidelity for equities alone.
While Firstrade provides a foundation for quality research that most investors will find sufficient, compared to its large, full-service competitors, weaknesses are quite apparent, and the value proposition becomes difficult to defend.
Screening is another area that is generally weaker than the competition. On the plus side, Firstrade does offer fairly robust screeners for stocks, ETFs, and mutual funds, which include Morningstar criteria filters such as "star rating" and "Stylebox." On the cons side, however, the user experience is noticeably outdated, the number of criteria to filter with is weak, and the selection of predefined screens could be extended. Bonds screening is also not available.
While Firstrade provides a foundation for quality research that most investors will find sufficient, compared to its large, full-service competitors, weaknesses are quite apparent, and the value proposition becomes difficult to defend.
Ease of Use
One area in which Firstrade shines is in ease of use. 
Firstrade's website is not only well designed, but also easy to navigate. It just works.
Firstrade's website is not only well designed, but also easy to navigate. It just works. The primary navigation menu is well labeled and takes advantage of primary links with sub-navigation below, a proven format that yields happy clients. The broker also boasts a site-wide quote bar with real time streaming quotes and a quick trade ticket built in. Top that off with a well laid out research area, and it is a recipe for success.
Even the client dashboard is well constructed, clean, and customizable. Customizable dashboards are becoming increasingly popular with clients, offering them a clear view of everything important to them upon login. While Firstrade's client dashboard is no Trade Source from Charles Schwab (our personal favorite on the web), the broker has done a good job.
Logging in now is also a straightforward and secure process. Our one gripe with Firstrade's website used to be the login process, which took a turn for the worse in 2013 when the broker released its new state-of-the-art "Security Ring" PIN login. The patented method for entering your account pin was tedious, not intuitive, and quite annoying. Heeding our advice, Firstrade updated its login PIN to match a standard keypad found at your everyday ATM.
Finally, Firstrade really impressed us in 2015 with a completely revamped online account application. The new application is entirely mobile friendly with clean, easy-to-read instructions alongside a seamless ACH funding process at the end. In fact, depending on your bank, the traditional micro deposits to establish the account link are not required. Even ACAT transfers were added in 2016 to round out the experience.
Platforms & Tools
In previous years, Firstrade used to suffer from offering only a Java-based X-Stream watch list tool, which was extremely limited in depth and functionality. Fortunately, that all changed with the launch of Firstrade Navigator in 2016 (as of February 2017, the platform is only available to Firstrade Premier clients and will expand to all clients in the coming months).
Firstrade Navigator is built entirely in-house using HTML 5 code, which makes it flexible and future ready.
Firstrade Navigator is built entirely in-house using HTML 5 code, which makes it flexible and future ready. The platform is split into three customizable columns – the left and right sidebar can be collapsed if desired) – which can be customized to suit the client's personal preferences. Streaming quotes are also found throughout.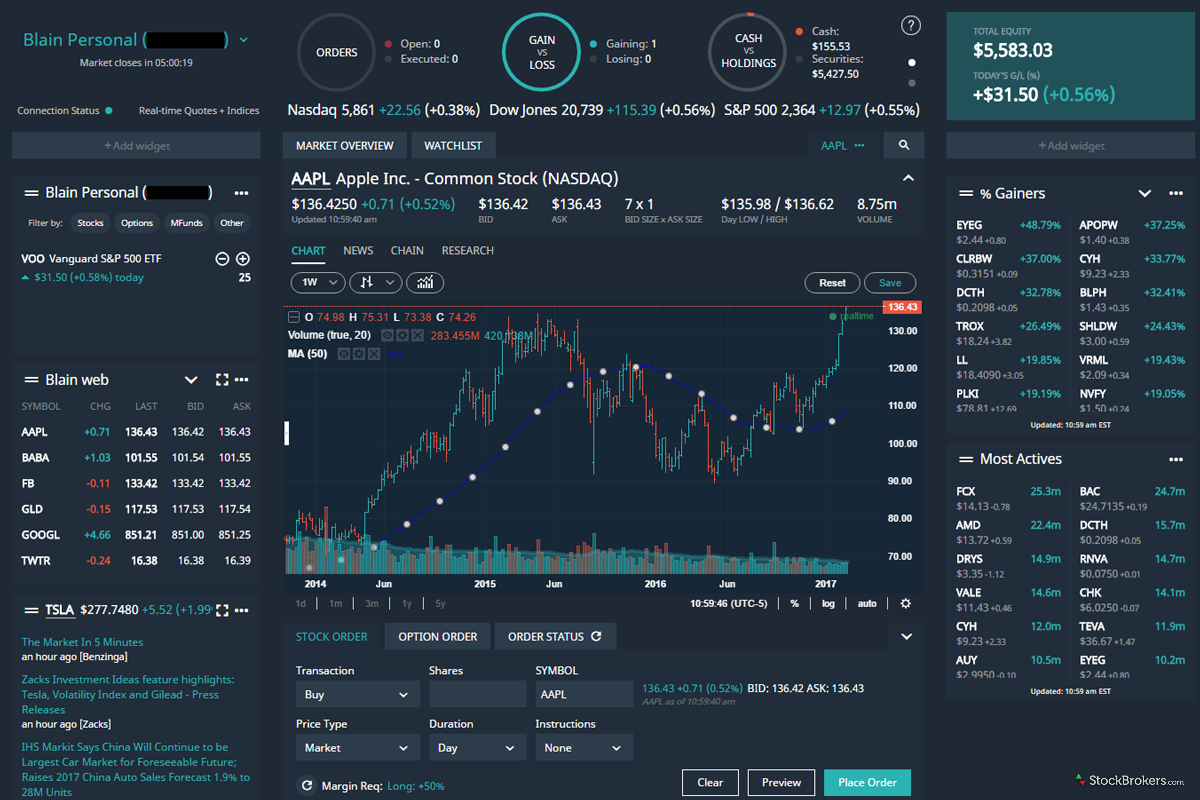 Improvements over the previous X-Stream platform are so extensive it's not worth a direct comparison. Instead, I focused on testing Firstrade Navigator as a brand new experience.
The center headline of the platform includes three pie charts summarizing the most important components of the client's account: order summary, positions summary, gainers vs. losers, and a high-level portfolio allocation breakdown (this entire row can be flipped to display any recent account notifications). Below this lie daily return summaries of the three major indices.
Like the rest of the Firstrade experience, ease of use is a focus with Navigator. The color scheme is clean, although there is only one default option as I write this and I would prefer seeing more traditional green and red coloring in the context of individual equity returns. If you have your watch list on the left sidebar, you can easily expand it into the primary center area to enlarge it.
While the foundation of Firstrade Navigator is strong, there are multiple weaknesses with the platform since it is still so new. I found watchlists only have 13 optional columns, whereas the website's watchlist offers 57. The same goes for charts that offer no drawing tools, whereas the website offers five.
Charts in Navigator include 58 optional indicators, which is decent – the industry average is 106 – but they cannot be enlarged beyond the center column. Popping out charts into their own separate window for maximizing sizing is critical for performing clean technical analysis, not to mention allowing multiple charts at once. Charting also lacks the ability to save custom profiles, although you can adjust the default view.
One last point is that the website and Navigator cannot be used at the same time. Clients can only be logged into one or the other, which was a bit annoying as I had to constantly swap sessions to conduct research then jump back to Navigator to monitor my portfolio.
Navigator drawbacks aside, the bottom line is that Firstrade Navigator is a brand-new platform experience built from scratch that is miles ahead of its predecessor. Without question, I see a bright future for Firstrade in the client tools department.
Outside of Navigator, Firstrade also added OptionsPlay to its list of client tools in 2016. While not easy to find within the website – clients have to load an option chain then click a single "Options Wizard" link in the upper right corner – the OptionsPlay platform is great. With OptionsPlay, ideas are scanned for and presented in the left column, a chart and summarized technical analysis are focused in the center column, then three unique trade ideas are revealed, rated, and explained in the third column. It is a great tool for casual and seasoned investors alike.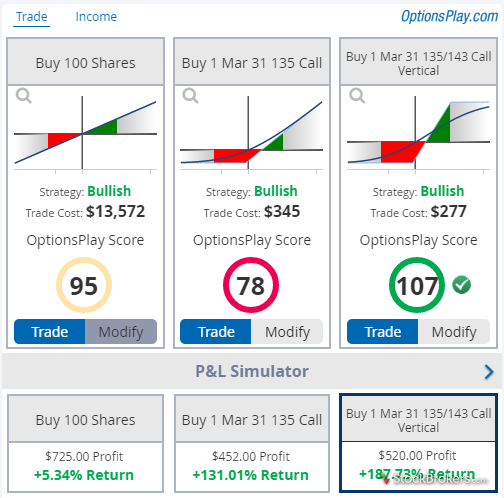 Mobile Trading
On the mobile trading front, Firstrade offers an iPhone and Android smartphone app, but not an iPad or Android tablet app. Despite the fact that Firstrade's iPhone app does not support all devices, our test left us fairly impressed, particularly with its ease of use.
Thanks to updates in 2015, Firstrade's mobile app now supports Touch ID (fingerprint login) and real-time streaming quotes throughout the app. Options chains were cleaned up and charting was also improved in 2015 with the addition of 19 technical studies. Thanks to these improvements, Firstrade took its mobile experience from just "ok" to "good" in our 2016 Review.
Looking ahead at 2017, our wish list for Firstrade's mobile experience is that it adds alert functionality, the ability to view charts in horizontal landscape mode, and after-hours charts, to name three attributes. See: Best Brokers for Mobile Trading.
Other Notes
Clients who want to adjust the cost-basis method for their account (FIFO, LIFO) can finally do so now that Firstrade added this functionality in 2016. Unfortunately, this functionality is available by email request only.
Firstrade is unique in the industry with its Securities Lending Income Program. Through the program, clients who hold securities long in their account can opt in to lend those shares to a marketplace of short sellers operated by Firstrade's clearing provider, Apex. Any stocks that are shorted earn the client revenue, which is credited to their account automatically.
Firstrade's support for Chinese-speaking clients goes beyond 24/7 customer service. The broker also offers a fully translated client experience. This includes not only the website but also a variety of educational materials such as a weekly blog, an annual trading contest, and even a trading reality show.
Closing Thoughts
While Firstrade offers a well-organized website, user-friendly tools and quality research, the broker lacks the depth to compete with the big full-service brokers. The price paid per trade simply does not match the value delivered by its key competitors.
That said, clients looking for an all-round, easy-to-use broker with a very "homey" type feeling, will find Firstrade a great fit. And, for Chinese-speaking investors, Firstrade is a winner.
Methodology
For our 2017 Stock Broker Review we assessed, rated, and ranked sixteen different online brokers over a period of six months. In total, we conducted 349 customer service tests, collected 5,277 data points, and produced over 40,000 words of research. How we test.
View all Firstrade Fees & Features
---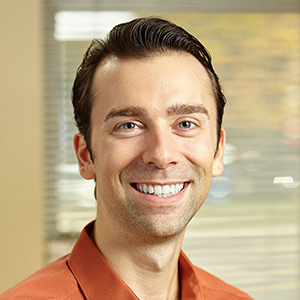 Reviewed by Blain Reinkensmeyer Blain heads research at StockBrokers.com and has been involved in the markets since placing his first stock trade back in 2001. He developed StockBrokers.com's annual review format seven years ago, a format broker executives consider the most thorough in the industry. Blain currently maintains funded accounts with more than a dozen different US-regulated online brokers and has executed thousands of trades throughout his career. He enjoys sharing his experiences through his personal blog, StockTrader.com.
---
Ratings Overall
Summary
Offering of Investments
Platforms & Tools
Research
Customer Service
Banking
Best in Class
This broker did not finish Best in Class.
Compare Firstrade
Find out how Firstrade stacks up against other brokers.
Firstrade Competitors
Select one or more of these brokers to compare against Firstrade.