Advertiser Disclosure
×
StockBrokers.com helps investors like you across the globe by spending over 1,000 hours each year testing and researching online brokers. You support us through our independently chosen links, which may earn us a commission. This does not impact our completely unbiased research, which is respected by broker executives as the most thorough on the web. Thank you for your support.
The StockBrokers.com annual review sets the official industry benchmarks. Our data is used by executive teams, and our ratings are referenced on earnings calls, national TV commercials, US Senate hearings, and throughout the web. We spend more than one thousand hours testing online brokerage accounts every year. Industry leaders trust us because our rigorous testing is totally independent and 100% unbiased.
Best Mobile Trading Apps - Summary
Here are the top mobile trading apps, based on 52 variables.
Mobile Trading
Trading and accessing client information via mobile devices is a trend that is rapidly gaining momentum around the world, and brokers are betting big on the future. Not surprisingly, every online broker has resources devoted to mobile development as the demand for information, entertainment, and social and commercial services skyrockets on the Internet.
While mobile trading platforms cannot match the exponential growth of Instagram, Snapchat, and similar services that have attracted hundreds of millions of users, they are becoming increasingly popular among traders and brokers. An example of the dramatic shift from desktop to mobile is nowhere more apparent than in the fact that more visitors access Facebook every day via their mobile devices than they do with their PCs.
Despite the fact that most brokers have had mobile apps for many years, there is still plenty of room for brokers to innovate. Many online brokers are wagering that mobile investing isn't just about viewing a portfolio, maintaining a basic watch list, and placing simple trades. Instead, they are working to bring the full trading experience to mobile, including trade tools, advanced order types, detailed charting, complex options, cloud syncing, screeners, and much more.
No single broker has "cracked the code" to the ultimate mobile investor experience yet, but our top three finishers this year are certainly close. With 52 different variables being assessed for mobile trading alone, scoring high marks is no walk in the park. We conducted all our tests on iOS devices, and focused primarily on the iPhone.
Best Brokerages for Mobile Trading
Mobile Trading Broker Apps
Looking at the results, E*TRADE was our winner, earning 97% of the possible points in this category. E*TRADE, like TD Ameritrade, provides two separate apps, although our testing focused just on their primary app, E*TRADE mobile, which most of their customers use.
E*TRADE Mobile shines for its diverse set of features and tools. In fact, our testing of 52 different variables found that E*TRADE lacks only one feature: portfolio asset allocation charts. Some functionality, for example fully customizable screening, is offered only by one other broker, Interactive Brokers. The app's weakness is found in its charting package, which only includes 11 optional technical indicators. Nevertheless, there is a lot to like.
For traders, TD Ameritrade stands out for offering two separate apps, Mobile and Mobile Trader, for traditional investors and active traders, respectively. Mobile Trader, which won our #1 Trader app award, is the ultimate experience for traders, providing a comprehensive offering. In terms of charting, no one comes close to matching Mobile Trader's rich tool set and 397 optional technical indicators. The app syncs entirely with thinkorswim, which is our #1 desktop platform pick in 2018.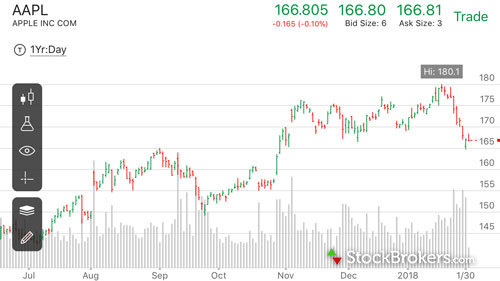 On the innovation front, in 2017 TD Ameritrade became the first broker to offer a full functionality chat bot through Facebook Messenger. And, for the millions of Americans who own an Amazon Alexa device, TD Ameritrade, alongside Fidelity, both have approved Alexa Skills. Our testing this year did not incorporate specific features of the Amazon Echo; however, based on Amazon's ratings, it appears TD Ameritrade has the lead in delivering a diverse quality experience.
Speaking of innovation, Fidelity won our award for #1 Investor App, thanks partly to its customizable feed experience. Upon logging into the Fidelity app, customers are greeted by a personalized stream of portfolio and watch list analysis, market news, and research, alongside updates on the US market and international markets. The feed backdrop is a beautiful scenic image that rotates each time the app loads. While TD Ameritrade Mobile Trader reigns supreme for traders, Fidelity Mobile is our favorite app for investors.
Across the industry as a whole, although some functionality such as real-time streaming quotes, charting with multiple indicators, and synced watch lists are now pretty much industry standards, other functionality remains less common. Only 31% of the industry offers conditional orders, just 23% of the industry supports viewing open orders on a stock chart, and still only 46% of the industry supports basic stock alerts.
The process of placing orders continues to become easier for customers, thanks to innovations with order entry functionality. Placing regular stock trades and single-leg options trades is now a breeze, regardless of the broker used, and for brokers who offer complex options trading, it is mostly painless. Filling in an order ticket for a four-legged spread trade can be tricky on a PC, let alone trying to trade one on a tablet or smartphone. Several brokers are taking innovative steps to make the process seamless, and we will be very excited to see which route becomes the industry standard over the next few years.
The world of mobile trading continues to evolve rapidly. While online brokers have come a long way from where they were even a year ago, there is still considerable scope for innovation.
Mobile Trading Brokers Summary
Related Guides