Advertiser Disclosure
×
StockBrokers.com helps investors like you across the globe by spending over 1,000 hours each year testing and researching online brokers. You support us through our independently chosen links, which may earn us a commission. This does not impact our completely unbiased research, which is respected by broker executives as the most thorough on the web. Thank you for your support.
The StockBrokers.com annual review sets the official industry benchmarks. Our data is used by executive teams, and our ratings are referenced on earnings calls, national TV commercials, US Senate hearings, and throughout the web. We spend more than one thousand hours testing online brokerage accounts every year. Industry leaders trust us because our rigorous testing is totally independent and 100% unbiased.
Best Options Trading Brokers - Summary
Here are the top five brokerages for options trading, based on over 100 variables.
Options Trading
Next to active traders, there is arguably no customer more valuable to an online broker than an options trader. Options trades offer much higher profit margins for brokers than stock trades, and, as a result, competition is fierce in attracting these clients. This type of market atmosphere is great for investors because with healthy competition comes innovation and competitive pricing.
E*TRADE, our winner for 2018, thanks to its OptionsHouse platform, understands what it takes to succeed in this niche.
E*TRADE, our winner for 2018, thanks to its OptionsHouse platform (OptionsHouse was a stand-alone broker until being acquired by E*TRADE in 2016), understands what it takes to succeed in this niche.
E*TRADE charges more than most for its options commissions but provides a fantastic platform in OptionsHouse (E*TRADE Pro, the E*TRADE desktop platform, is another respectable platform for options trading, but unlike OptionsHouse, which is available to all customers, access comes with minimum activity requirements). Options trades are a flat $6.95 + $.75 per contract. However, make 30 trades or more per quarter, and the rate reduces to $4.95 + $.50 per contract.
Options Trading Tools
Platform wise, OptionsHouse, by E*TRADE's web-based platform, offers all the tools an options trader could want, and displays them in magnificent form. Attention to detail, such as automatic spread groupings, effortless scanning through strategySEEK, and easy-to-understand risk/reward data through tradeLAB, make OptionsHouse a truly unique experience. The OptionsHouse platform is the best in the industry.
Keeping the spotlight on excellent platforms and tools for options traders, TD Ameritrade's thinkorswim and TradeStation cannot be left out. Strategy Roller from thinkorswim allows clients to create custom rules and roll their existing options positions automatically. The number of settings and depth of customization available is impressive, and something we have come to expect from thinkorswim.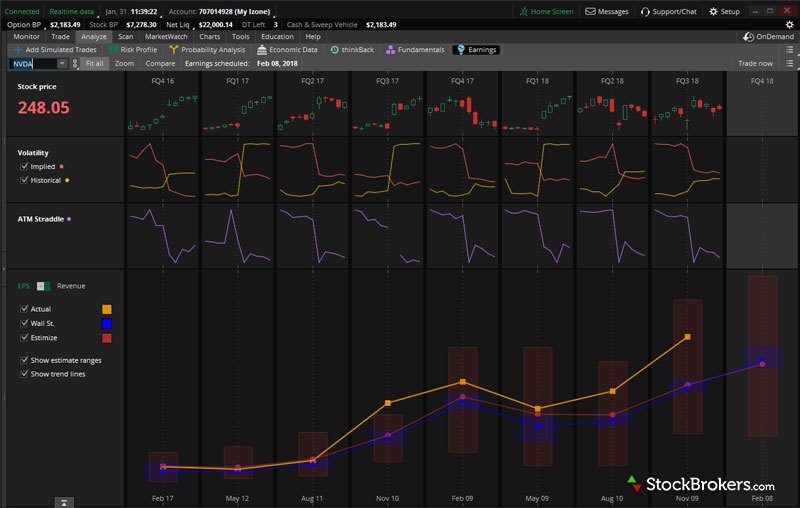 Not to be outdone, TradeStation's OptionsStation tool makes analyzing potential trades a breeze, and even goes as far as including 3D P&L charts. Investors note, however: Popcorn and 3D glasses are not required, and while visually appealing, we did not see any distinct advantage over the traditional 2D P&L chart.
If unique features and functionality matter to you, Charles Schwab offers the "Walk Limit" order type, which will "walk" your order to try to get the most favorable price within the National Best Bid or Offer (NBBO). The broker also offers Idea Hub, which uses targeted scans to break down options trade ideas visually.
Looking at cost alone, Interactive Brokers takes the crown. At Interactive Brokers, there is no base charge, and the per-contract rate is just $.70. Additional savings are also realized through more frequent trading. That said, the broker is built solely for professional traders and requires a $100,000 minimum deposit for margin accounts. Lastly, its trading platform, Trader Workstation, is the most challenging platform to learn out of all the brokers we tested for our 2018 review.
There's a healthy variety of reputable brokers to choose from in the world of options trading. In 2018, investors should expect their broker to include scanning, P&L analysis, risk analysis, and easy-order management. Position management functionality and tying the experience together is where platforms such as OptionsHouse by E*TRADE and thinkorswim by TD Ameritrade distinguish themselves. Ultimately, it comes down to personal preference and weighing priorities, such as cost versus ease of use and tool selection.
Options Brokers Summary
| Online Broker | Best For | Minimum Deposit | Options Base Fee | Options Per Contract Fee | Overall Rating |
| --- | --- | --- | --- | --- | --- |
| E*TRADE | Options overall | $0 | $6.95 | $0.75 | 5 Stars |
| Interactive Brokers | Options rates | $10,000 | $0 | $0.70 | 5 Stars |
| TD Ameritrade | Options tools | $0 | $6.95 | $0.75 | 4.5 Stars |
| TradeStation | OptionStation Pro | $5,000 | $5.00 | $0.50 | 4.5 Stars |
| Charles Schwab | Walk-Limit orders | $1,000 | $4.95 | $0.65 | 4.5 Stars |
Related Guides