Founded in 1973, Charles Schwab is an iconic brand with which most investors are familiar. The full-service broker is home to $3.18 trillion in total client assets, and provides services ranging from stocks, options, and futures trading to full, FDIC-backed banking services, to comprehensive retirement solutions. In total, Charles Schwab serves 10.6 million active brokerage accounts, 1.2 million banking accounts, and 1.6 million retirement plan participants.
Charles Schwab's focus is seeing the world "Through Clients' Eyes," which means delivering products and services customers want and leading industry trends, instead of being a follower.
The most recent example of Charles Schwab's focus on leading came in February 2017, when the company introduced a new Satisfaction Guarantee and cut its stock and options commissions, effectively starting an industry-wide price war. With its Satisfaction Guarantee, if a customer is not satisfied for any reason, a full-refund of any commission or management fee is given.  
Also in 2017, Charles Schwab finally completed its integration of optionsXpress, effectively bringing futures trading, alongside a new platform StreetSmart Central, to Schwab customers. More on that later.
Commissions & Fees
Whether trading stocks or options, Charles Schwab is ahead of most of its closest full-service competitors. Its $4.95 flat-rate stock trades are less expensive than ETRADE ($6.95) and TD Ameritrade ($6.95), and match Fidelity, which also charges $4.95. The same goes for options trades, which run at $4.95, plus $.65 per contract.
Investors trading ETFs will also enjoy Charles Schwab as a leading broker in its offering of 244 commission-free ETFs (only TD Ameritrade offers more with 296).
Mutual funds are another high point. You can buy any one of Schwab's 4,342 OneSource funds without incurring a transaction fee. In total, Schwab offers 5,509 funds; none carry a load. If you elect to buy a fund not designated as a OneSource fund, the transaction fee will be $49.95 per trade (per buy, $0 to sell), the second highest in the industry.
| View All Fees | Charles Schwab | Fidelity | TD Ameritrade | E*TRADE | Scottrade |
| --- | --- | --- | --- | --- | --- |
| Stock Trade Fee (flat) | $4.95 | $4.95 | $6.95 | $6.95 | $6.95 |
| Options Base Fee | $4.95 | $4.95 | $6.95 | $6.95 | $6.95 |
| Options Per Contract Fee | $0.65 | $0.65 | $0.75 | $0.75 | $0.70 |
| Mutual Fund Trade Fee | $49.95 | $49.95 | $49.99 | $19.99 | $17.00 |
| Commission-Free ETFs | 265 | 265 | 313 | 295 | 0 |
| Commissions & Fees | | | | | |
| Overall | | | | | |
Research
After assessing Charles Schwab on a staggering 60 different variables for research alone in our 2018 Review, it was one of only three brokers to score at least 97% in the category.
Charles Schwab, alongside its close competitor Fidelity, provides the highest quality of research among all the brokers I've tested here at StockBrokers.com. Accessing a wealth of independent research, alongside Schwab's own in-house research is simple. When I pull up a quote for Apple (AAPL), the summary page has a similar feel to higher priced competitors TD Ameritrade and ETRADE; however, Schwab also offers its own in-house equity rating.

Charles Schwab Equity Rating summary Apple.
With so much research available for traders today, I appreciate the fact that Schwab puts its own viewpoint front and center whenever possible. What is even more impressive is the staff of experts Schwab has on board providing market commentary and analysis (25 as I write this review). To be able to see experts such as Liz Ann Sonders, Schwab's Chief Investment Strategist, interviewed on Bloomberg TV, and thereafter to be able to read her latest editorial on Schwab Insights is awesome.

Charles Scwab Insights.
Speaking of TV, Schwab streams its own live events. Known as Schwab Live, several events were hosted in 2017, and more are planned for 2018. For example, one of the more memorable events was the day after the 2016 US presidential election when Randy Frederick interviewed special guest Nate Silver, a statistician and editor-in-chief of ESPN's FiveThirtyEight.
Back to on-site research: the standard charting functionality is basic, yet well built, as small details are not overlooked. Whichever settings you apply to one chart are automatically saved as the default, so every time a fresh chart is loaded, you do not have to spend time re-configuring it to your liking. Schwab offers 34 indicators that can be added, which is more than enough for the average investor. I also really enjoyed being able to easily view historical charts dating as far back as 1980.

Charles Schwab website stock chart.
While the research experience, overall, is excellent, Schwab has slowly slipped further behind industry leader Fidelity in one key area, usability. Over the past two years, Fidelity has invested significant resources to rebuild its entire website research area to be 100% responsive (mobile-friendly) and focused on highlighting the most pertinent fundamental data. Schwab, however, still relies on the same visual experience from years past. Looking ahead, this tops my want list from Schwab.
After assessing Charles Schwab on a staggering 60 different variables for research alone in our 2018 Review, it was one of only three brokers to score at least 97% in the category. Fidelity was able to edge out Charles Schwab for the No. 1 spot, finishing with a score of 99%.
| | Charles Schwab | Fidelity | TD Ameritrade | E*TRADE | Merrill Edge |
| --- | --- | --- | --- | --- | --- |
| Stock Research - Social | Yes | Yes | Yes | Yes | No |
| Stock Research - Metric Comparisons | Yes | Yes | Yes | No | Yes |
| Stock Research - Reports | 8 | 12 | 7 | 4 | 3 |
| ETF Research - Reports | Yes | Yes | Yes | Yes | Yes |
| Mutual Fund Research - Reports | Yes | No | Yes | Yes | Yes |
Customer Service
To score Customer Service, StockBrokers.com partners with customer experience research group Confero to conduct phone tests from locations throughout the United States. For our 2018 Broker Review, 260 customer service tests were conducted over ten weeks. The data collected is institutional grade and sets the current industry benchmarks.
Results:
Average Connection Time: <1 minutes
Average Net Promoter Score: 8.9 / 10
Average Professionalism Score: 8.2 / 10
Overall Score: 8.77 / 10
Ranking: 4th (13 brokers)
Platforms & Tools
Charles Schwab currently offers customers access to three platforms: StreetSmart.com (web based), StreetSmart Edge (desktop based), and StreetSmart Central (web based). Like TD Ameritrade, all platforms are available to all customers, regardless of account minimums or trade activity (competitors E*TRADE and Fidelity have requirements for access to their flagship platforms). That said, as of early 2018, StreetSmart Central was available only to customers approved for futures trading or portfolio margin.
Charles Schwab's robust desktop-based platform, StreetSmart Edge, requires a slight learning curve, as all active trader platforms do, to become acquainted with it. Everything is fully customizable, from two different platform color schemes to custom layouts, which can be built on the fly for quick access to different screens.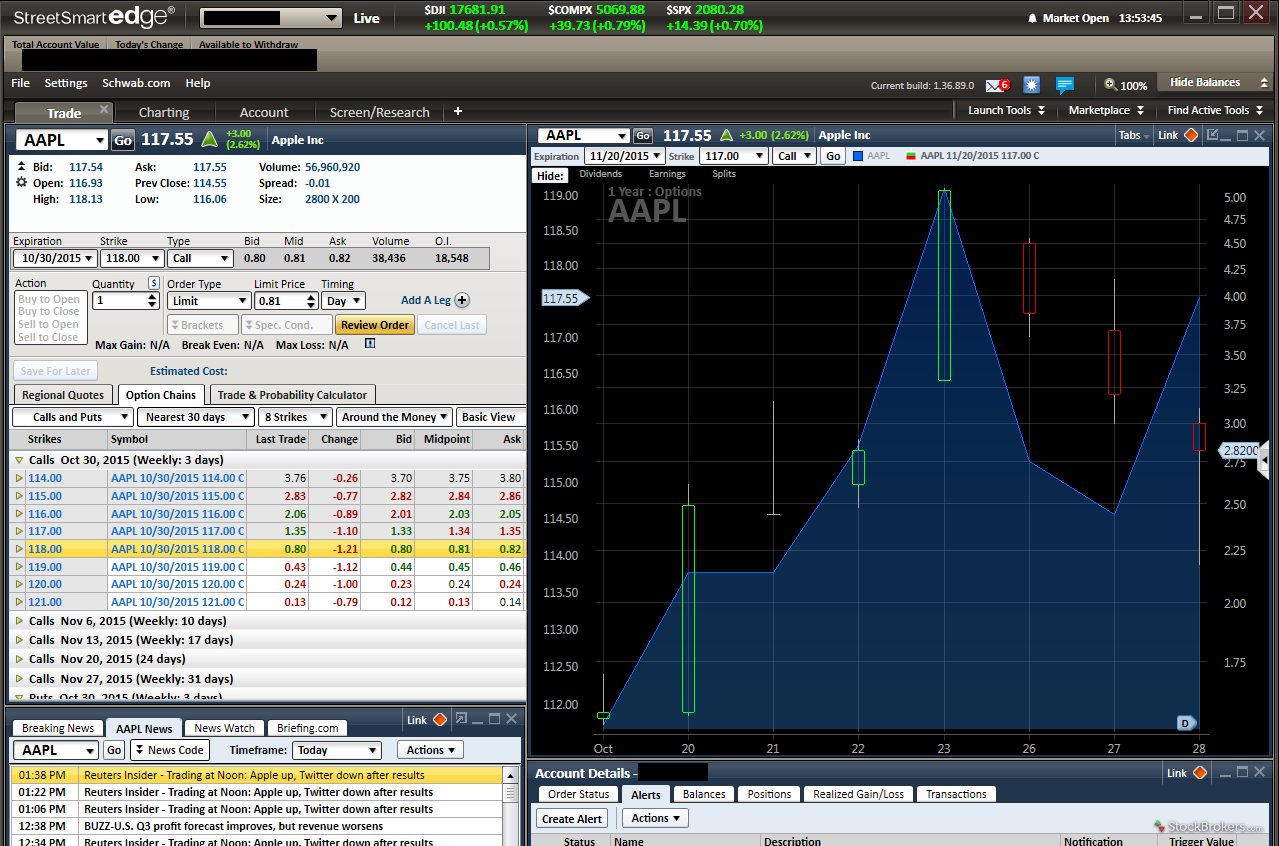 Charles Scwab StreetSmart Edge.
Some of the features that stood out during my testing of StreetSmart Edge included the High/Low streamer and Average Volume Over Time indicator, both of which are great tools for active traders looking to keep tabs on momentum stocks intraday. The "Launch Tools" button allows for quick access to the platform's products, and I liked the clean pop-up notifications that informed me whenever any of my orders triggered were filled successfully, etc. For positions you currently hold, markers appear on the charts to show you when and at what price you purchased the stock, a feature most of Schwab's competitors do not have.

Charles Schwab StreetSmart Edge tools.
Options traders will love the easy-order entry, thanks to a customizable version of optionsXpress's infamous all-in-one trade ticket and the inclusion of the Walk Limit order type. To prevent adjusting limit orders as they sit live, Walk Limit will "walk" your order to try to get the most favorable price within the National Best Bid or Offer (NBBO). Analyzing theoretical positions is also a breeze using the Trade & Probability Calculator, another ported tool from optionsXpress.
| | Charles Schwab | Fidelity | TD Ameritrade | E*TRADE | Merrill Edge |
| --- | --- | --- | --- | --- | --- |
| Desktop Platform (Windows) | Yes | Yes | Yes | Yes | Yes |
| Charting - Indicators / Studies | 41 | 166 | 411 | 118 | 95 |
| Charting - Drawing Tools | 15 | 22 | 22 | 33 | 22 |
| Option Chains - Total Columns | 41 | 26 | 33 | 30 | 69 |
| Watch Lists - Total Fields | 108 | 91 | 514 | 125 | 285 |
Finally, advanced charting is much cleaner and more robust on the platform than StreetSmart.com, and almost feels like Adobe Photoshop, as studies and drawings can be added quickly, hidden, or removed with a simple click. Traders who require 8, 12, 16, or 20-plus charts running at once, though, may find StreetSmart Edge less flexible than, say, thinkorswim by TD Ameritrade or TradeStation. Overall, the platform is easy to love.

Charles Schwab StreetSmart Edge stock chart.
StreetSmart Edge aside, StreetSmart.com is an older, browser-based platform recommended for customers looking for more out-of-the-box functionality and less advanced features. Real-time streaming watch lists, alerts, conditional orders, and slightly more advanced charting functionality make up the bulk of this platform's offering.

Charles Schwab StreetSmart.
An important caveat regarding StreetSmart.com is that it runs on Java, a programming language that has lost favor in today's modern web environment. Google Chrome and Microsoft's new Edge browser no longer support Java, which means customers who want to access StreetSmart.com have to use Mozilla Firefox, legacy Internet Explorer, or Safari (Mac).
Next to streaming quotes, the platform stands out for its ease of use. That said, StreetSmart.com is noticeably outdated, and I found myself preferring Schwab's website instead.
Between Summary and Trade Source, I prefer Trade Source, hands-down.
Trade Source, for example, is a dashboard experience on Schwab's website that provides clients a full view of their portfolios and high-level research. With Trade Source, customers can see a clean summary of their portfolios, positions, overall market averages, order status updates, and news alongside technical events impacting their holdings.

Charles Schwab Trade Source.
Using the tabbed windows, Trade Source is also useful for pulling stock quotes and doing high-level equity research. It is the only spot on the Schwab website where clients have access to real-time streaming quotes. Furthermore, the new experience came out of Charles Schwab's client testing area, Test Drive, so it was molded with client feedback from start to finish.
While Trade Source is impressive, it isn't Schwab's main website dashboard. Instead, the Summary screen holds that title.
With Summary, customers are greeted by a full width chart showing their current "Personal Value." It's called personal value because Schwab is one of only a select few online brokers that supports linking outside portfolios and bank accounts for a comprehensive view of your financial status. I have my Fidelity and E*TRADE accounts linked, and overall find the functionality basic (only your portfolio holdings and balance are extracted), but useful. For outside account aggregation and analysis, I prefer Personal Capital.

Charles Schwab account summary.
Summary's new design was released in 2017, and updates continue to stream out over time. Beyond a universal summary of your outside accounts and detailed breakdown of your Schwab accounts, Summary has little to offer beyond relaying the performance of current market indices, several quick links to popular tools, and a basic stream of market headlines.
Between Summary and Trade Source, I prefer Trade Source, hands-down.
One final platform that rounds out Schwab's StreetSmart suite is StreetSmart Central, which, like the new Summary experience, was launched in 2017. StreetSmart Central is a web-based platform built initially for optionsXpress customers, a broker Charles Schwab acquired way back in 2011. As I write this review, regular Schwab customers can access Central only if they are approved for futures trading or margin trading.
The best way to describe StreetSmart Central is that it is a blend of Trade Source and the classic optionsXpress website. It's designed to be essentially a complete brokerage experience; full trading capabilities are present for stocks and options as well as futures and futures options. A separate mobile app, StreetSmart mobile, is also available for Schwab customers to download.

Charles Scwab StreetSmart Central.
Considering StreetSmart Central is not yet available to all Schwab customers, I didn't spend too much time testing it. For now, the best way to think of Central is that it's the go to place for futures trading as a Schwab customer.
All in all, Schwab's offering of tools has its high points and low points. Given time, newer experiences, such as Summary and StreetSmart Central, have the potential to evolve into impressive, well-rounded trading hubs for investors. And the more advanced can sleep confidently knowing StreetSmart Edge provides most of the bells and whistles traders need to succeed.
Mobile Trading
Charles Schwab's mobile offering includes apps for nearly all major devices: smartphones (Apple and Android), tablets (Apple but not Android), as well as Apple Watch. No matter which platform clients are using, the experience is consistent and generally enjoyable.
Charles Schwab's mobile apps lack core functionality in two key areas: alerts and quotes.
That said, Charles Schwab's mobile apps lack core functionality in two key areas: alerts and quotes. Our testing, which focuses on the Apple iOS platform, found that even basic stock price alerts cannot be set. Worse yet, quotes are real time but require manual refreshing, a functionality all of Charles Schwab's full-service competitors offer. Auto-refreshing quotes were added for watch lists in 2016; however, the refresh rate is once every ten seconds, which is hardly useful.

Charles Schwab mobile chart.
On the positive side, fingerprint login (Touch ID support), heatmapping, as well as support for three- and four-legged options trades are all present. To find fresh options trade ideas, clients can use Idea Hub, an optionsXpress creation, and filter through lists such as "Big Movers," "Earnings," "Premium Harvesting," and "Buy Write."
Positives aside, while mobile trading is good at Charles Schwab and will satisfy the majority, the experience continues to trail all of its closest competitors. See: Best Brokers for Mobile Trading.
| | Charles Schwab | Fidelity | TD Ameritrade | E*TRADE | Merrill Edge |
| --- | --- | --- | --- | --- | --- |
| Watch List Syncing | Yes | Yes | Yes | Yes | Yes |
| Charting - Technical Studies | 32 | 7 | 411 | 11 | 22 |
| Stock Alerts - Basic Fields | No | Yes | Yes | Yes | Yes |
| Customizable Homescreen | No | Yes | No | Yes | Yes |
| Touch / Face ID | Yes | Yes | Yes | Yes | Yes |
| Stream Live TV | Yes | Yes | Yes | Yes | No |
Final Thoughts
In 2018, Schwab's tagline holds true, 'Own Your Tomorrow.'
Charles Schwab is a respected worldwide brand with a very balanced offering. Customers have access to a plethora of quality research and innovative trade tools, not to mention low trading costs alongside several hundred commission-free ETFs and thousands of commission-free mutual funds.
Beyond ranking as an industry leader for independent investing, investors interested in life planning, personalized strategies for their portfolios, and making the most of retirement will also find Schwab a great fit. In 2018, Schwab's tagline holds true, "Own Your Tomorrow."
Methodology
For our 2018 Stock Broker Review we assessed, rated, and ranked 13 different online brokers over a period of six months. In total, we conducted 260 customer service tests, collected 3,796 data points, and produced over 40,000 words of research. How we test.
References: FINRA CRD# 5393, Company history, Twitter, Facebook, Press Releases, Apple iTunes, Google Play Store, Charles Schwab Login.
Related Guides
View all Charles Schwab Fees & Features
---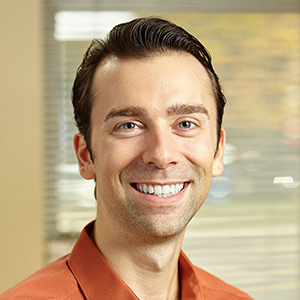 Reviewed by Blain Reinkensmeyer Blain heads research at StockBrokers.com and developed the site's annual review format, which broker executives consider the most thorough in the industry. He has placed over 1,000 stock, options, forex, and crypto trades since 2001.
Charles Schwab Competitors
Select one or more of these brokers to compare against Charles Schwab.
---
Ratings Overall
Summary
Offering of Investments
Platforms & Tools
Research
Customer Service
Ease of Use
Education
Banking
Best in Class
Overall
Offering of Investments
Platforms & Tools
Research
Customer Service
Education
Order Execution
Banking
Options Trading
New Investors
Overall
Offering of Investments
Platforms & Tools
Research
Education
Order Execution
Banking
Options Trading
Overall
Offering of Investments
Platforms & Tools
Research
Education
Order Execution
Banking
Options Trading
Offering of Investments
Platforms & Tools
Research
Customer Service
Banking
Overall
Platforms & Tools
Research
Education
Overall
Research
Customer Service
Education
Compare Charles Schwab
Find out how Charles Schwab stacks up against other brokers.