Advertiser Disclosure
×
StockBrokers.com helps investors like you across the globe by spending over 1,000 hours each year testing and researching online brokers. You support us through our independently chosen links, which may earn us a commission. This does not impact our completely unbiased research, which is respected by broker executives as the most thorough on the web. Thank you for your support.
The StockBrokers.com annual review (9 years running) takes six months to complete and produces over 30,000 words of research each year. Here's how we test. If you use our links to open an account, we may get a commission. Thank you for supporting our research.
Investors seeking convenience can combine banking and brokerage to trade stocks and manage a checking account all under one roof. With features such as FDIC insurance, universal login, and mobile bill pay, the full-service brokerage industry has done a terrific job adding banking services to their offerings.
To determine which online broker is the best for banking, we dove in head first and explored all the potential services: checking accounts, savings accounts, debit cards, credit cards, and mortgages. We then looked at specialty offerings such as mobile check deposit, debit card ATM fee reimbursement, and no-fee banking. Lastly, the total number of branch offices was factored in, as access to local branch offices is just as important as managing an account online.
Best Brokers for Banking
Based on 13 different variables, here is a summary of the top five brokers for online banking services:
It should be no surprise that our #1 choice is Merrill Edge, whose parent company is Bank of America. With a Financial Solutions Advisor (FSA) located in 2,167 out of a total 4,480 locations, Bank of America has, by far, the largest network.
Bank of America really shines with its rewards program, Preferred Rewards, which offers customers with certain account thresholds a range of benefits. The first tier, Gold, requires at least $20,000 in combined assets between Bank of America and Merrill Edge, while the top tier, Platinum Plus, requires at least $100,000 in total assets. Benefits include boosts to money-market savings, credit card cash back bonuses, free trades with Merrill Edge, and more. All in all, there isn't a better marriage of brokerage and banking than Merrill Edge and Bank of America.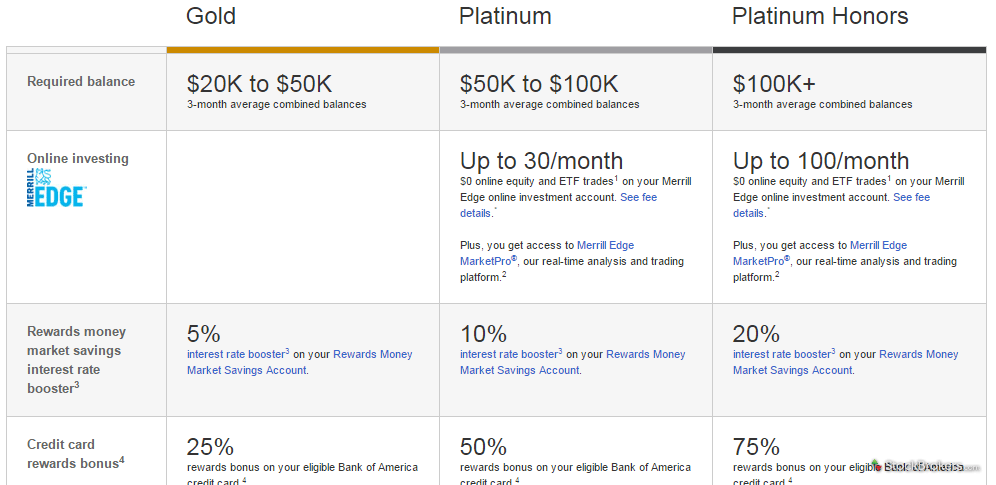 Merrill Edge Preferred Rewards.
Together with our ranking, we present highlights from the rest of the full-service brokers. Fidelity has one of the best cash rewards credit cards on the market, with its 2% Fidelity Investment Rewards Visa Card. Of the remaining brokers, Charles Schwab is the only one to offer home mortgages. The list goes on and on.
When it comes to banking and brokers, the great news is that investors have multiple options from which to choose. Full-service brokerages generally do a very good job of catering to the specific needs of their customers, and provide a well-rounded offering. This is especially true for customers who already do their banking with Bank of America, Ally, or Chase; the move to add investing as an additional service is just a few clicks away.
Broker Banking Features List
On a feature by feature basis, our top five finishers this year offer a combination of the following features to their banking customers.
| Feature | Definition |
| --- | --- |
| Member FDIC | Member of the FDIC (Federal Deposit Insurance Corporation) - fdic.gov. |
| Checking Accounts | Offers formal checking accounts and checking services. To qualify, checking services must be marketed on the website as a client service. Basic checking through the clearing firm does not count. |
| Savings Accounts | Offers savings accounts. |
| Debit Cards | Offers debit cards as part of a formal banking service. |
| Credit Cards | Offers credit cards. |
| Mortgage Loans | Offers mortgage loans. |
| Mobile Check Deposit | Check deposits can be made through the mobile app. |
| Online Bill Pay | Ability for clients to add and pay bills using the website. |
| Mobile Bill Pay | Ability for clients to add and pay bills using the mobile app. |
| ATM Fee Reimbursement | Are debit card ATM fees reimbursed? |
| No Fee Banking | Offers no fee banking. Requirements: no minimum balance required, no monthly maintenance fees, no debit card fees, no annual fees. |
| Retail Locations | Total retail locations. Company HQ or similar corporate offices do not count. Must be a formally branded, publicly accessible branch office marketed on the public website. |
Related Guides