Merrill Edge Review
Advertiser Disclosure
×
Advertiser Disclosure
×
StockBrokers.com helps investors like you across the globe by spending over 1,000 hours each year testing and researching online brokers. You support us through our independently chosen links, which may earn us a commission. This does not impact our completely unbiased research, which is respected by broker executives as the most thorough on the web. Thank you for your support.
The StockBrokers.com annual review (9 years running) takes six months to complete and produces over 30,000 words of research each year. Here's how we test. If you use our links to open an account, we may get a commission. Thank you for supporting our research.
Merrill Edge, launched in 2010, is an extension of Merrill Lynch, the household brand founded in 1914, which is owned by Bank of America. Known for its reliable customer service, Merrill Edge charges $6.95 for stock trades, $6.95 + $.75 for options trades, and is open to all investors, not just Bank of America customers.
Naturally, there are synergies for those who are already Bank of America customers. From viewing all accounts together to managing those accounts, instantly transferring funds between accounts, updating contact information, universal logins, etc., and qualifying for free monthly trades, Bank of America makes it an easy win for current banking customers.
Overall Summary
Merrill Edge offers investors an excellent rewards program and a well-rounded package worth being a customer for, especially Bank of America clients.
Benefits
Merrill Edge accounts can be linked to any Bank of America account.
Up to 100 free trades per month through the Preferred Rewards program.
Great customer support and retirement-planning resources.
Considerations
Advanced order types not supported.
Only supports up to two-legged options spreads.
MarketPro platform offers no one-click buy/sell tools for active traders.
Special Offer:
Invest in a new account and get up to $600 Learn More
Commissions & Fees
My wife and I have been Preferred Rewards customers since the program's inception in 2014. For a combination of banking and brokerage, I have yet to find anything better. It's fantastic.
Benefits
Customers can qualify for free trades through the Preferred Rewards program, which offers customers up to 30 free equity trades per month, with a three-month average combined balance of at least $50,000 (Platinum status) or up to 100 free trades per month with a three-month average combined balance of at least $100,000 (Platinum Honors status).
Benefits through the Preferred Rewards program extend beyond free trades as well, with money market savings boosts, credit card bonuses, and more.
Rare in the industry, Merrill Edge does not accept payment for order flow (PFOF), which results in cost savings for customers placing stock trades.
Considerations
For customers who do not qualify for free trades, stock trades are $6.95 and options trades cost $6.95 plus $.75 per contract. Compared to other full-service brokers such as TD Ameritrade, Fidelity, Charles Schwab, and ETRADE, Merrill Edge is evenly priced.
Further Reading
Merrill Edge
| Feature | Merrill Edge |
| --- | --- |
| Minimum Deposit | $0.00 |
| Stock Trade Fee (per trade) | $6.95 |
| Options Base Fee | $6.95 |
| Options Per Contract Fee | $0.75 |
| Mutual Fund Trade Fee | $19.95 |
| Commission-Free ETFs | 0 |
View all 23 data points
Platforms & Tools
Merrill Edge offers a streaming quotes tool through its website as well as an active trader platform, Merrill Edge MarketPro, which unfortunately is not available to all customers. That said, everyday investors have access to everything they need to manage their portfolios.
Benefits
The browser-based Streaming Quotes tool is basic but accomplishes its goal of providing investors with a streaming watch list. The regular website watch list tool includes a superior design; however, quotes are static and require a click to refresh.
Merrill Edge MarketPro is built for active traders and has a variety of bells and whistles. Highlights include 216 optional columns for watch lists, easy-to-use charting, automated technical analysis through Recognia, and numerous options tools, including the idea generation tool OptionsPlay.
Considerations
Cons of the Streaming Quotes tool include an extensively outdated interface, having to use the settings window to add new stocks to your watch list, and the fact that the watch list does not sync with the website or mobile app.
To access MarketPro, customers must make 15 trades per quarter or have at least $50,000 in total assets.
MarketPro has two critical drawbacks that will deter day traders. First, there are no one-click buy and sell buttons for speedy order entry or a way to bypass the order confirmation window. Second, direct market routing or advanced order types, such as conditional orders, are not supported.
Gallery
Further Reading
Merrill Edge
| Feature | Merrill Edge |
| --- | --- |
| Web Platform | Yes |
| Desktop Platform (Windows) | Yes |
| Watch Lists - Total Fields | 285 |
| Charting - Drawing Tools | 22 |
| Charting - Indicators / Studies | 95 |
| Option Chains - Total Columns | 69 |
| Streaming TV | No |
| Paper Trading | No |
View all 59 data points
Research
Merrill Edge offers customers excellent research for stocks, ETFs, and mutual funds that will satisfy the pickiest investors.
Benefits
Merrill Edge is unique in that it uses both Morningstar and Lipper as its primary research providers. Thanks to this dual provider offering, Merrill Edge's ETF and mutual funds research is extremely thorough.
Merrill Edge offers several unique research tools found nowhere else. Stock Story (stocks), Fund Story (ETFs, mutual funds), and Portfolio Story (all holdings) take readers through unique, clean, concise, educational, and insightful research for individual securities (images below) and portfolio positions. Stock Story won our award for our favorite new tool in 2017 and Portfolio Story won the same award for its launch in 2018.
Excellent third-party research integrations, including Trefis (company valuations), Recognia (automated technical analysis), and MSCI ESG ratings (Enviornmental, Social, and Governance), among others.
Merrill Lynch research and market reports can be found throughout the site, including the Research Investment Committee (RIC) Report (Merrill Lynch's flagship report).
Considerations
Bond research at Merrill Edge is lackluster and trails its full-service brokerage competitors.
Merrill Edge does not produce in-house video as an additional source for ongoing market commentary, unlike several of its competitors.
Gallery
Merrill Edge
| Feature | Merrill Edge |
| --- | --- |
| Research - Stocks | Yes |
| Stock Research - Reports | 3 |
| Research - ETFs | Yes |
| Research - Mutual Funds | Yes |
| Research - Pink Sheets / OTCBB | Yes |
| Research - Fixed Income | Yes |
| Research - Futures | No |
| Research - Forex | No |
View all 60 data points
Customer Service
To score Customer Service, StockBrokers.com partners with customer experience research group Confero to conduct phone tests from locations throughout the United States. For our 2019 Broker Review, 300 customer service tests were conducted over ten weeks.
Results
Average Connection Time: <1 minute
Average Net Promoter Score: 8.0 / 10
Average Professionalism Score: 9.0 / 10
Overall Score: 8.64 / 10
Ranking: 5 th (16 brokers)
Mobile Trading
Merrill Edge's mobile offering isn't quite award winning; however, it is easy to use, great for research, and exceeds the industry standard experience.
Benefits
Face ID login coupled with a customizable dashboard makes it very easy to jump in and check in on your portfolio.
Research is excellent for stocks, ETFs, and mutual funds, thanks to the inclusion of Stock Story and Fund Story.
Full mobile devices support, including Apple Watch.
Considerations
Charting is comprehensive and includes a variety of customizations (tip: you have to turn your phone horizontally to enable advanced charting mode); however, the interface itself is outdated and not HTML 5, making it difficult to read, especially when using any of the 34 optional indicators.
Gallery
Further Reading:
Merrill Edge
| Feature | Merrill Edge |
| --- | --- |
| iPhone App | Yes |
| Android App | Yes |
| Apple Watch App | Yes |
| Watch List Syncing | Yes |
| Stock Alerts - Basic Fields | Yes |
| Charting - After Hours | Yes |
View all 52 data points
Banking
Merrill Edge is part of Bank of America. When it comes to banking and brokerage, Merrill Edge takes the crown.
Benefits
Full online banking services through Bank of America.
Preferred Rewards program bonuses for both brokerage and bank (see "Commissions & Fees" above).
Universal account management.
Considerations
Gallery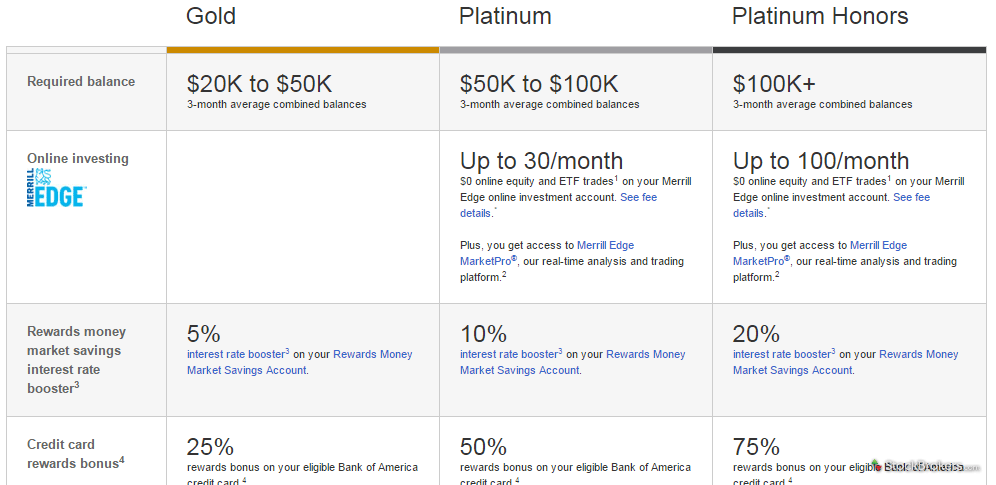 Further Reading
Merrill Edge
| Feature | Merrill Edge |
| --- | --- |
| Member FDIC | Yes |
| Checking Accounts | Yes |
| Savings Accounts | Yes |
| Credit Cards | Yes |
| Mortgage Loans | Yes |
| Retail Locations | 4400 |
View all 12 data points
Offering of Investments
Merrill Edge provides a diverse offering that meets the industry standard while thriving in its offering of online banking.
Benefits
Stocks, ETFs, options (max two legs only), mutual funds, and bonds are all offered.
Full banking offering, thanks to parent company Bank of America. As a customer myself, when I log in to my Bank of America account, I can see all my bank, credit cards, loan, and investment accounts on the same screen. If I want to access Merrill Edge, I simply click and go. It's great.
Approximately half of Bank of America's 4,400 financial centers have a financial services advisor.
Considerations
No commission-free ETFs (although customers can earn free ETF trades through Preferred Rewards).
Limited capabilities for active trading. For example, direct market routing is not offered, neither are certain advanced order types such as multi-contingent orders.
Further Reading
Merrill Edge
| Feature | Merrill Edge |
| --- | --- |
| Stock Trading | Yes |
| OTCBB / Pink Sheets | Yes |
| Options Trading | Yes |
| Complex Options Max Legs | 2 |
| Futures Trading | No |
| Forex Trading | No |
| Mutual Funds (No Load) | 2471 |
| Advisor Services | Yes |
View all 40 data points
Education
Learning about investing and retirement is a pleasant experience at Merrill Edge, thanks to excellent organization and quality, in-house curated content.
Benefits
Diverse selection of articles and videos. Can easily filter by type, topic, or skill level.
Through Merrill Edge's Guidance and Retirement Center, customers can conduct goal planning for all of life's many events, use calculators to determine areas for improvement, read educational articles, watch videos, schedule one-on-one appointments, and more.
Merrill Edge includes the Morningstar Investing Classroom courses, which are easy to follow and include quizzes.
Considerations
Surprisingly, Merrill Edge does not offer any webinars.
Further Reading:
Merrill Edge
| Feature | Merrill Edge |
| --- | --- |
| Has Education - Stocks | Yes |
| Has Education - ETFs | Yes |
| Has Education - Options | Yes |
| Has Education - Mutual Funds | Yes |
| Has Education - Fixed Income | Yes |
| Has Education - Retirement | Yes |
View all 19 data points
Final Thoughts
Merrill Edge provides investors with several key highlights: excellent customer service, up to 100 commission-free trades each month through its Preferred Rewards program, robust research, and great ease of use for Bank of America clients.
The primary drawback revolves around the broker's lack of active trader capabilities: no trading on the fly, no conditional orders, max two-legged options, and no direct market access.
Overall, Merrill Edge provides customers with a fantastic, well-rounded offering. New, casual, and seasoned investors will find the broker a very good fit, and Bank of America customers will discover that the broker is an excellent extension of the Bank of America brand.
Thanks to Merrill Edge's comprehensive customer experience in both brokerage and banking, the broker once again won our industry award, #1 Overall Client Experience.
For our 2019 Review we assessed, rated, and ranked 16 different online brokers over a period of six months. How we test.
---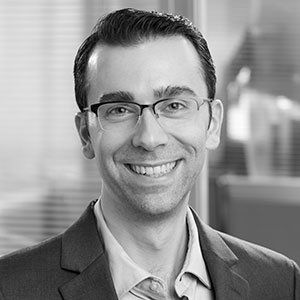 About the author: Blain Reinkensmeyer As Head of Research at StockBrokers.com, Blain Reinkensmeyer has 18 years of trading experience with over 1,000 trades placed during that time. Referenced as a leading expert on the US online brokerage industry, Blain has been quoted in The New York Times, Forbes, and the Chicago Tribune, among others.