Merrill Lynch, a well-respected brand founded in 1914, was acquired by Bank of America in January 2009, and Merrill Edge was formally launched in June 2010. Despite the acquisition, Merrill Edge is not restricted to clients from Bank of America. Instead, any investor can open a Merrill Edge account.
Naturally, there are synergies for those who are already clients of Bank of America. From viewing all accounts together to managing those accounts, transferring funds, updating contact information, universal logins, etc., and qualifying for free monthly trades, Bank of America makes it an easy win for current banking customers.
Commissions & Fees
Merrill Edge is a full-service broker that offers equities and options trading. Regular stock trades are a flat $6.95 per trade with no additional charges for stocks less than $1 per share. Options trades cost $6.95 plus $.75 per contract. Compared to other full-service brokers such as TD Ameritrade, Fidelity, and ETRADE, Merrill Edge offers the lowest rates.
| | Merrill Edge | TD Ameritrade | Charles Schwab | Fidelity | E*TRADE |
| --- | --- | --- | --- | --- | --- |
| Stock Trade Fee (flat) | $6.95 | $6.95 | $4.95 | $4.95 | $6.95 |
| Options Base Fee | $6.95 | $6.95 | $4.95 | $4.95 | $6.95 |
| Options Per Contract Fee | $0.75 | $0.75 | $0.65 | $0.65 | $0.75 |
| Mutual Fund Trade Fee | $19.95 | $49.99 | $76.00 | $49.95 | $19.99 |
| Commissions & Fees | | | | | |
| Overall | | | | | |
Alongside its competitive commissions structure, Merrill Edge also has a unique offering: free trades. Qualifying for free trades each month is possible through the Preferred Rewards program. Clients can receive up to 30 free equity trades per month, with a three-month average combined balance of at least $50,000 (Platinum status) or up to 100 free trades per month with a three-month average combined balance of at least $100,000 (Platinum Honors status). Benefits through the Preferred Rewards program extend beyond free trades as well, with money market savings boosts, credit card bonuses, and more.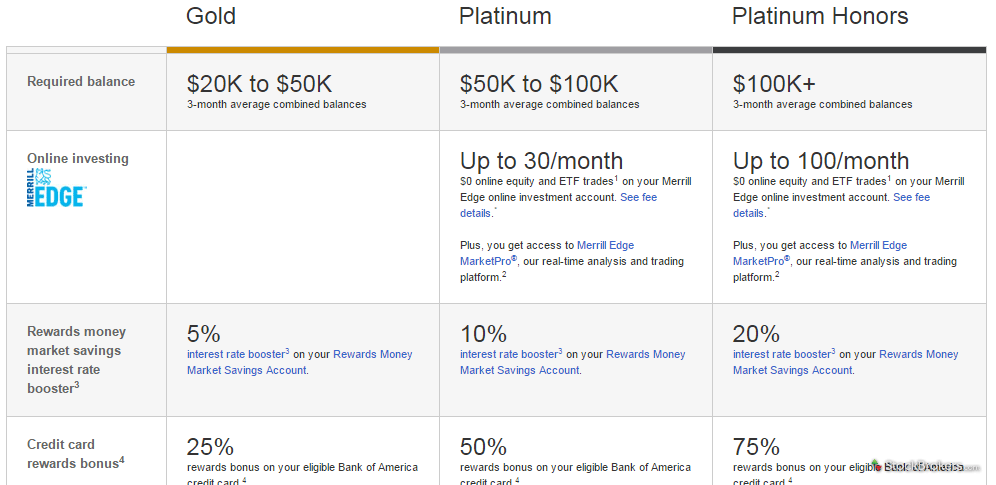 Customer Service
Merrill Edge's phone and email support was excellent, as our testing proved. Merrill Edge's phone support was No. 1 in our 2014 Review, #4 in our 2015 Review, #1 again in our 2016 Review, and #2 in our 2017 Review, and for good reason. Every broker rep we spoke to was friendly, knowledgeable, and professional. It is apparent Merrill Edge trains its staff well and understands what it takes to provide consistent, high quality client support.
Clearly, Merrill Edge customer service reps understand what it means to go above and beyond to help customers.
Our email support and live chat support experiences were similar to phone. The broker responded to all of our email and live chat inquiries with clean templates and thorough responses. Response times for email averaged less than one business day, while connection times for live chat averaged less than one minute. Clearly, Merrill Edge customer service reps understand what it means to go above and beyond to help customers. Overall, Merrill Edge finished nearly at the top – No. 2 overall for customer service, showing its dedication to excellence in the art of quality customer care.
Research
Merrill Edge uses both Morningstar and Lippers as its primary research providers. Typically, online brokers use one or the other, so Merrill Edge's use of both is an extra benefit for clients. Thanks to this dual provider offering, Merrill Edge's ETF and mutual funds research is very strong and extremely thorough. For example, pulling up a quote of SPY reveals not only the infamous Morningstar Style Map but also the Lipper Ratings.
For equities research, pulling up a quote for Apple (AAPL) reveals pricing data, quick chart, recent news, Merrill Lynch research, a peer comparison, a Trefis summary, and three research providers: Bank of America Merrill Lynch, Morningstar, and S&P Capital IQ. While three report providers is above average, it is still lower than the leading research brokers, including Charles Schwab, Fidelity, and TD Ameritrade, which offer clients access to six or more research reports.
Despite not having a large selection of report providers available to clients, Merrill Edge still offers clients great coverage of equities that will satisfy most investors. Clients can assess historical earnings, valuations, view a variety of fundamental data including SEC filings, perform technical analysis with Recognia tools, and more. This also includes both ETFs and mutual funds research, an area in which we found Merrill Edge excelled.
For 2017 standards, the design of the research area feels a bit outdated, especially compared to Fidelity, whose entire research area is methodically laid out. This includes the stock screener tool, whose user interface is poorly designed, especially compared to the brand new ETF and mutual fund screeners released in 2016. Usability aside though, overall, while Merrill Edge trails its larger competitors, the broker still finished with a Best in Class accolade (top five) in our 2017 Review.
Ease-of-Use
Thanks to its ownership by Bank of America, Merrill Edge is a natural win for current customers. As a Bank of America customer myself, I found the account opening process straightforward. Much of my information was prefilled for me, which was a nice touch, and immediately after completing the application, funding the account was a breeze, thanks to the account linking. Now, when I log in to my Bank of America account, I can see all my bank, credit cards, and loan and investment accounts on the same screen. If I want to access Merrill Edge, I simply click and go.
All in all, Merrill Edge makes it easy for clients to perform the tasks they want, when they want, and the broker is an excellent fit for current Bank of America clients.
The Merrill Edge website gets the thumbs up from us. High use pages such as the Accounts Summary page and Holdings page are cleanly laid out, as both were refreshed in 2016. The website also has a site-wide quote bar with real time quotes for easy access to the latest stock prices.
Portfolio performance analysis is another area that was refreshed in 2016, and assessing portfolio diversification is easy. To break down your portfolio, Merrill Edge provides the Morningstar X-Ray Tool as well as a clean asset allocation tool. While the data output is clean and easy to digest, the load time is a bit sluggish.
The weakest usability experiences with the Merrill Edge website come with the research area and stock screener (see comments above under "Research"). The on-site watch list functionality also needs to be refreshed. I recommend using the Desktop Streamer tool instead, although that tool, too, needs to be redesigned.
Pickiness aside, managing your accounts, placing trades, and navigating the website is very straightforward. All in all, Merrill Edge makes it easy for clients to perform the tasks they want, when they want, and the broker is an excellent fit for current Bank of America clients.
Platforms & Tools
Merrill Edge offers a streaming quotes application through its website as well as an active trader platform, Merrill Edge MarketPro, which is a customized version of eSignal's platform and has a variety of bells and whistles.
The browser-based streaming quotes application is basic but accomplishes its goal of providing clients with a streaming watch list. Cons with the experience include an outdated interface, auto-refreshing (not streaming) quotes, and having to use settings to add new stocks to your watch list.
Website streaming quotes aside, Merrill Edge's offering for active traders is a mixed bag as there are several critical drawbacks with MarketPro. First, there are no one-click buy and sell buttons for speedy order entry, nor a way to bypass the order confirmation window. Second, complex options are not supported. Third, direct market routing or advanced order types, such as conditional orders, are not supported.
On the positive side, 216 optional columns can be added to any watch list, the platform integrates a variety of quality third-party tools such as Recognia, and the options functionality is strong across the board thanks to a clean interface and the addition of OptionsPlay in 2016.
Charting is also pretty good on MarketPro. Twenty-two different drawing tools are available and the interface is cleanly laid out. The technical indicators (73) available are slightly below the average of just over 100; however, each study is heavily customizable. I took advantage of my six 24-inch monitors to expand charts across the full screens, which was nice, and charting profiles are quick to save. Two items on my wish list would be plotting historical buys and sells directly on the chart as well as showing my alerts as horizontal markers for quick adjusting.
Heading into 2016, one critical caveat to note regarding MarketPro was that it ran on Java, a programming language that has lost favor in today's modern web environment. Google Chrome and Microsoft's new Edge browser no longer support Java, which means customers who want to access MarketPro have to use Mozilla Firefox, legacy Internet Explorer, or Safari (Mac). Thankfully, Merrill Edge patched this in 2016, and MarketPro is now fully compatible once again.
Adding to the positives, MarketPro even offers high quality executions, thanks to its commitment to not accept payment for order flow.
Adding to the positives, MarketPro even offers high quality executions, thanks to its commitment to not accept payment for order flow (for a deeper dive, see our report on Order Execution).
Unfortunately, though, active traders desire all the great assets MarketPro offers, yet they can't trade on the fly. Until Merrill Edge can clear its key hurdles, the broker is holding itself back from attracting the Holy Grail of clientele: the active trader.
Mobile Trading
On the mobile front, Merrill Edge supports the Apple iPhone, iPad, and the Apple Watch, alongside Android smartphones. All variables considered, I found the apps to be good thanks to a slew of updates released in 2016.
First, Merrill Edge released a completely new Apple Watch app. It also had several major releases for its smartphone apps during the year. Most important was the addition of Touch ID login alongside streaming real time quotes and watch lists. Also added were extended hours quotes, charts and trades, as well as heatmaps, analyst research reports, and a cleaned up portfolio overview window. Even a customizable dashboard was added.
These sweeping enhancements really improved Merrill Edge's mobile score in our 2017 Review. It is still not leading the industry as the apps lack depth in key areas such as charting and alerts. That said, Merrill edge placed sixth out of 16 brokers. See: Best Brokers for Mobile Trading.
Other Notes
In January 2017, Merrill Edge launched Guided Investing, its robo-advisor service. For a full breakdown, read our Merrill Edge Guided Investing review.
One area in which Merrill Edge excels that is not covered under our traditional testing is the company's retirement and investment advisor offerings. Approximately 2,100 of Bank of America's 4,600 retail locations have a financial services advisor, and Merrill Edge's website is packed with clean, thorough, and educational content. Through the website's Guidance and Retirement Center, customers can conduct goal planning for all of life's many events, use calculators to determine areas for improvement, read educational articles, watch videos, schedule 1-on-1 appointments, and more.
Final Thoughts
Merrill Edge provides investors with several key highlights: excellent customer service, up to 100 commission-free trades each month through its Preferred Rewards program, robust research, and great ease of use for Bank of America clients. The primary drawback revolves around the broker's lack of active trader capabilities: no trading on the fly, no conditional orders, max two-legged options, and no direct market access.
Overall, Merrill Edge provides clients with a fantastic, well rounded offering. New, casual, and seasoned investors will find the broker to be a very good fit, and Bank of America clients will discover that the broker is an excellent extension of the Bank of America brand.
Methodology
For our 2017 Stock Broker Review we assessed, rated, and ranked sixteen different online brokers over a period of six months. In total, we conducted 349 customer service tests, collected 5,277 data points, and produced over 40,000 words of research. How we test.
View all Merrill Edge Fees & Features
---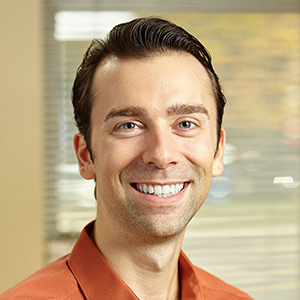 Reviewed by Blain Reinkensmeyer Blain heads research at StockBrokers.com and has been involved in the markets since placing his first stock trade back in 2001. He developed StockBrokers.com's annual review format seven years ago, a format broker executives consider the most thorough in the industry. Blain currently maintains funded accounts with more than a dozen different US-regulated online brokers and has executed thousands of trades throughout his career. He enjoys sharing his experiences through his personal blog, StockTrader.com.
---
Ratings Overall
Summary
Offering of Investments
Platforms & Tools
Research
Customer Service
Banking
Best in Class
Overall
Commissions & Fees
Research
Customer Service
Ease of Use
Investor Education
Order Execution
Banking
Overall
Commissions & Fees
Research
Customer Service
Ease of Use
Investor Education
Banking
Overall
Research
Customer Service
Ease of Use
Investor Education
Banking
Overall
Commissions & Fees
Research
Customer Service
Compare Merrill Edge
Find out how Merrill Edge stacks up against other brokers.
Merrill Edge Competitors
Select one or more of these brokers to compare against Merrill Edge.