Advertiser Disclosure
×
StockBrokers.com helps investors like you across the globe by spending over 1,000 hours each year testing and researching online brokers. You support us through our independently chosen links, which may earn us a commission. This does not impact our completely unbiased research, which is respected by broker executives as the most thorough on the web. Thank you for your support.
The StockBrokers.com Annual Review (9 years running) sets the official industry benchmarks. Our Head of Research, Blain Reinkensmeyer, is respected by executives as the leading analyst covering online brokers. Learn more.
Australia's Best Online Brokers - Summary
Here are the top brokers for trading stocks in Australia.
CommSec - Best Overall
CMC Markets - Best trading tools
IG Group - Lowest fees
Interactive Brokers - Best for professionals
Nabtrade - User-friendly platform
BellDirect - Diverse Research
Westpac - Expensive but diverse offering
ANZ - Trading platform
Amscot - Flexible commissions
SelfWealth - Ease of use
Stock Trading in Australia
Australian citizens looking to invest online in the stock market have a variety of options. Online brokers come with a diverse range of offerings, from deep discount to full service, while others are known for their trading tools or research.
The Australian Stock Exchange (ASX) is the 16th largest in the world, with $1.44 trillion in total market cap, according to Wikipedia. Depending on the broker, Australians also have access to some of the largest exchanges in the world, such as the NASDAQ in the US. Australian brokerages are regulated by the Australian Securities & Investments Commission (ASIC).
In this guide, we will break down the best online brokers available to Australian residents looking to trade stocks online in Australia.
Best Online Brokerages
CommSec
4.5 Stars - Best Overall
CommSec is currently the largest online broker in Australia, providing trading access to 25 exchanges throughout the world. While its fees are above average, CommSEC offers traders an array of free research tools, including live market depth, news reports on companies and markets, stock recommendations, charting tools, access to IRESS (paid subscription required), and trends in stock prices.
CMC Markets
4.5 Stars - Best trading tools
CMC Markets shines for its product offerings, with over 10,000 investment options currently available, as well as trading guides to assist first-time traders. The company's trading platform offers live news updates, unlimited linked and conditional orders, advanced charting, and a stock filter tool.
IG
4.5 Stars - Lowest fees
IG offers Australians over 13,000 shares to trade, with the lowest fees for Australian shares and low fees for all international shares. The company also offers research and tools that include streaming news from Reuters and research in the form of an Economic Calendar, beginner trading videos, a customizable stock screener, as well as AutoChartist, which allows traders to view trade signals generated by automated pattern-recognition and technical analysis. Read full review
Interactive Brokers
4.5 Stars - Best for professionals
While Interactive Brokers is not suitable for casual investors, it leads the industry in international trading and the low-cost commissions professional traders prefer. No online broker in our review matches Interactive Brokers in fees and trading tools. The Trader Workstation (TWS) platform is used by professionals and institutional traders around the globe. Read full review
Nabtrade
4.0 Stars - User-friendly platform
Nabtrade offers investors domestic and international trading at competitive prices, with customizable charting, third-party research from four different companies, real-time streaming, company stock and research, a global scanning tool, and more. The platform is innovative and user-friendly.
BellDirect
4.0 Stars - Diverse Research
If you are looking to trade domestic stocks only, BellDirect offers average pricing, with research tools that include consensus research from 20 brokers, daily trading ideas, free conditional orders, and html5 charting technology.
Westpac
4.0 Stars - Expensive but diverse offering
Westpac is a more expensive option for Australians. However, the company justifies its high prices by providing access to 30 international exchanges, as well as offering free reports, a stock screener, stock recommendations, charting features, and the option for more premium research provided by Morningstar.
ANZ
4.0 Stars - Trading platform
ANZ runs off the popular CMC Markets platform, which means traders have access to the following tools: trading guides to assist first-time traders and trading platforms that offer live news updates, advanced charting, and a stock filter tool.
Amscot
3.5 Stars - Flexible commissions
Amscot offers traders below-average commissions with the established IRESSTrader platform (paid subscription required). Traders also have access to research, raising capital, and advanced portfolio reporting from third-party sources. Amscot offers two types of account, both of which offer very competitive rates. The ValueRate is meant for traders who typically trade less than $40,000, while the TraderRate is beneficial for those who trade $43,000 or more.
SelfWealth
3.5 Stars - Ease of use
SelfWealth is a discount broker that only offers access to the Australian markets. The broker's platform has won multiple awards in Australia for being extremely easy to use. Traders are limited to domestic markets and basic research that includes price forecasts, financial ratios, global news, recommendations, community statistics, and more.
Trading Differences: Australia versus the United States
Trading stocks online in Australia is similar in many ways to trading as a US resident in the United States. Australian investors fund an account, make a deposit, then place trades through a web or desktop platform, manage a watch list, and conduct research, just as US investors do.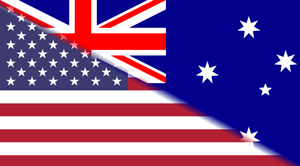 However, there are several important considerations of which Australian investors should be aware before selecting a broker in Australia, considerations that are not a concern in the US.
Commission ranges – In the US, it is rare to see an online broker offering varying commission structures, whereas in Australia most brokers have variable rates that depend on the total value of the trade. IG, SelfWealth, and Westpac are three that have fixed rates, although Westpac's is much higher than the other two.
Mobile app availability – While every online brokerage offers a mobile app in the US, in Australia not every broker does. Popular brokers, such as Nabtrade and BellDirect, still do not offer a dedicated mobile app, even though mobile availability is becoming a bigger trend in Australia. One in six online investors have said that having a mobile version of an investment platform influenced their broker decision, according to a report from Investment Trends.
Paying for research – In the US, you normally get research for free, while minimum trading requirements may be imposed. In Australia, brokers are more inclined to offer premium research on a monthly subscription, which is sometimes provided by a third party.
Order types – Market orders, limit hours, and stop orders are standard across the industry. However, trading US stocks from Australia can vary from broker to broker in terms of what is available. This includes after-hours trading. Advanced order types, such as conditional orders, will also vary from broker to broker.
Banking services – Banks that offer online trading in the US (for example, Merrill Edge through Bank of America) provide a seamless client experience. Moving money between accounts, changing between bank and brokerage accounts through one login, tax reporting, and similar functionality are all expected to be present as part of the holistic trading experience. This also flows into in-person service at a local branch office. In Australia, the client experience can vary significantly from bank to bank.
How to Select a Good Brokerage
Australian brokerages work hard to stand out against one another beyond branding and marketing. What really matters though is the trading experience you receive once you are a client with a funded account.
Here's a list of tips to keep in mind to help you select the right online broker the first time:
Read the commissions fine-print. Trading fees can vary by trade amount, security type, quantity, exchange, among other factors. Before selecting a broker, view the full commissions structure and see how it fits into your portfolio size and trading frequency.
Make sure your broker supports the asset class you want to trade. If you only trade Australian stocks, then no problem; any broker will service you. However, if you want to trade international stocks, options, forex, or futures, you will need to do your research ahead of time.
For active traders, read the fine print to compare potential service benefits. Discounted commissions are just one perk of being an active trader. Some brokers will increase the quality of the market data being streamed into the account. Others will grant access to better research tools or offer dedicated customer support. For seasoned international traders, Interactive Brokers is king, thanks to its ultra-low trading costs and excellent trader tools.
Customer service. When contacting a brokerage for account-related inquiries, all investors look for fast connection times and helpful representatives to assist them. Like all businesses, support quality and timeliness can vary. For a quick gauge, once you narrow down your selections to two, call both brokerages on the phone and ask them both several questions. This speedy exercise may reveal a lot about what to expect as a client. Tip, call shortly after the stock market opens if you can, which is traditionally when support is busiest.
Account Security. Is two-factor login available? What is the broker's security policy? How are your assets protected and secured on an ongoing basis?
Best Brokers Summary
| Online Broker | Best For | Mobile App | International Stocks | Commission ($5,000 trade) | Overall Rating |
| --- | --- | --- | --- | --- | --- |
| CommSec | Best Overall | Yes | Yes | $19.95 | 4.5 Stars |
| CMC Markets | Best trading tools | Yes | Yes | $9.90 | 4.5 Stars |
| IG Group | Lowest Fees | Yes | Yes | $8 | 4.5 Stars |
| Interactive Brokers | Best for Professionals | Yes | Yes | $8 | 4.5 Stars |
| NabTrade | User-friendly platform | No | Yes | $14.95 | 4.0 Stars |
| BellDirect | Diverse Research | No | No | $15.00 | 4.0 Stars |
| Westpac | Expensive but diverse offering | Yes | Yes | $19.95 | 4.0 Stars |
| ANZ | Trading platform | Yes | Yes | $19.95 | 4.0 Stars |
| Amscot | Flexible commissions | No | Yes | $9.90 | 3.5 Stars |
| SelfWealth | Ease of use | Yes | No | $9.50 | 3.5 Stars |
Related Guides