E*TRADE Review
February 16th, 2016: This Review has been updated to reflect the latest research and results from the 2016 Review.
June 7th, 2016: E*TRADE has launched their new robo-service, Adaptive Portfolio, read more here. Currently, you can Receive up to $1,500 with your new Adaptive Portfolio - Learn More.
Once known for its talking baby commercials, E*TRADE has been working hard to evolve as a brand and speak to its current and target customers. The customers E*TRADE targets are known as Type E*: investors who are confident, independent, yet willing to ask for help when they need it.
With this customer image in mind, E*TRADE executes extremely well overall. E*TRADE may not be the least expensive on the block, but the company continues to innovate with new tools and experiences for clients.
Commissions & Fees
While competitive with its other full-service broker competitors, such as TD Ameritrade, Fidelity, and Charles Schwab, E*TRADE is not an ideal choice for investors seeking discounted commissions. In the broker space, though, most often what you pay for is what you get, and E*TRADE's well-rounded offering offsets its higher rates.
Regular stock trades are $9.99, with options trades costing $9.99, plus $.75 per contract. All trades are flat rate commissions, meaning there are no gimmicks to watch out for, and hyperactive traders can get their rate as low as $6.99 if they make 1,500-plus trades per quarter.
E*TRADE does stand out from its competitors with its mutual fund commissions, which run at $19.99 per trade. Charles Schwab, Fidelity, and TD Ameritrade charge $76.00, $49.95, and $49.99, respectively. As far as total selection is concerned, the broker offers just under 8,000 to choose from.
Lastly, I found that E*TRADE has a reputable offering of commission-free ETFs, an offering that has become increasingly popular industry wide in the past few years. While the broker does not quite match Charles Schwab's 200-plus commission-free ETFs offering, there are still 118, which is second highest in the industry.
| | E*TRADE | TD Ameritrade | Fidelity | Charles Schwab | Scottrade |
| --- | --- | --- | --- | --- | --- |
| Stock Trade Fee (flat) | $9.99 | $9.99 | $7.95 | $8.95 | $7.00 |
| Options Base Fee | $9.99 | $9.99 | $7.95 | $8.95 | $7.00 |
| Options Per Contract Fee | $0.75 | $0.75 | $0.75 | $0.75 | $0.70 |
| Mutual Fund Trade Fee | $19.99 | $49.99 | $49.95 | $76.00 | $17.00 |
| Broker Assisted Trades Fee | $25.00 | $44.99 | $32.95 | $25.00 | $32.00 |
| Commission Free ETFs | 118 | 101 | 91 | 229 | 0 |
| Commissions & Fees | | | | | |
| Overall | | | | | |
Ease of Use
The E*TRADE website is a breeze to use thanks to a new navigation experience launched in late 2014 and innovative tools such as E*TRADE 360, the broker's fully customizable drag-and-drop homepage. The new navigation is clearly driven by understanding what customers use most. Hover over Accounts and the sub-menu options are "My Accounts," "Move Money," "My Profile," "Tax & Account Records," and "Banking."
To help new customers get started, E*TRADE revealed a new Welcome Center in 2015 and redesigned its accounts overview page, Complete View. The new Complete View is a big upgrade over its predecessor, providing new and current customers a very clean overview of their individual accounts. Portfolio holdings, watch lists, and news are all accessible under a new tabbed snapshot module. I also really appreciated the updated account alerts window. Given time, I can see Complete View unseating the 360 dashboard as the preferred default post-login page.
The experience doesn't stop at just the E*TRADE website, either. In October 2014, the broker launched a brand-new app for the Google Chrome browser, allowing for quick real-time quotes, portfolio monitoring, and trading on the go. Our testing found the app to be a seamless extension of the website experience and a very smooth experience overall. That said, I found ourselves ignoring the browser app in favor of accessing the website instead; habits are hard to break.
One final note: In 2015, E*TRADE decided to remove its site-wide footer quote bar, something I grew to love over the years. Lack of use among customers was cited as the primary reason for removal; however, the bar wasn't enabled by default, and customers had to manually enable it. Now, instead of being able to quick view quotes and remain on any page, customers have to enter the symbol in the upper right corner, which transfers them to a formal quote page.
Customer Service
In this year's 2016 Broker Review, we found E*TRADE's customer service improved over last year; however, it was just slightly above the industry average. The company's customer service is very good, but it's not award winning. The highlight for E*TRADE in our 2016 Review was its phone support, which finished 4th overall. Email support finished 9th, and live chat 8th. In our 2014 Broker Review, E*TRADE's email support was rated #1.
E*TRADE finished 5th overall when all customer service testing was taken into consideration, good enough for a Best in Class award, which is certainly no easy feat. In 2014, E*TRADE updated its website to make its customer support phone number visible on every page. In 2015, the broker made enhancements to its new client onboarding and E*TRADE Pro platform onboarding. Consistent efforts have made their mark, and we hope E*TRADE will continue to climb the ranks in 2016. To do so, they will need to improve response times for both phone and email, an area in which the top brokers excel. See: Best Brokers for Customer Service.
Research
Performing research on E*TRADE is simple and user-friendly. After pulling up a quote for Apple (AAPL), clients see a quick overview of key statistics alongside a mini chart of the current day's action, alerts setup, buy and sell buttons, headlines, price analysis from Trefis Research, a company overview description, and a box highlighting some recent analysts' research reports.
E*TRADE's third-party research report providers include Thomson Reuters, Standard & Poor's, MarketEdge, and SmartConsensus. Access to the four providers is strong and something not found with discount brokers; however, compared to its closest competitors, E*TRADE falls short as Charles Schwab, Fidelity, and TD Ameritrade all provide access to at least six.
For investors who value analyst recommendations, E*TRADE offers consensus ratings from multiple third parties and in 2015 added breakdowns from individual analysts. Powered by TipRanks, individual analysts are ranked, profiled, and their consolidated average price target is plotted with high and low estimates included.
While the plotted average price targets were clean and overall useful, I found the Individual Analyst breakdowns below them to be a distraction. For example, Apple had 37 analyst recommendations. Of these analysts, 23 (65%) had at least a four star TipRanks ranking (five stars is the highest) which left me wondering, "Whose opinion should I trust most?" There is certainly potential; however, the ratings need some tuning.
Reports and analyst analysis aside, I particularly enjoyed the charting functionality, as I could pop out the chart box into its own window and then enlarge it to take full advantage of my 24-inch monitor. Adjusting settings and adding studies alongside company event data such as splits, dividends, earnings, and insider trades was helpful. The standout feature here was the ability to display post-hours trading activity, which is great to use during the earnings season.
Platforms & Tools
For clients looking to simply track their favorite stocks and holdings, the E*TRADE MarketCaster is the broker's real-time streaming quotes tool, which pops up as a new window when launched. MarketCaster is simple, easy-to-use, easily customizable, and I found it to be a nice tool to leave open throughout the day to keep an eye on positions or a custom watch list.

For feature-hungry clients, there is E*TRADE Pro (desktop-based). Access to E*TRADE Pro requires Pro Elite status, which means making at least 30 stock or options trades per quarter or having a portfolio balance of $250,000. E*TRADE Pro can be accessed for $99 per month, otherwise. In comparison, TD Ameritrade and Charles Schwab both give full access to their flagship platforms with no strings attached, while Fidelity and Scottrade also have requirements.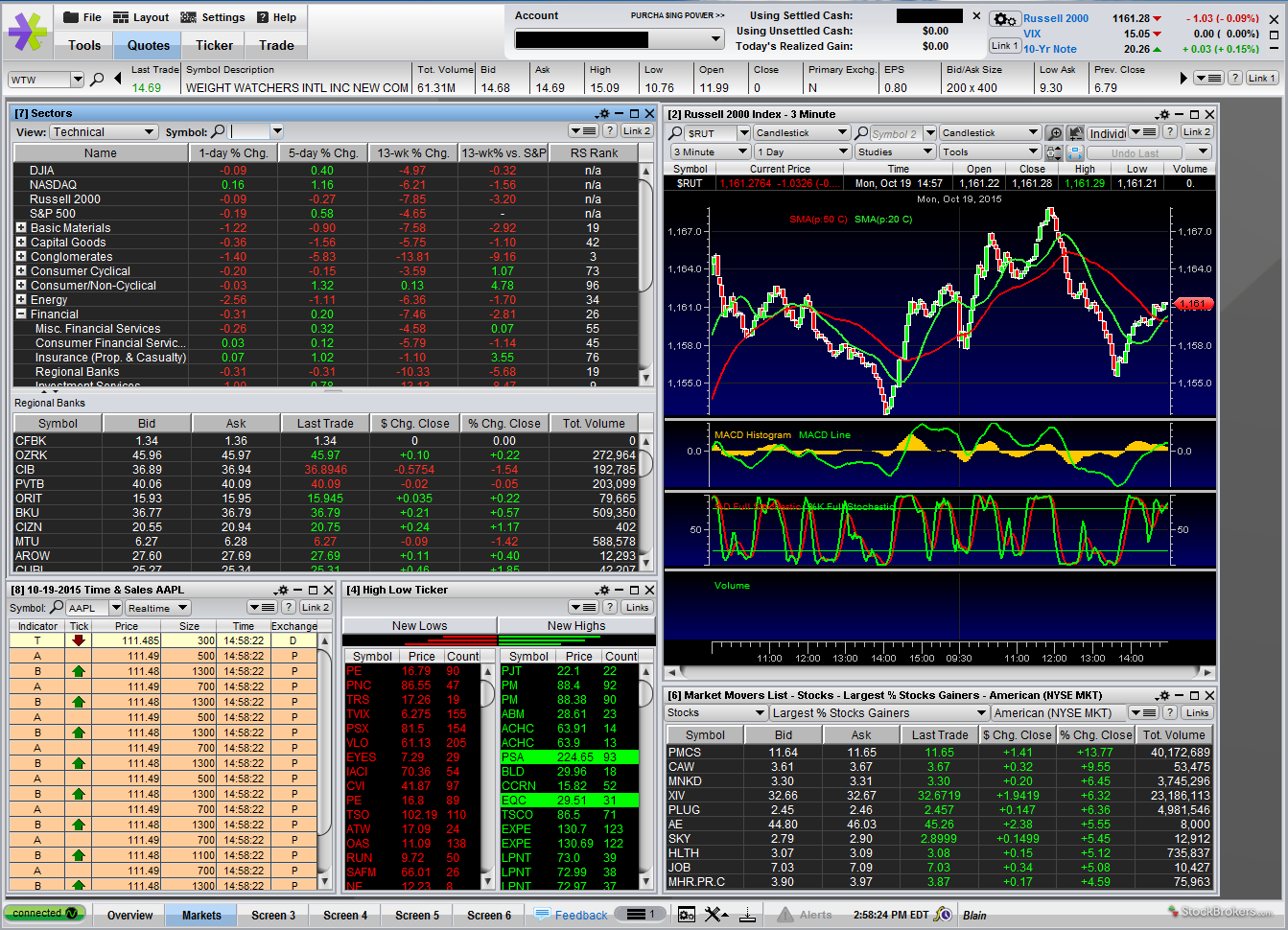 On the surface, E*TRADE Pro has all the bells and whistles an active trader could want, with snap grid functionality for quick and easy customizing. Pro supports some 20-plus tools, including streaming live CNBC TV, a real-time strategy scanner, several options tools, advanced charting, real-time sales, and level II quotes, among others. To help new users become acquainted, in 2015 E*TRADE launched a complete new user orientation experience, which includes a tour, help videos, and suggested layouts.
While E*TRADE Pro is impressive, a deeper dive into its features reveals how the platform falls behind its competitors. Compared with industry leaders, E*TRADE Pro lacks depth in two key areas: charting and alerts functionality. With charting, E*TRADE Pro's lack of tools and technical studies is hard to overlook. While I counted 10 new studies added in 2015, E*TRADE Pro still only offers 47 in total, a far cry from the 157, 166, and 337 offered by TradeStation, Fidelity, and TD Ameritrade, respectively. For alerts, only basic alerts are supported and they can't be shown on charts. See: Best Brokers for Platforms & Tools.
On the positive side, I were very happy to see E*TRADE Pro upgrade its options tools in 2015, updating the option graphs, expanding option probability analysis, and streamlining order entry. Also launched into private beta in 2015 was a brand new Margin Analyzer tool. I found the functionality provided to be fantastic, giving clients exactly what they need to monitor, manage, and plan for margin changes in their portfolios. The tool exited private beta in late January, 2016, and has begun rolling out to all clients.
One other note about Pro Elite status: Alongside free access to E*TRADE Pro, Pro Elite also gains access to the Elite customer service team for service and trading. Considering the quality of regular customer service is already strong, I found Elite status to be of little use, less so on the rare trading day when the market is in disarray and call volumes are excessive.
Mobile Trading
As the first broker to really push mobile, E*TRADE continues its dominance, finishing first overall again in our rankings. In 2015, E*TRADE launched its Apple Watch app and remained the only brokerage to allow clients to compare their portfolio performance against the overall market averages (a nice touch). E*TRADE had a handful of other features few other brokers offer: CNBC TV, level II quotes, customized stock screening, and third-party ratings, among others.
The only area in which E*TRADE really falls behind is charting, where only two indicators are supported. While only having a handful of technical indicators/studies available to add to a chart is fairly standard, I expected more from E*TRADE, considering its leadership in the industry.
Charting aside, with 48 variables being assessed for mobile trading, E*TRADE earned 95% of total possible points. The broker is No. 1 in my book because its apps are easy to use, dependable, and feature rich.
Other Notes
Alongside trading, E*TRADE also offers basic banking services, including checking accounts with no ATM fees and debit cards. The broker also provides 30 local branch offices. See: Best Brokers for Banking Services.
Final Thoughts
E*TRADE as a brand has had its fair share of ups and downs over the years. The broker rose to be a leader in the industry in the early 2000s, then the stock price took a beating throughout 2007 and 2008 as the broker's mortgage portfolio became toxic. Despite these struggles during the worst financial crisis in US history since the great depression, E*TRADE's trading experience has stood strong.
The broker pressed forth and became the undisputed leader in mobile trading, which was then unchartered territory. Most recently, the move away from the iconic baby commercials has E*TRADE focusing on its core clients, Type E*. The broker remains #1 in its mobile offering, continues to innovate with new offerings such as its revamped retirement center, and, all in all, provides a wonderfully well- rounded offering for its clients.
Whether you're an active trader, a new investor, or just someone looking to manage a retirement portfolio, E*TRADE is a dependable, full-service broker that impresses all investor types and gives its competitors a run for their money.
---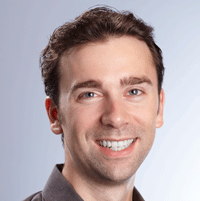 Reviewed by Blain Reinkensmeyer Blain heads research at StockBrokers.com and has been involved in the markets since placing his first stock trade back in 2001. He developed StockBrokers.com's annual review format six years ago which is respected by broker executives as the most thorough in the industry. Currently maintaining funded accounts with more than a dozen different US regulated online brokers, he's executed thousands of trades through his career and enjoys sharing his experiences through his personal blog, StockTrader.com.
---
Ratings Overall
Best in Class
Overall
Offering of Investments
Platforms & Tools
Research
Customer Service
Mobile Trading
Investor Education
Order Execution
New Investors
Overall
Offering of Investments
Research
Mobile Trading
Investor Education
New Investors
Overall
Research
Customer Service
Mobile Trading
Investor Education
New Investors
Overall
Platforms & Tools
Research
Mobile Trading
Investor Education
New Investors
Compare Online Brokers
Find out how E*TRADE stacks up against other brokers.
---
Commissions & Fees
Commission Notes
E*TRADE has a fairly straight forward commissions structure. Note that E*TRADE's advanced trader platform, Power E*TRADE Pro, is free if atleast 30 trades are made each quarter or if there is $250,000 in total assets. Otherwise the platform can be used for $99 per month.

Stock Trades - All trades are a flat-rate $9.99 if making up to 149 trades per quarter, $7.99 (150 - 1499 trades per quarter), and $6.99 (1500+ trades per quarter). For broker-assisted trades, add $45 to the total order. When trading during pre and post market hours, an ECN fee of $.005 per share is added to the regular commission rate.

E*TRADE does not charge any additional fees for placing penny stock trades or buying OTCBB / Pink Sheet stocks. For any stock under $1 per share, only limit orders (no market orders) may be used to place trades.

Options Trades - $9.99 + $.75 per contract.

Mutual Funds - All mutual funds cost $19.99 per trade. Additional fees may apply depending on the fund.

International Trading - E*TRADE formally retired its global trading offering in 2015.
Trade Commissions Breakdown
Stock Trade Fee (flat)*
$9.99
Stock Trade Fee (per share)*
N/A
Options Per Contract Fee*
$0.75
Options Exercise Fee
$19.99
Options Assignment Fee
$19.99
Mutual Fund Trade Fee
$19.99
Broker Assisted Trades Fee
$25.00
Minimum Deposit
$500.00
Margin Rates
$25,000.00 to 49,999.99
8.50%
$50,000.00 to $99,999.99
8.00%
$100,000.00 to $249,999.99
7.50%
$250,000.00 to $499,999.99
7.00%
$500,000.00 to $999,999.99
6.50%
Above $1,000,000.00
5.50%
Miscellaneous Fees
Treasury Trade Fee
Varies
IRA Annual Fee
$0.00
IRA Closure Fee
$60.00
Returned ACH Fee
$0.00
Returned Wire Fee
$0.00
Stock Certificate Processing Fee
$0.00
Stock Certificate Delivery Fee
$75.00
Paper Statement Fee
$2.00
Paper Confirmation Fee
$0.00
Domestic Wire Fee
$25.00
International Wire Fee
$25.00
---
Account Features
Compare E*TRADE
Select one or more of these brokers to compare against E*TRADE.