TradeStation Securities Review
February 16th, 2016: This Review has been updated to reflect the latest research and results from the 2016 Review.
Since becoming a brokerage in 1982, TradeStation has prided itself on being a leader in trader technology, with one of the most robust platforms available to traders anywhere. With more than 30 years of experience under its belt, TradeStation continues that effort in 2016.
Commissions & Fees
While TradeStation does offer support for all trading types, including forex and futures, this review focuses on TradeStation's equities and options offering. There are three different commission structures to select from for equities and two for options.
TradeStation, like Interactive Brokers, Lightspeed, and others, requires clients to purchase real-time data feeds to enable trading. To receive primary equities data, i.e., S&P 500 indices, NASDAQ, NYSE, and AMEX, the price is $7 per month ($4 + $1 + $1 + $1). Level II quotes run at $11 per month, and so on.
The main fee all new clients should be aware of is the $99.95 monthly charge for the TradeStation software, which can be waived only if certain activity levels are hit (or the account has $100,000). For equities traders, at least 5,000 shares per month must be traded, and for options traders, 50 contracts are necessary to avoid the fee.
A full breakdown of TradeStation's commissions and fees structure can be seen via the Commissions & Fee tab above, which includes a breakdown of TradeStation's new unbundled tiered rates. On the whole, the more frequently you trade, the lower your costs. This is especially true for TradeStation's optional unbundled pricing structure, which sophisticated traders can use to hand pick their routes and receive market rebates for adding liquidity.
Overall, TradeStation has a very competitive commissions schedule when pitted against large, full-service brokers (TD Ameritrade, ETRADE, Charles Schwab, Fidelity), but is more expensive than some of its active trading competitors such as Lightspeed and Interactive Brokers.
| | TradeStation | TD Ameritrade | E*TRADE | Interactive Brokers | Lightspeed Trading |
| --- | --- | --- | --- | --- | --- |
| Stock Trade Fee (flat) | $9.99 | $9.99 | $9.99 | N/A | $4.50 |
| Options Base Fee | $0.00 | $9.99 | $9.99 | $0.00 | $0.00 |
| Options Per Contract Fee | $1.00 | $0.75 | $0.75 | $0.70 | $0.60 |
| Broker Assisted Trades Fee | $20.00 | $44.99 | $25.00 | $30.00 | $25.00 |
| Commissions & Fees | | | | | |
Platforms & Tools
TradeStation's desktop platform is its flagship product and core focus. Web trading was introduced in early 2013; however, its primary use is for placing trades together with managing orders and positions when the desktop application is not within reach.
Multi-monitor traders will appreciate TradeStation's flexibility in supporting multiple monitors, allowing each monitor to have its own desktop workstation open.
TradeStation's tools cater to every type of professional investor, including institutions such as hedge funds. More than 40 years of historical data are available for equities trading when it comes to charting and studies. In terms of functionality, backtesting through Portfolio Maestro and customized scanning of the market for opportunities are just the tip of the iceberg.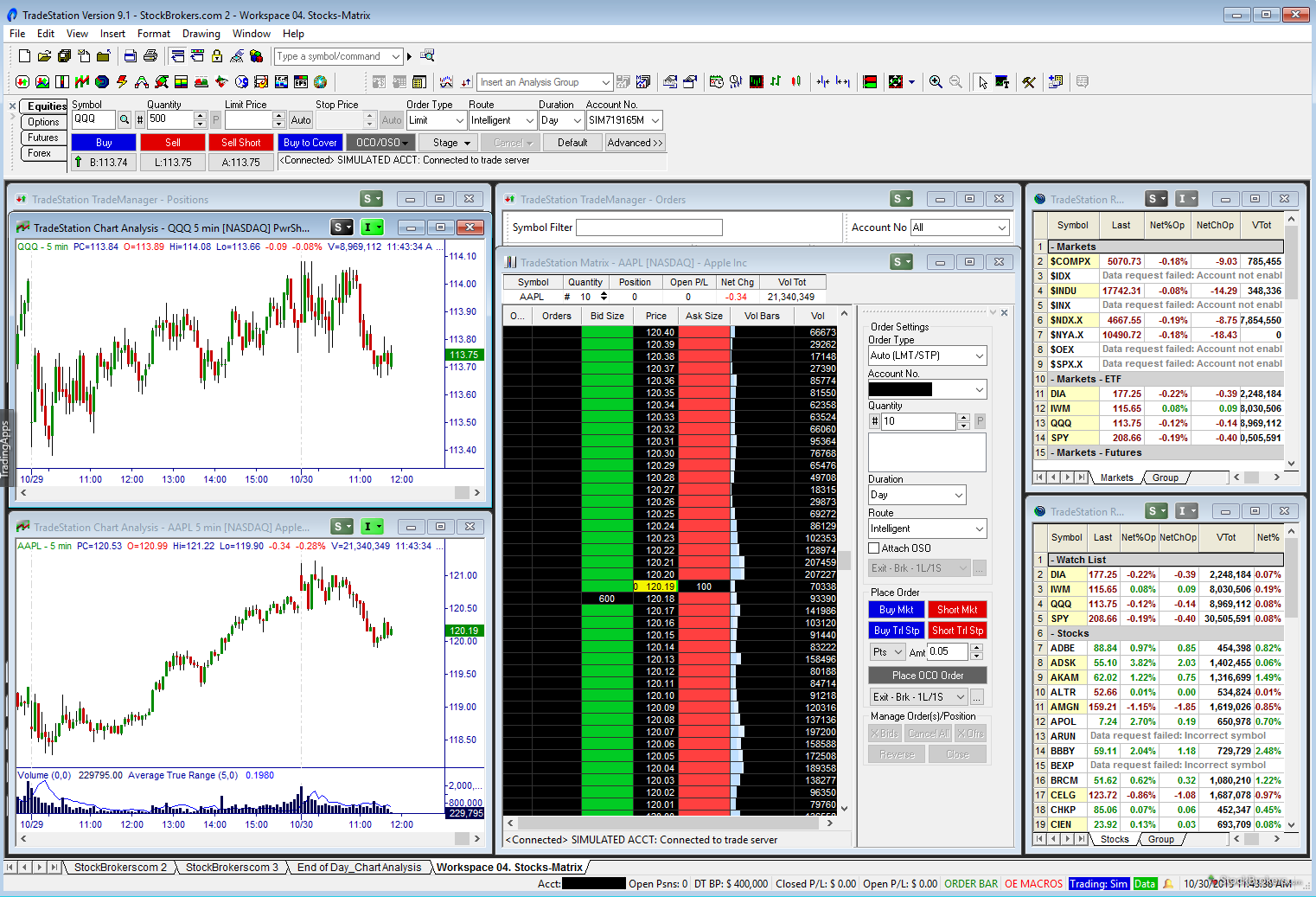 Charting allows investors to go deep into analysis, customizing indicators with numerous options, something only competitors such as TD Ameritrade's thinkorswim platform can match. More than 150 indicators/studies are available for inclusion, and each one can be reworked or adjusted to the trader's exact specification.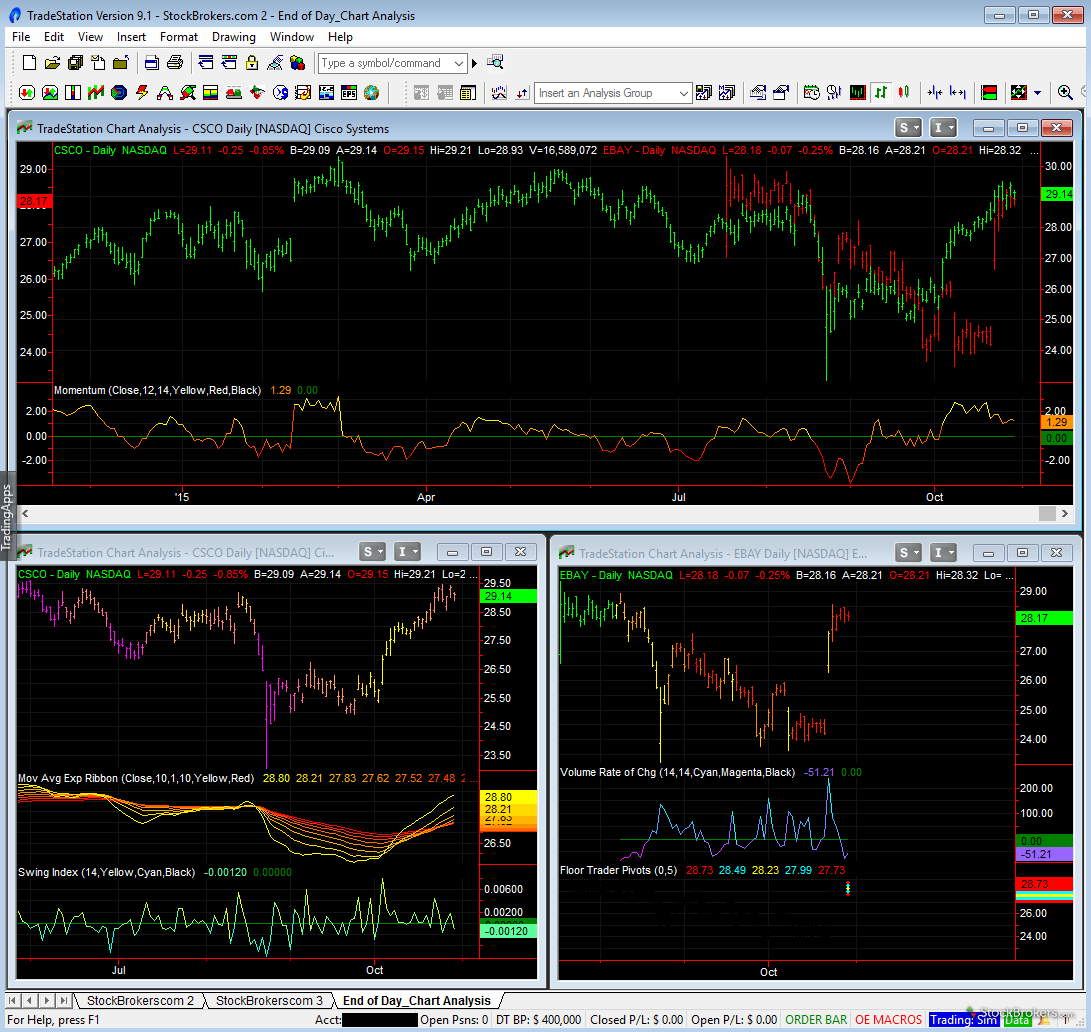 Options traders are not forgotten either, thanks to OptionStation Pro, a built-in tool within the platform. Scanning in the process of analyzing potential trades is a breeze, and traders can view traditional 2D as well as 3D profit & loss (P&L) charts, something exclusive to TradeStation (while the 3D views were a nice plus, ultimately, they felt more like eye candy). TradeStation's options capabilities also include custom grouping for current positions, streaming real-time greeks, and advanced position analysis.
Throughout 2015, a variety of updates, some subtle and some more discrete, were rolled out. A new expirations column was added to the positions window, allowing users to sort their positions by expiration. Within options chains and theoretical positions, column customizations were added for more user-specific data tweaking. Also, with theoretical positions, you can now independently adjust the price or volatility for each leg. The list goes on and on.
Other tools in the TradeStation arsenal include Radar Screen, Scanner, Matrix (ladder trading), and Walk-Forward Optimizer, among others.
One last critical piece of TradeStation's tools offering is EasyLanguage, TradeStation's own proprietary coding language that allows traders to run wild with indicator and trade-strategy customizations. Clients can share and sell their work via the TradeStation TradingApp Store (previously the Strategy Network). Some products are free, while others can run for less than $50 per month all the way up to hundreds of dollars per month. Overall, with EasyLanguage, the sky is the limit, which is why it is no surprise that as of year-end 2015 there were several hundred developers and close to a thousand different products available.
Mobile Trading
For mobile trading, we found TradeStation to be pretty good. The app was entirely rebuilt back in 2013 and the quality of the new app immediately showed thereafter. Charting was significantly improved, and, overall, the app was much smoother than its previous iteration.
This growth extended into 2014 as the broker added functionality, such as the ability to trade from the chart or use custom time frames with charts.
Then, in 2015, much to our liking, TradeStation added basic stock alerts and push notifications. While advanced alerts based off studies are not yet supported, supporting order notification push alerts is a nice plus. The highlight update of 2015, though, came right before the year-end with the launch of complex options trading. Alerts and mobile options spread support were two big features we had on our wish list after the 2015 Review.
Looking at 2016, we'd love to see TradeStation extend the apps usability to include Touch ID login (fingerprint login) and extend the charting functionality to display after-hours data. Watchlist syncing with the platform would also be welcome.
With all the variables considered, TradeStation's mobile trading offering is clean and effective, and provides the core functionality of what active traders need to succeed. It still trails the industry leaders in mobile due to its lack of broader functionality, such as mutual funds trading support, third-party ratings for equities, video content, and the like. Limitations aside, though, we can see why the app finished 2015 with the high user ratings in the Apple App Store and Google Play Store.
Other Notes
TradeStation offers little research and, as a result, is not recommended for this category (like all active trader niche brokers). See: Best Brokers for Research.
In the education department, TradeStation customers will find its offering pretty good, for the most part. Customers are provided with two or more daily webinars, on average. Webinars are archived for viewing on demand, and a variety of live events are provided throughout the year. That said, topic specification is focused primarily on options and equities. We found little or no education on ETFs, mutual funds, bonds, and retirement. Trading education aside, platform education is vast and well-constructed. For example, TradeStation's YouTube channel offers several hundred help and tips videos for using the platform. See: Best Brokers for Education.
Final Thoughts
With more than 30 years of history, TradeStation is a leader and innovator with its offering of a full-feature trade platform and high-power trade tools. The TradeStation platform is top notch in our books, and its appeal to active traders and professional investors is rivaled by only a select few.
While not the broker for everyone, especially new investors, TradeStation's well-respected place in the realm of niche brokers should continue to grow in 2016.
---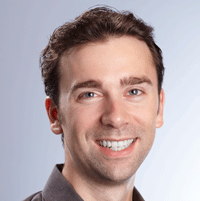 Reviewed by Blain Reinkensmeyer Blain heads research at StockBrokers.com and has been involved in the markets since placing his first stock trade back in 2001. He developed StockBrokers.com's annual review format six years ago which is respected by broker executives as the most thorough in the industry. Currently maintaining funded accounts with more than a dozen different US regulated online brokers, he's executed thousands of trades through his career and enjoys sharing his experiences through his personal blog, StockTrader.com.
---
Ratings Overall
Best in Class
Platforms & Tools
Mobile Trading
Order Execution
Active Trading
Options Trading
Platforms & Tools
Active Trading
Options Trading
Platforms & Tools
Active Trading
Options Trading
Platforms & Tools
Active Trading
Options Trading
Compare Online Brokers
Find out how TradeStation Securities stacks up against other brokers.
---
Commissions & Fees
Commission Notes
TradeStation offers three commission plans. For simplicity we utilized the Flat-Fee plan throughout the site. Full commissions schedule including all three plans are broken down below.

Data & Fees - TradeStation clients need to purchase real-time data feeds to enable trading. To receive primary equities data, ie S&P 500 indices, NASDAQ, NYSE and AMEX, the price is $7 per month ($4 + $1 + $1 + $1). Level II quotes run $11 per month, and so on.

TradeStation charges an "Account Service Fee" of $99.95 per month unless you reach any of the following trading activity minimums during the preceding month: A. Stocks - Trade 5,000 shares. B. Options - Trade 50 contracts. C. Futures - Trade 10 round-turn futures or futures option contracts or 50 round-turn single stock. D. Other - Have at least $100,000 in account balance on the last day of the previous calender month.

Both TradeStation Webtrading and OptionStation are free for all clients with no monthly service fee charges.

Stock Trades - TradeStation offers two commission plans: Per-Share and Flat-Fee.
Per-Share pricing: First 500 shares are $.01 per share, $.006 per share all shares thereafter. There is a $1 minimum per order. For example a 500 share trade would be $5 total and a 1000 share trade would be $8 ((500 x .01) + (500 x .06)).
Flat-Fee pricing: Rate determined by number of trades made during the previous month: 1 - 9 trades per month ($9.99 per trade), 10 - 29 trades per month ($7.99 per trade), 30 - 99 trades per month ($6.99 per trade), 100 - 199 trades per month ($5.99 per trade), and 200+ trades per month ($4.99 per trade). Each month's rate is determined by the previous month's total trades. For example, if a client places 15 trades in month one, then their rate will be $7.99 for month two. Lastly, direct routing up to 1,000 shares comes at no additional charge, however is $0.004/share thereafter.
Unbundled pricing: Unbundled pricing passes the liquidity charge (or rebate) onto the client. Base rate per share is determined by the number of trades made during the previous month. Rate starts at $.01 per share ($1 minimum) when trading less than 100,000 shares and drops to as low as $.002 ($.50 minimum) when trading 5 million shares or more.
Customers much choose one commission plan per account. All phone orders cost $20 extra per trade. Pink sheet stocks (OTCBB) are also available for trading at a rate of $.01 per share for the first 10,000 shares then $.05 per share thereafter.

Options Trades - TradeStation offers two plans for options trades.
Per-Contract pricing: 1.00 per contract with no base fee and no minimums. Exercise & assignments are $14.95. Early exercises or assignments are $1.50 per contract ($5.95 minimum).
Flat-Fee pricing: 1 - 9 trades per month ($9.99 + $.70 per contract), 10 - 29 trades per month ($7.99 + $.50 per contract), 30 - 99 trades per month ($6.99 + $.40 per contract), 100 - 199 trades per month ($5.99 + $.30 per contract), and 200+ trades per month ($4.99 + $.20 per contract). Also note, there is an additional charge of $0.35 per contract for index options and an additional $0.50 per contract charge for direct routing.
Mutual Funds - Mutual funds cost $14.95 per trade. Other fees may apply depending on the fund. Note though all mutual fund trades must be placed via phone and cannot be made through the platform.

Other Investments - TradeStation also offers futures, forex, bonds, and t-bills. IRAs are charged a $35 yearly account fee and a $50 fee for termination.
Trade Commissions Breakdown
Stock Trade Fee (flat)*
$9.99
Stock Trade Fee (per share)*
$0.0100
Options Per Contract Fee*
$1.00
Options Exercise Fee
$14.95
Options Assignment Fee
$5.95
Mutual Fund Trade Fee
$14.95
Broker Assisted Trades Fee
$20.00
Minimum Deposit
$5,000.00
Margin Rates
$25,000.00 to 49,999.99
8.25%
$50,000.00 to $99,999.99
7.75%
$100,000.00 to $249,999.99
7.75%
$250,000.00 to $499,999.99
7.25%
$500,000.00 to $999,999.99
7.25%
Above $1,000,000.00
6.75%
Miscellaneous Fees
Treasury Trade Fee
$50.00
IRA Annual Fee
$35.00
IRA Closure Fee
$50.00
Returned ACH Fee
$25.00
Returned Wire Fee
$25.00
Stock Certificate Processing Fee
$150.00
Stock Certificate Delivery Fee
$15.00
Paper Statement Fee
$1.00
Paper Confirmation Fee
$1.00
Domestic Wire Fee
$25.00
International Wire Fee
$35.00
---
Account Features
Compare TradeStation Securities
Select one or more of these brokers to compare against TradeStation Securities.