Lightspeed Review
February 16th, 2016: This Review has been updated to reflect the latest research and results from the 2016 Review.
Feeling confused is a common experience for first-time visitors to the Lightspeed website, unless they can speak the lingo of Lightspeed's target market, the active trader.
Lightspeed is one of the few online brokers whose goal is to avoid newer investors and those with little experience. The definition of "active trader" has a different meaning at Lightspeed compared to other big names such as TD Ameritrade, ETRADE, Scottrade, and Charles Schwab. At Lightspeed, clients trading thousands of round trips per month is not uncommon.
For investors seeking retirement calculators, third-party reports, or stock education, Lightspeed has little to offer. However, those seeking top-tier executions, low prices, and speed, will find themselves right at home.
Commissions & Fees
With Lightspeed's clientele being active and hyperactive traders, the broker's commission structure caters accordingly. Through the main platform, Lightspeed Trader, two tiered commission structures are offered: per share and per trade. The more volume you trade or the more frequently you trade, respectively, each month, the lower your rate will be.
With per share trading, equities trades start at $.0045 per share, plus/minus routing fees ($1 minimum). For traders who place larger orders, flat-rate trades can be made starting at $4.50, plus/minus routing fees. Options trades start at $.60 per contract and scale down in cost according to monthly volume.
One of the important notes about Lightspeed, shared by only a select number of brokers, is that the company does not receive payment for order flow for equity trades. This means far cleaner fills for clients. Also, the broker passes all respective market center rebates (or fees) to the client, allowing seasoned traders to keep costs extremely low.
By adding liquidity through using limit orders, clients receive the full market rebate, which typically averages around $.002 per share, depending on the market center. On the flip side, routing a market order to one of the major exchanges (i.e., taking liquidity) will run an additional charge of around $.003 per share, on average.
Lightspeed Trading
Interactive Brokers
TradeStation
MB Trading
OptionsHouse
Stock Trade Fee (flat)
$4.50
N/A
$9.99
$4.95
$4.95
Options Base Fee
$0.00
$0.00
$0.00
$0.00
$4.95
Options Per Contract Fee
$0.60
$0.70
$1.00
$0.95
$0.50
Platforms & Tools
Lightspeed offers customers multiple different platforms to trade on. Under Lightspeed's parent company, Professional Trading Solutions, three platforms are corporate owned: Lightspeed Trader, Lightspeed Web Trader, and Sterling Trader.
Third-party trading platforms focused on equities trading that were on offer to customers include RealTick Pro and Express. For options trading, there is Livevol X (owned by the CBOE, Lightspeed is the only broker with an enterprise license to offer the platform to customers), Derivix, Obsidian, OptionsCity, Valdi Options Solutions, and Wex. Lastly, for futures trading, customers can select from a slew of options: RealTick, CQG, CunninghamTrading Systems (CTS), NinjaTrader, Patsystems, Quick Screen Trading (QST), RAN, and Trading Technologies (TT).
For our review, we focused solely on Lightspeed's flagship platform, Lightspeed Trader, which is a desktop-based platform designed for speed, stability, and execution. While not the prettiest platform (it certainly would place last in any beauty pageant), the platform serves its purpose.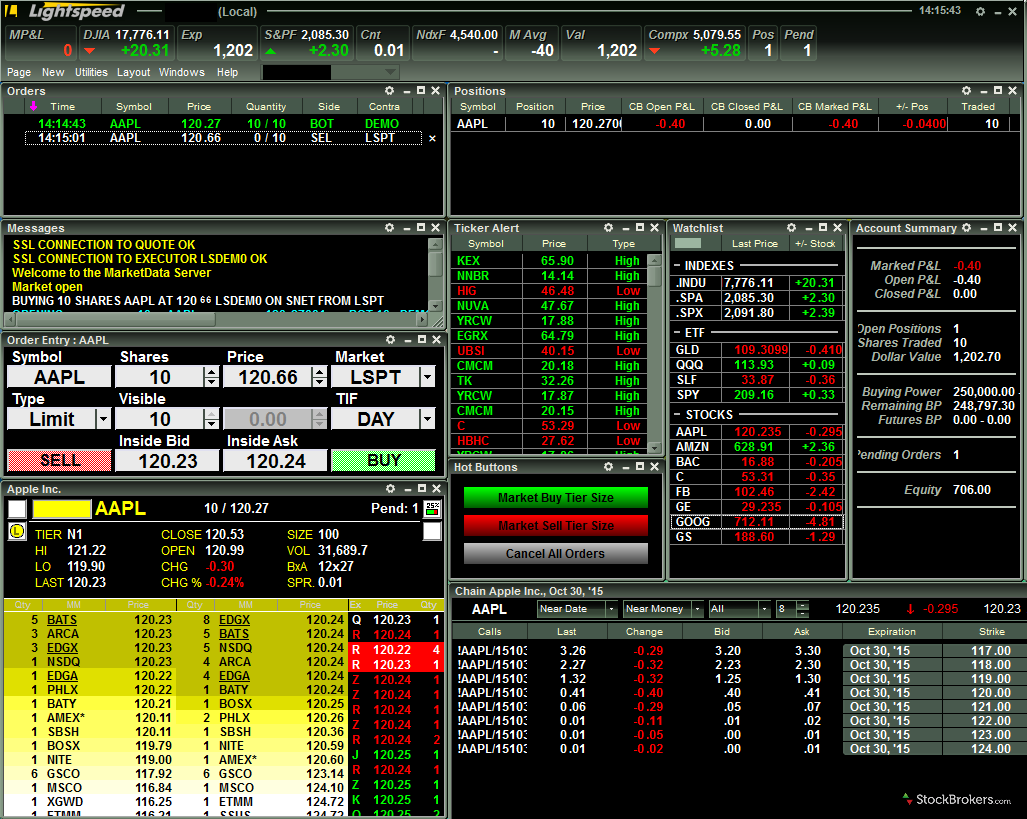 Although the learning curve is not too rough, ample trading experience is required to take advantage of all the order routing capabilities. Hotkeys are customizable down to order size, type, and routing instructions. Even the data is fed directly into the platform, showing that truly every millisecond matters to the broker and its clients.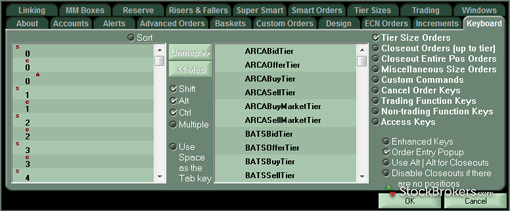 Beyond placing lightning-fast trades, however, the platform has little to offer. I found the charting to be just okay, and the tools were certainly lacking. Users of industry leading TD Ameritrade's thinkorswim platform or TradeStation will feel as if they are back in the Stone Age. See: Best Brokers for Platforms & Tools.
Furthermore, there is absolutely no research offered, and the options trading functionality, which has improved over the years, still lacks the quality theoretical analysis tools its competitors offer.
Overall, Lightspeed's platform is designed for professional investors to trade efficiently and do their jobs without any delays. In the world of hyperactive trading, every penny and second matters, and not having perfect fills each time is unacceptable. Lightspeed understands who their clients are and cater accordingly.
Customer Service
Lightspeed offers both phone and email support. The online broker used to offer current and potential clients access to live chat support; however, the service was shut down in mid-2012.
Lightspeed's phone support is commendable – the broker consistently delivers with speedy connection times in under a minute. The same holds true for email support: nearly every test email we sent over came back in less than one hour. Unfortunately though, one of our emails never received a response, despite sending it twice.
Overall, we found that Lightspeed support reps have a tendency to answer questions quickly and to the point, which could be explained by the fact that Lightspeed's clientele is all-business all the time. Having said that, the broker has room for improvement. Standardizing its templates could go a long way to improving the Lightspeed experience. See: Best Brokers for Customer Service.
Other Notes
In 2015 Lightspeed completed its clearing conversion to Wedbush Securities. Other clearing partners include Merrill Lynch Professional and Interactive Brokers.
Lightspeed does not offer any mobile trading support; neither does it offer any research beyond some basic technical analysis insight. Mutual funds are not supported for trading, and the broker's educational offering is very weak, which one might expect from a broker dedicated to professional traders.
Although Lightspeed lacks more mainstream "retail" investor offerings, it thrives in its offering for complex trading. The broker's institutional arm offers algorithmic (algo) trading through its Lightspeed Trader API and black box developer kits, both often used only by hedge funds. The broker also offers grey box trading in partnership with Trade Ideas, allowing clients to create and back-test their strategies, then use Lightspeed's API to automatically trade them.
Closing Notes
Lightspeed is not an online broker built with new or casual investors in mind. Instead, it caters to the hyperactive, professional, and institutional traders alike, all looking for quality executions, competitive commissions, and a dependable platform built to serve one purpose: trading.
Blain has been involved in the markets for over 15 years, heading StockBrokers.com broker research and reviews. His personal blog, StockTrader.com, provides education articles as well as to-the-point market recaps to over 17,000 subscribers.