TD Ameritrade Review
February 16th, 2016: This Review has been updated to reflect the latest research and results from the 2016 Review.
In the process of searching for a well-rounded broker, finding the right mix is no easy task. Trade costs, ease-of-use, trade platforms, research, and customer service all are important to investors.
After using a TD Ameritrade account, you can't help but love the overall experience. The broker charges $9.99 per trade, a rate almost twice that of some of the cheaper discount brokers. However, the value and quality delivered is so superior that is easily justifies the higher price tag.
Commissions & Fees
While having access to 24/7 customer support, advanced trade platforms, ample research, real-time streaming quotes site-wide and more is great, unfortunately, it is expensive. TD Ameritrade charges a flat rate of $9.99 per trade, with options costing $9.99, plus $.75 per contract.
Compared to other full-service brokers, TD Ameritrade is on par with ETRADE, but is more expensive than the rest, including Charles Schwab, Fidelity, and Scottrade. In fact, considering margin costs, TD Ameritrade is the most expensive broker out of the 13 included in our 2016 Review.
| | TD Ameritrade | E*TRADE | Charles Schwab | Fidelity | Scottrade |
| --- | --- | --- | --- | --- | --- |
| Stock Trade Fee (flat) | $9.99 | $9.99 | $8.95 | $7.95 | $7.00 |
| Options Base Fee | $9.99 | $9.99 | $8.95 | $7.95 | $7.00 |
| Options Per Contract Fee | $0.75 | $0.75 | $0.75 | $0.75 | $0.70 |
| Mutual Fund Trade Fee | $49.99 | $19.99 | $76.00 | $49.95 | $17.00 |
| Broker Assisted Trades Fee | $44.99 | $25.00 | $25.00 | $32.95 | $32.00 |
| Minimum Deposit | $0.00 | $500.00 | $1,000.00 | $2,500.00 | $2,500.00 |
| Commissions & Fees | | | | | |
| Overall | | | | | |
One bright spot is that TD Ameritrade does offer 101 commission-free ETFs (Charles Schwab offers the most, with 214). The only caveat is that, with TD Ameritrade, any commission-free ETF that is sold within 30 days of purchase is subject to a short-term trading fee of $19.99.
Customer Service
If having access to 24/7 customer support by phone and email is important to you, then TD Ameritrade has you covered. The broker posted fantastic results for both during testing for our 2016 Review, finishing No. 2 and No. 3, respectively.
During our phone tests, only once did we have to wait longer than one minute. The reps were extremely well trained. Every test call we made to TD Ameritrade, regardless of the day or time, was answered by a customer service agent who identified him/herself, provided a pleasant introduction, and always left us with a warm closing note (e.g., "Have a great day"). All our questions were always answered, and overall it was not surprising to see TD Ameritrade end up No. 2 for phone customer service (first place went to Merrill Edge).
Email testing was also a great experience. All of our emails were returned within several hours, on average, with over half arriving back within an hour. In fact, in one test, TD Ameritrade responded to our multi-question support inquiry in a blazingly fast four minutes.  Customer service agents were clearly well trained, as email templates were consistent and thorough. Of all our email tests, only one resulted in a "good" overall score; the rest were "great."
Live chat support is also offered, but only for customers seeking platform support while using thinkorswim, or for potential customers who navigate around the site long enough to trigger a live chat popup. Knowing how the web is evolving and how millennials prefer to communicate, I would like to see TD Ameritrade offer live chat support for all customers and potential customers.
When it comes to support the bottom line is that for a full-service broker, great customer service is expected, and TD Ameritrade delivers, regardless of the communication avenue.
Research
Like its biggest competitors, ETRADE, Charles Schwab, and Fidelity, TD Ameritrade has a substantial research offering. When I pulled up a quote for Apple (AAPL), there were seven different third-party research reports to choose from and read, which is tied for the second most in the industry behind Fidelity's offering of 12. The featured research report provider is ResearchTeam, which combines five research providers into one.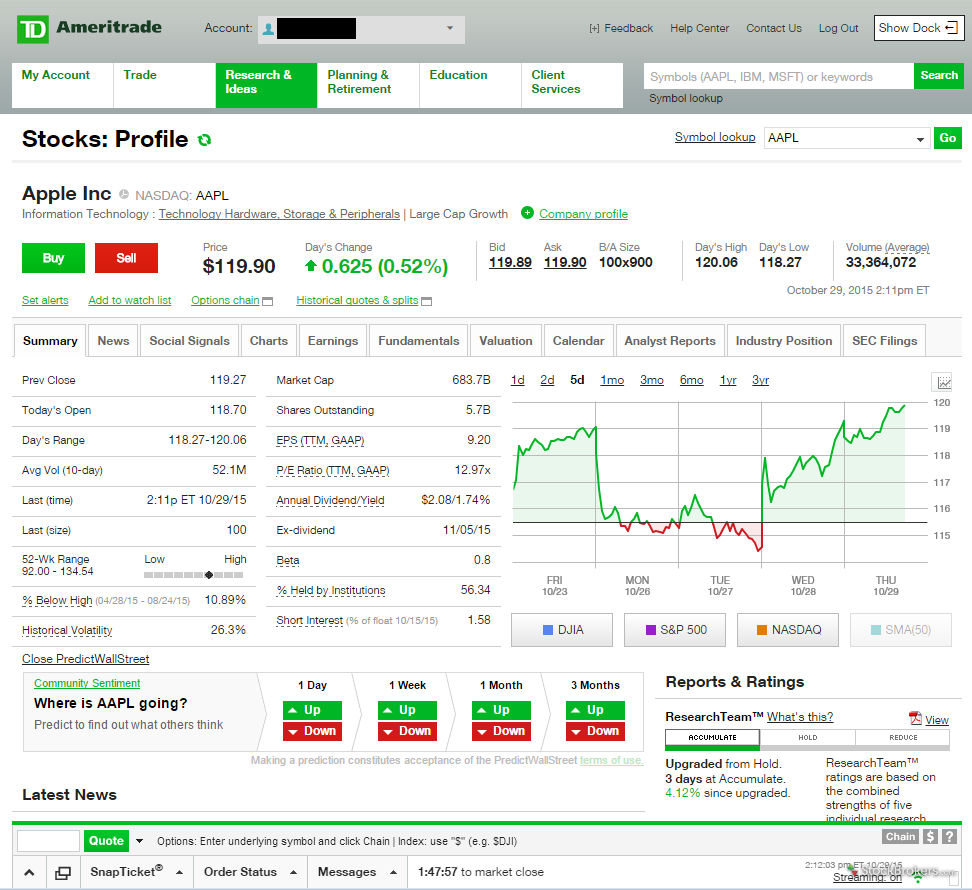 TD Ameritrade utilizes Thomson Reuters as its third-party data provider for fundamental analysis of individual equities, and offers the full array of Morningstar research for all mutual funds. Morningstar is my favorite third-party research provider for mutual funds, and it is no surprise TD Ameritrade, ETRADE, Charles Schwab, Fidelity, Scottrade, and other big names all agree.
I also enjoyed the on-site charting functionality. With 34 different technical indicators (volume, MACD, RSI, etc.) and easy-to-read, big charts, the experience is as clean as you'll find anywhere.
For the price customers pay per trade, excellent research should be expected. When all 49 variables for Research are taken into consideration, TD Ameritrade lacks only three features: insider analysis for equities, displaying the total number of holdings for ETFs, and a country allocation chart for Mutual Funds. Pretty impressive, to say the least.
Despite TD Ameritrade's across the board strength in research, the broker still finished slightly behind industry leaders Charles Schwab and Fidelity in the 2016 Research category ranking. The one core area TD Ameritrade trails behind its big brother competitors is its offering of in-house market commentary and analysis. Both Charles Schwab and Fidelity tap into brain trusts to provide frequent institutional quality content: Fidelity Viewpoints and Schwab Investing Insights. Fortunately, for TD Ameritrade customers, most of this analysis is offered free to the public.
That's not say TD Ameritrade doesn't have an edge on the competition though. In 2015 TD Ameritrade launched a new Social Signals tab within the equity research results. While social analysis for most brokers means including a feed of Twitter or StockTwits tweets, TD Ameritrade's new Social Signals uses proprietary algorithms from LikeFolio to display brand relevant tweets. Customers can also view a handful of social indicator metrics including: 7-day volume, sentiment score, and trending brand mentions.  Social sentiment, a new variable in our 2016 Review, is brand new to the industry landscape and as of the end of 2015, TD Ameritrade's Social Signals product impressed us the most.
Ease of Use
Making research a seamless experience is just one part of TD Ameritrade's efforts to make its website easy to use. The site-wide quote bar streams real-time quotes – functionality which neither Charles Schwab, ETRADE, nor Fidelity offers – and includes SnapTicket, a quick trade extension that allows stock and option orders to be placed from any page on the site.
TD Ameritrade also offers a fully customizable sidebar, My Dock, which allows customers to display up to 13 different modules. Modules can be resorted or placed into separate columns, allowing customers with wide-screen monitors to maximize their workflow. While clean and easy to use, I found myself leaving it collapsed and hidden away. Despite having a 24" monitor capable of maximizing the experience, I found it to be a distraction.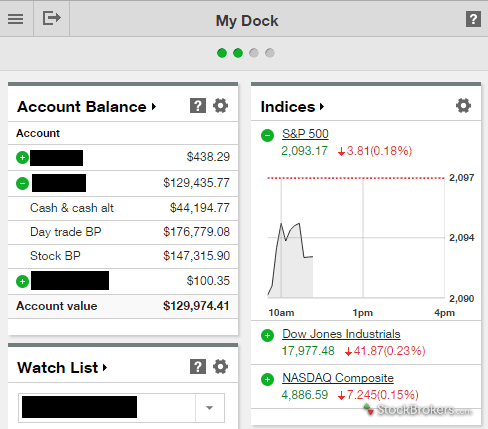 SnapTicket and My Dock are just two examples of TD Ameritrade's quest to provide customers with an easy and pleasurable experience. New account applications, account management, platform onboarding, accessing customer service, mobile apps, the list goes on and on. TD Ameritrade makes the entire customer experience a pleasure.
Platforms & Tools
While there are many standout areas for TD Ameritrade, the broker's two platforms really are its bread and butter. The flagship platform, thinkorswim, used to be a standalone broker until TD Ameritrade acquired it in 2009. Thinkorswim is designed for advanced traders who want complete flexibility and depth; however, it can also be used by any customer with no minimums or specific trade criteria required for access.
Run as a desktop application, thinkorswim is so advanced it is only rivaled by TradeStation. Having dozens of charts streaming real-time data is as easy as a few clicks, and even the pickiest trader will be satisfied with the over 300 technical studies available for each chart (highest in the industry), not to mention that each study can be customized thereafter. The possible combinations are endless.
TD Ameritrade's thinkorswim is also home to a slew of advanced tools and functionality. Whether it be CNBC TV, alerts, heat mapping, earnings calendars, stock scanners, options screeners or back-testing, the rabbit hole goes as far as any trader's imagination will take them.
Extremely well known for its options capabilities, thinkorswim is also home to a slew of other advanced tools and functionalities. Whether it be CNBC TV, alerts, heat mapping, earnings calendars, stock scanners, one-click trading, or back-testing, the rabbit hole goes as far as any trader's imagination will take them. One of the newer innovations launched in early 2014 was thinkorswim Sharing, which gives customers the ability to share workspaces, charts, studies, trade templates, and more via email or social media.
Heading into 2015, my one primary gripe with thinkorswim was its reliability during volatile markets. On highly volatile and active trading days when there would be a large influx of customers using the system, thinkorswim would lag noticeably – sometimes for lengthy periods. For casual investors, this is no big deal, but for professionals it was a serious issue. While lag spouts were rare, they did occur, and they were very annoying.
Fortunately, the number of these poor user experiences I witnessed in 2015 dropped to non-existent. It is clear that TD Ameritrade invested in more servers and/or made tweaks to its data handling. In 2016, active traders should be confident relying on thinkorswim to provide a seamless experience, regardless of the market environment.
Alongside dependability improvements in 2015, thinkorswim also received a complete overhaul. The reskin of thinkorswim was a huge project considering the platform design had remained relatively unchanged for the past six years. The entire code base was rewritten from the ground up, and two new color schemes, Dark and Bright, were revealed to accompany Classic. Furthermore, every single button, menu, settings area, etc. was meticulously reviewed and refreshed. The left-hand sidebar is now width adjustable, and the font was updated to Open Sans for improved readability. The list of improvements goes on and on.
With well over 100 hours logged on thinkorswim since the reskin was pushed live in September 2015, I've been extremely impressed. The update doesn't require relearning the platform; instead, the updates are all peacefully present, and with every click I found myself falling in love all over again. Thanks to the dependability improvements alongside the reskin, thinkorswim has regained the title of No. 1 desktop platform in my books. 
Platform thinkorswim aside, TD Ameritrade also has a web-based platform, Trade Architect, which is designed with more casual investors in mind. The tools and functionality are purposely kept simple, and the design is clean with visual flare. Everything ran smoothly in my Chrome browser, bug-free, and I quickly became a fan of the platform-wide streaming real-time quotes. I could only find one flaw: no virtual trading support.
From testing every broker, the streaming watch list functionality Trade Architect offers is my favorite. It isn't just the cleanness of the layout, but also the flexibility, ease of use, and depth of data available. The layout is completely customizable, and having access to visual data such as quote trends, trade trends, 52-week range, and the strength meter was simply icing on the cake.

Mobile Trading
When it comes to mobile trading, TD Ameritrade took a different approach by offering not one, but two smartphone apps: TD Ameritrade Mobile and TD Ameritrade Mobile Trader. TD Ameritrade Mobile is designed for new and casual investors, while TD Ameritrade Mobile Trader is designed for the feature hungry active trader.
Having two separate apps has its noticeable pros and cons. On the pros side, the apps can hone in on their individual target users and provide a specific experience. On the cons side, it is easy to confuse the two apps initially and not know which one is right for you. Also, some of the functionality that is built for one could really be beneficial on the other, for example basic price alerts, so it can be tricky at times to find the right home as a customer.
Once I dove into both apps, it was clear to see TD Ameritrade took the required steps to ensure a smooth experience. Not only were both apps bug free, but every tap I made was smooth, responsive, and crisp. The apps are beautifully designed.
Looking at specific functionality, TD Ameritrade Mobile Trader is "where the magic happens," so to speak. Advanced charting, with a staggering 307 different technical studies, is available alongside a full array of order options. An extremely smooth interface for advanced equities trades alongside a seamless experience for complex options trades extremely well thought out and executed, is arguably the best combination in the industry.
In 2015, TD Ameritrade continued to innovate with the release of in-app chat support and mobile desktop linking, both for the Mobile Trader app. In-app chat support allows users to use their mobile devices and chat with a customer service agent for live help, which includes screen sharing. Linking enables users to link the thinkorswim desktop platform to the Mobile Trader app. Click on the quotes tab, select a color next to the search bar that matches a chart or similar in thinkorswim, then pull up any quote and thinkorswim will follow suite.
When all 43 variables are considered in the Mobile Trading category, TD Ameritrade once again came away with 88% of the possible points in our 2016 Review, placing it second overall behind long-time industry leader ETRADE. Several of the pieces missing from TD Ameritrade's mobile apps to break the 90% barrier include a customizable dashboard (launched for Android in 2015 but not yet iOS), advanced alerts, and the ability to compare portfolio performance against overall market averages. Critiques aside, TD Ameritrade Mobile and TD Ameritrade Mobile Trader are top-notch products, and as far as iPad apps go, TD Ameritrade Mobile Trader is my personal favorite.
Other Notes
One area not broken down in this review is TD Ameritrade's educational offering. TD Ameritrade was the only broker to again ace the category in our 2016 Review and receive a perfect five-star rating. TD Ameritrade also extends education into colleges across the United States with its annual thinkorswim Challenge. October 2015 was the second iteration of the Challenge, which had 476 teams across 44 states participate.
TD Ameritrade entered the credit card space in June 2015 with the launch of the TD Ameritrade Client Rewards VISA card. While not as compelling as Fidelity's 2% cash back VISA card, TD Ameritrade does offer cardholders a flat 1.5% cash back on all purchases, which is increased to 1.65% if redeemed into a TD Ameritrade account.
Final Thoughts
TD Ameritrade is one of those companies that just gets it. They understand their customers, the value of a high-quality user experience, and they know what it takes to stay ahead of the competition.
Any investor, new or seasoned, will find TD Ameritrade a great fit for their needs. The main gripe with the broker is cost, but what you pay for is what you get, and the quality delivered by TD Ameritrade is, without a doubt, worth the extra few dollars per trade.
---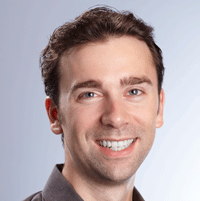 Reviewed by Blain Reinkensmeyer Blain heads research at StockBrokers.com and has been involved in the markets since placing his first stock trade back in 2001. He developed StockBrokers.com's annual review format six years ago which is respected by broker executives as the most thorough in the industry. Currently maintaining funded accounts with more than a dozen different US regulated online brokers, he's executed thousands of trades through his career and enjoys sharing his experiences through his personal blog, StockTrader.com.
---
Ratings Overall
Best in Class
Overall
Offering of Investments
Platforms & Tools
Research
Customer Service
Mobile Trading
Ease of Use
Investor Education
Active Trading
Options Trading
New Investors
Overall
Offering of Investments
Platforms & Tools
Research
Customer Service
Mobile Trading
Ease of Use
Investor Education
Active Trading
Options Trading
New Investors
Overall
Platforms & Tools
Research
Customer Service
Mobile Trading
Ease of Use
Investor Education
Active Trading
Options Trading
New Investors
Overall
Platforms & Tools
Research
Customer Service
Mobile Trading
Ease of Use
Investor Education
Active Trading
Options Trading
New Investors
Compare Online Brokers
Find out how TD Ameritrade stacks up against other brokers.
---
Commissions & Fees
Commission Notes
TD Ameritrade's commission structure is centered around flat-rate trading. All of TD Ameritrades platforms (thinkorswim, Trade Architect), tools, and services are available for access by customers. No minimums, no trade activity requirements.

Stock Trades - All online stock trades are $9.99 regardless of the order size, price, time of order, or type. Broker assisted trades are $44.99. Lastly, any commission-free ETF that is sold within 30 days of purchase is subject to a short-term trading fee of $19.99.

Option Trades - All online options trades are $9.99 + $.75 per contract.

Mutual Fund Trades - All no-load mutual fund trades are $49.99 per trade. There is no commission charge for load funds, just the fees charged by the fund itself. Also, there is no commission charge for NTF (No Transaction Fee Funds). Note however, any NTF funds (less ProFunds and Rydex) that are held 180 days or less before being sold will be charged a Short-Term Redemption fee of $49.99.
Trade Commissions Breakdown
Stock Trade Fee (flat)*
$9.99
Stock Trade Fee (per share)*
N/A
Options Per Contract Fee*
$0.75
Options Exercise Fee
$19.99
Options Assignment Fee
$19.99
Mutual Fund Trade Fee
$49.99
Broker Assisted Trades Fee
$44.99
Minimum Deposit
$0.00
Margin Rates
$25,000.00 to 49,999.99
8.75%
$50,000.00 to $99,999.99
7.75%
$100,000.00 to $249,999.99
7.50%
$250,000.00 to $499,999.99
7.25%
$500,000.00 to $999,999.99
7.25%
Above $1,000,000.00
6.50%
Miscellaneous Fees
Treasury Trade Fee
$25.00
IRA Annual Fee
$0.00
IRA Closure Fee
$0.00
Returned ACH Fee
$25.00
Returned Wire Fee
$25.00
Stock Certificate Processing Fee
$0.00
Stock Certificate Delivery Fee
$500.00
Paper Statement Fee
$0.00
Paper Confirmation Fee
$0.00
Domestic Wire Fee
$25.00
International Wire Fee
$25.00
---
Account Features
Compare TD Ameritrade
Select one or more of these brokers to compare against TD Ameritrade.