OptionsHouse Review
February 16th, 2016: This Review has been updated to reflect the latest research and results from the 2016 Review.
July 25th, 2016: ETRADE has announced it has acquired OptionsHouse. The brokers will remain independently operated for the time being. Business as usual.
In May 2014, it was announced that OptionsHouse and tradeMONSTER would be coming together under one roof. OptionsHouse was best known for its highly competitive commission rates, while tradeMONSTER was known for its terrific web-based options trading platform.
As details of the two brokers joining forces trickled out towards the end of 2014 and early 2015, it became clear the combined brand would maintain these strengths. And, having witnessing the merged companies' operation under the OptionsHouse name in 2015, we couldn't be more excited for OptionsHouse's future in 2016 and beyond.
Commissions & Fees
Stock trades are a flat rate of $4.95 per trade and options trades are just $4.95 + $.50 per contract. This flat-rate commission structure is significantly less expensive than all the big full-service brokers, such as TD Ameritrade, ETRADE, Fidelity, etc.
In fact, when you break these rates down against the entire industry, OptionsHouse finishes No. 1 overall. For equities and options traders this is a seriously competitive commission structure that cannot be overlooked. What we also deeply appreciate is that OptionsHouse's structure is clean cut with little or no gimmicks or special-case scenarios that can ramp up costs in a hurry. No platform fees or data fees either – the rates are all inclusive.
| | OptionsHouse | TradeKing | Interactive Brokers | Just2Trade |
| --- | --- | --- | --- | --- |
| Stock Trade Fee (flat) | $4.95 | $4.95 | N/A | $2.50 |
| Stock Trade Fee (per share) | N/A | N/A | $0.005 | $0.003 |
| Mutual Fund Trade Fee | $20.00 | $9.95 | $14.95 | $12.50 |
| Options Base Fee | $4.95 | $4.95 | $0.00 | $2.50 |
| Options Per Contract Fee | $0.50 | $0.65 | $0.70 | $0.50 |
| Broker Assisted Trades Fee | $25.00 | $20.00 | $30.00 | $22.50 |
| Commissions & Fees | | | | |
To provide its active options trading customers with an even better deal, OptionsHouse kicked off 2016 by implementing a new Dime Buyback program. Under the new program, OptionsHouse removed commission charges tied to closing short options contracts of $.10 or less, no matter what the spread type is. For example, if a customer makes a two-leg options trade and one leg was a buyback for $.10 or less, the second leg commission would be reduced to $0.
Platforms & Tools
When it comes to powerful platforms for trading options, OptionsHouse competes with the best in the industry. Built as a web-based platform, OptionsHouse innovates and delivers speed, quality, ease of use, and the tools needed for options traders to succeed.
OptionsHouse offers both virtual trading and regular trading. For newer investors, there isn't a better platform on which to learn how to trade. Pulling up quotes is a breeze, and OptionsHouse makes it easy to file personal notes with each trade.
When it comes to OptionsHouse's streaming charts, the functionality is good but there certainly are drawbacks. First, the interface is not user-friendly and, compared to other brokers, it took us significantly longer to become acquainted with making customizations. Second, there are limited tools with which to mark up charts, just nine in total. Third, there is a severe lack of technical studies available – only 35, compared to the industry average, which is closer to 100. This extends to study customizations, which we also found to be limited.
On the plus side, chart trading was expanded in 2015, and users now have the ability to adjust trades on the chart itself, then access a pre-filled order ticket to review and submit the trade. Also, OptionsHouse provides the ability to view your past buys and sells right on the chart which is functionality few other brokers offer.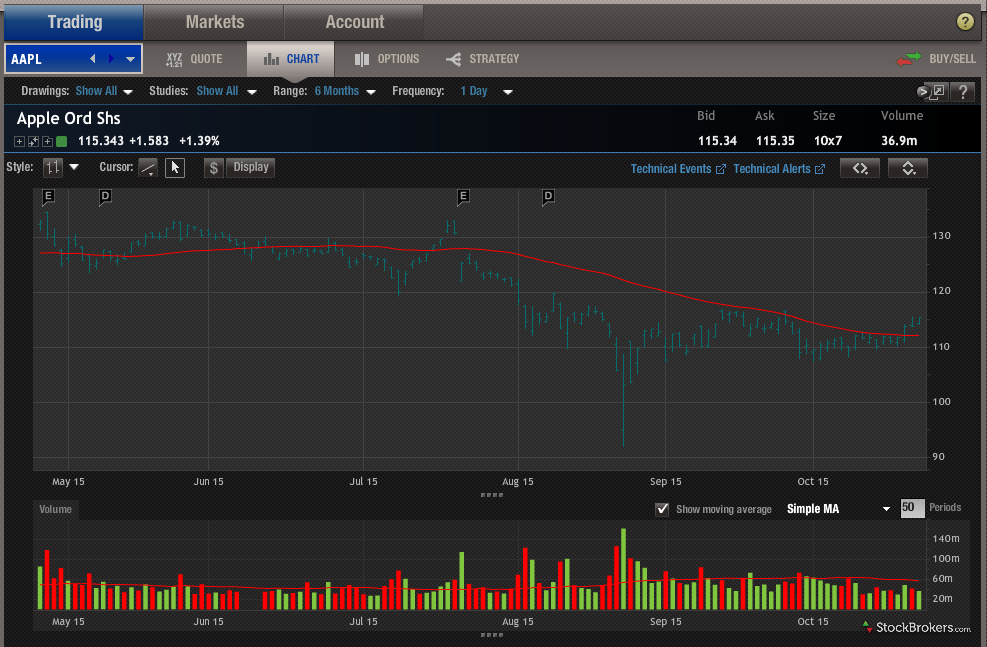 Moving onto options capabilities, OptionsHouse shines. The option chain screen displays a fully customizable streaming real-time option chain with 30 different optional columns, including every greek.
Once you find an option of interest, clicking it pops open OptionsHouse's summary window, which includes key metrics alongside different quick links for further analysis. Click Analyze and the tradeLAB Snapshot Analysis pops open. Not only is Risk/Reward completely broken down with simple smiley faces to translate the pros and cons, but key events to watch out for are displayed alongside a P&L chart. It's a work of art.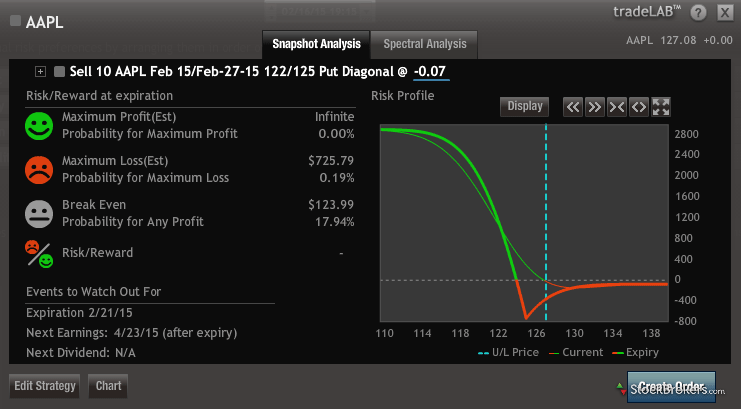 If that isn't good enough, OptionsHouse then provides a Spectral Analysis, which includes all data needed to make an informed decision. My favorite feature on this tab is Risk Metrics, which displays the option greeks. Since not all investors understand the greeks, OptionsHouse has a simple pull-down menu to change from "Greek" to "English," making the data user-friendly for new investors. Awesome.
Once you have finished analyzing, you can quickly import the data into a fresh trade ticket, use the trade calculator to find the right position size, add optional notes, and then place the trade. (Note: This intuitiveness with design and UI continues beyond researching and placing trades. All live positions are completely customizable. OptionsHouse automatically groups options into spreads for you, then allows you to completely regroup them and customize them to your liking using a simple drag-and-drop interface.)
Even with all these capabilities, the highlight for options remains the strategySEEK tool which is where you will find the platform's option screener. strategySEEK is hands down the best options scanner in the industry. First, you forecast the price at which you think the stock might end up down the road. Next, you drag and drop to set and order your priorities for the trade: Profit, Return, Probability, and Safety. Lastly, you click "Show Strategies" for a list of the best possible matches. From here, you can create an order and place the trade, analyze the trade (see above), or adjust the scanner and rerun.
It isn't just the interface that makes strategySEEK impressive, it's also the data and the behind-the- scenes calculations taking place to power the tool's recommendations. The OptionsHouse platform calculates EVERY possibility, millions of them, using a plethora of data, and displays results in milliseconds. This attention to detail is also seen throughout the rest of the platform in tools such as the liveACTION scanner.
All in all, the arsenal of tools available to options traders is truly impressive. OptionsHouse has a clear understanding of what options traders want, and delivers it in stunning fashion. And, as far as equities trading goes, while the platform has a strong foundation of functionality, the overall trading experience could be better. This is especially true for the charting interface, which needs an overhaul. That said, when it comes to browser-based platforms, options trading, and ease of use for new investors, OptionsHouse is king.
Research
On the right sidebar of the Quote screen is OptionsHouse's take on stock research which is a breakdown of company information and fundamentals. OptionsHouse offers its own Fundamental Report Cards for each company that, until October of 2015, also included letter-relative ratings. While I applaud the OptionsHouse platform team for thinking outside the box, I found the data difficult to interpret and unimpressive.
Beyond the Fundamental Report Cards, there isn't much else offered. There are no third-party research reports, no way of conducting metric comparisons against other companies, no SEC filings, and you cannot even view a simple balance sheet. Especially after using the research areas of the big full-service brokers, such as Fidelity, Charles Schwab, TD Ameritrade, and ETRADE, OptionsHouse is not recommended for research-hungry investors.
Similarly for ETFs and Mutual Funds research, the experience was hit or miss. During my testing for the 2016 Review, OptionsHouse was in the process of revamping its ETFs and Mutual Funds research, which meant some traditional functionality was temporarily removed and I was limited in seeing exactly what the new experience would be like. As functionality updates in 2016, we will update our findings via the blog. See: Best Brokers for Research.
Mobile Trading
In 2013, tradeMONSTER released a brand-new mobile apps suite. Taking a completely different direction from the normal native development route, tradeMONSTER opted for a full HTML 5 design in a native wrapper. This was a risky bet. Facebook had attempted a similar path and quickly reverted back to native.
While we found the new app to be a little sluggish after its initial release 2013, we saw positive improvements in 2014. After joining forces in 2014, OptionsHouse opted to keep the tradeMONSTER apps in lieu of their own. During testing in 2015, I found that while the features of the app are still strong, the smoothness and speed remain notably different compared to fully native apps.
Looking at the features, on the plus side, the app has a lot of the strong core functionality traders desire: real-time streaming quotes, synced watch lists, the ability to place basic and complex options orders alongside a variety of equity order types, and more. OptionsHouse also ties in some creative elements, such as designing a customizable home screen to include visual pricing.
Speaking of creative, in 2015 OptionsHouse became the first broker to enable its users to pair custom trader orders with price alert push notifications. Called Trigger Alerts, users can then take swift action to execute a pre-saved trade when they see the alert come across their smartphone. The feature works great; however, users cannot create the orders directly in the mobile app; instead, they require the web platform. Furthermore, in mobile, the Alert Manager is tucked away under the Settings menu, which is hardly ideal. Despite these minor inefficiencies, Trigger Alerts are a game-changer for trading on the go.
Back to core functionality, on the cons side, the major drawback is the app's usability due to its HTML 5 core. Ever so slight lags can be seen frequently as you navigate the app and swap between tools. While this is not a big deal, the speed lags are noticeable and will annoy picky users. Also, the depth of charting is slightly below the industry average, as direct stock or index comparisons cannot be made, and only 13 technical studies are supported.
All data considered, OptionsHouse's mobile offering is very good, and once again earned a Best in Class (top five) award in our 2016 Review.
Other Notes
During customer service testing for our 2015 Review, OptionsHouse and tradeMONSTER were still in the process of coming together, which certainly impacted the customer experience. This made us eager to a test again a year later for our 2016 Review. Unfortunately, the results were anything but impressive, and OptionsHouse finished second to last for overall customer service. See: Best Brokers for Customer Service.
Final Thoughts
The combination of OptionsHouse and tradeMONSTER in 2014 was a huge win for customers. Highly competitive commission rates, alongside a fantastic trading platform, make for a very compelling offering.
The broker still has some work to do as far as hashing out its customer service and speeding up its mobile apps. That said, for options traders, OptionsHouse is the full package combining discounted trade commissions with industry-leading tools and functionality. The web platform is our favorite and OptionsHouse once again earned the No. 1 overall ranking for Options Trading in 2016.
---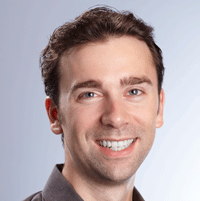 Reviewed by Blain Reinkensmeyer Blain heads research at StockBrokers.com and has been involved in the markets since placing his first stock trade back in 2001. He developed StockBrokers.com's annual review format six years ago which is respected by broker executives as the most thorough in the industry. Currently maintaining funded accounts with more than a dozen different US regulated online brokers, he's executed thousands of trades through his career and enjoys sharing his experiences through his personal blog, StockTrader.com.
---
Ratings Overall
Best in Class
Commissions & Fees
Mobile Trading
Ease of Use
Active Trading
Options Trading
New Investors
Overall
Commissions & Fees
Mobile Trading
Ease of Use
Active Trading
Options Trading
New Investors
Commissions & Fees
Active Trading
Options Trading
New Investors
Commissions & Fees
Active Trading
Options Trading
New Investors
Compare Online Brokers
Find out how OptionsHouse stacks up against other brokers.
---
Commissions & Fees
Commission Notes
OptionsHouse is an online broker with fairly straight forward commission offerings.

Stock Trades - OptionsHouse's flat rate stock trade commissions of $4.95 are among the lowest of any current online broker. For stocks under $1 add $.0005 per share.

The $4.95 rate applies to any sized order up to 50,000 shares. If over 50,000 shares, the order will be split into two or more with an additional $4.95 commission charged for each 50,000 shares.

Options Trades - $4.95 + $.50 per contract. Exercises and assignments receive a flat rate commission of $4.95. OptionsHouse also offers a very unique dime buyback program, allowing users the ability to buy back any short options for no commission when they are priced $.10 or less.

If trading options in SPX, VIX, RUT, and OEX there is an additional fee of $0.18 - $0.45 per contract to offset exchange fees.

Other Investment Types - Mutual fund trades are $20 per trade. Bond trades are $25 + $1 per bond. OptionsHouse also offers futures trading.
Trade Commissions Breakdown
Stock Trade Fee (flat)*
$4.95
Stock Trade Fee (per share)*
N/A
Options Per Contract Fee*
$0.50
Options Exercise Fee
$4.95
Options Assignment Fee
$4.95
Mutual Fund Trade Fee
$20.00
Broker Assisted Trades Fee
$25.00
Minimum Deposit
$0.00
Margin Rates
$25,000.00 to 49,999.99
7.25%
$50,000.00 to $99,999.99
6.50%
$100,000.00 to $249,999.99
6.00%
$250,000.00 to $499,999.99
5.25%
$500,000.00 to $999,999.99
3.50%
Above $1,000,000.00
3.25%
Miscellaneous Fees
Bond Trade Fee
$15 + $1 per bond
Treasury Trade Fee
$15 + $1 per bond
IRA Annual Fee
$0.00
IRA Closure Fee
$60.00
Returned ACH Fee
$30.00
Returned Wire Fee
$30.00
Stock Certificate Processing Fee
$300.00
Stock Certificate Delivery Fee
$235.00
Paper Statement Fee
$2.00
Paper Confirmation Fee
$0.00
Domestic Wire Fee
$25.00
International Wire Fee
$50.00
---
Account Features
Compare OptionsHouse
Select one or more of these brokers to compare against OptionsHouse.