Scottrade Review
February 16th, 2016: This Review has been updated to reflect the latest research and results from the 2016 Review.
To cut to the chase: Scottrade lives up to its commercials. The company defines what a broker-client relationship should be, with everything from opening an account to placing a trade or receiving professional guidance being a straightforward and enjoyable experience.
When I opened a new account to conduct my original Scottrade review, I knew Scottrade had tough competition and was curious to see how well the broker would perform. The application was a breeze as I filled in information and took advantage of the live chat assistance. Within several hours of completing my application, a Scottrade rep from my local branch office called me, welcomed me to the broker, let me know where they were located, and asked if I had any questions.
Immediately, I felt I was in good hands and couldn't help but think Scottrade was going to be my new best friend.
Commissions & Fees
Compared to other full-service brokerages, Scottrade is mostly less expensive. Regular stock trades cost $7 compared to the closest pricing competitor, Fidelity, which charges $7.95 per trade. Charles Schwab is next closest with its $8.95 trades. All trades operate under a flat-fee structure, meaning there are no gimmicks or trickery. Pricing is straightforward and simple unless you are trading stocks less than $1 per share, for which the cost is $7, plus .5% of the trade value.
Options trades will set you back $7, plus $1.25 per contract, which is more costly than Scottrade's competitors if you are trading more than a handful of contracts at a time. TD Ameritrade, ETRADE, Fidelity, and Schwab all have higher base commission charges but only charge $.75 per contract instead of Scottrade's $1.25. (Update 06/15/16 - Scottrade has reduced their options per contract fee to $.70.)
Lastly, Scottrade offers a massive selection of mutual funds, close to 14,000 funds in total, so you will not have any trouble finding something that suits your portfolio mix. Mutual fund trades cost only $17 each, the lowest among Scottrade's competitors. For those who prefer ETFs over mutual funds, Scottrade may disappoint as it does not have a selection of commission-free ETFs. If commission-free ETFs are your thing, then consider Charles Schwab, ETRADE, or TD Ameritrade, as each broker offers more than 100 of them.
| | Scottrade | TD Ameritrade | E*TRADE | Fidelity | Charles Schwab |
| --- | --- | --- | --- | --- | --- |
| Stock Trade Fee (flat) | $7.00 | $9.99 | $9.99 | $7.95 | $8.95 |
| Options Base Fee | $7.00 | $9.99 | $9.99 | $7.95 | $8.95 |
| Options Per Contract Fee | $0.70 | $0.75 | $0.75 | $0.75 | $0.75 |
| Mutual Fund Trade Fee | $17.00 | $49.99 | $19.99 | $49.95 | $76.00 |
| Broker Assisted Trades Fee | $32.00 | $44.99 | $25.00 | $32.95 | $25.00 |
| Commissions & Fees | | | | | |
| Overall | | | | | |
Customer Service
Scottrade, which has won our title for Best Overall Client Experience from 2012-2016, offers the most personalized customer service out of any of the full-service brokers I've tested. And considering the competition, this is no small feat. I found Scottrade to be the only online broker that completely leans on its local branch office network. Calling the support phone number on the Scottrade website during market hours elicits a prompt for your zip code, then redirects you automatically to your local branch office.
Within a few rings, I was speaking with a rep from my local branch office. Not only did he know the Scottrade website like the back of his hands, but he had no trouble answering my questions regarding my new account and website. Scottrade's network has 503 local branch offices within the United States, and all operate during standard market hours: 8:30 a.m. to 5 p.m. Monday through Friday.
The only downside of Scottrade's phone support is that it is not 24/7, unlike TD Ameritrade, ETRADE, Fidelity, and Charles Schwab, all of which offer phone support any day, any time. Furthermore, the quality of support can vary depending on the staff of your local branch office. When I originally opened my Scottrade account several years ago, I had no issues with support (see above commentary). However, since expanding our phone testing to incorporate branches from across the country, we have found the quality good overall, but inconsistent.
Phone testing aside, Scottrade shines for its email and chat support. In 2015, email test response time was inconsistent, usually averaging around one business day per reply; however, the quality of answers was outstanding. In fact, Scottrade once again received nearly perfect net promoter scores on every test during our 2016 Review testing, a near flawless performance. Live chat testing yielded similar results. Once we compiled the data, it was not surprising to find Scottrade near the top, finishing No. 4 for email support and No. 2 for live chat support. See: Best Brokers for Customer Service.
Research
Scottrade's research offering is thorough, covering the major bases well, including fundamental data on insiders, earnings, financials, SEC filings, and more. Compared to its competitors, third-party research is one area in which Scottrade falls behind, but not by much. Pulling up a quote on Apple (AAPL) offered me reports from three third-party providers: Standard & Poor's, Thomson Reuters, and Market Edge. While this will more than satisfy the majority of investors, picky customers may still be left craving more (Fidelity, Charles Schwab, and TD Ameritrade all offer at least six).
Navigation through the research area, like the rest of the Scottrade website, was clean and straightforward. Not only does Scottrade have a quick quote box on the top header, but it also has one on the left sidebar and footer bar. You can even place trades from any page, or website for that matter, by popping out the trade ticket bar in the footer – another nice touch. Focusing back on the research section, whether I was pulling up a quote or looking at a stock chart then reading an analyst report, I had no problem finding my way around.
One feature I really enjoyed, which is exclusive to Scottrade customers, was the Scottrade SmartText functionality. SmartText analysis is available for charts, sectors and industries, and earnings. With charts, for example, Scottrade SmartText will quickly analyze any indicator you add and give you an easy-to-understand explanation of what that indicator implies for the stock you are researching. For example, SmartText gave me this breakdown for Google's 13-day moving average, "On Tuesday, GOOG closed below its 13-day moving average. This is generally considered to be an indication of a bearish trend." Investors beware though; like all technical analysis, SmartText's algorithmic analysis should not be the sole data point used in making a buy or sell decision.
Scottrade's research is also thorough for mutual funds. With research provided by Morningstar, my personal provider choice for mutual funds research, Scottrade does not disappoint. Immediately after pulling up a quote for Pimco's Total Return Fund PTTDX, a chart appeared displaying the fund's performance in the past decade compared to intermediate-term bonds and the S&P 500. I then read a synopsis of the fund's strategy, took a look at the Morningstar category ratings, and analyzed the fund's expenses to help me decide whether to buy or not.
In 2015, Scottrade spent time improving its screeners, expanding the number of predefined screens (from two to 11 for ETFs and two to 10 for Mutual Funds). Screens are mostly created in house, and it was refreshing to see more variety. Scottrade also added a new visualization tool, allowing you to visually see how each screen result flows through your predefined filters. The tool was a product of Scottrade's Launching Pad, an area of the site designated to creative experimentation and direct customer feedback. I found the tool interesting, but I don't think it made my screening more efficient.
Looking at research overall, Scottrade's offering is impressive and will satisfy the vast majority of investors. That said, compared to its closest competitors, Scottrade falls behind in certain areas of depth such as third-party reports and in-house commentary/analysis, to name two. It's great, but not award winning. See: Best Brokers for Research.
Platforms & Tools
Scottrade offers two platforms: Scottrader Streaming Quotes and Scottrade ELITE. Scottrade ELITE requires customers to have at least $25,000 in their account before gaining access.
Scottrader Streaming Quotes is a Java-based application that loads through the desktop instead of the browser like Charles Schwab StreetSmart.com and Merrill Edge MarketPro. This is an important distinction because Java is a language that has lost favor in today's modern web environment. Google Chrome and Microsoft's new Edge browser no longer support Java, which means customers who want to access StreetSmart.com and MarketPro have to use Mozilla Firefox, legacy Internet Explorer, or Safari (Mac).
With easy buttons to open new windows and three customizable layouts, I found the application functionality to be easy to set up and use. Each watch list is drag-and-drop friendly and can have up to 40 securities.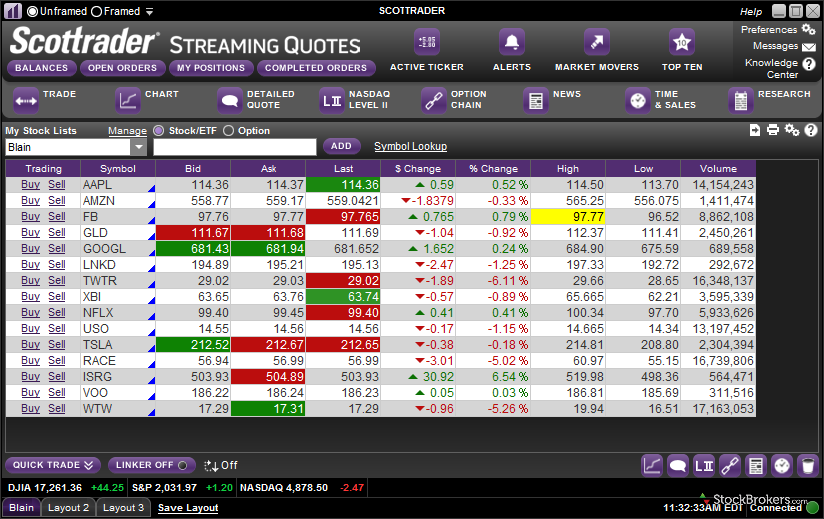 One con with the Scottrader Streaming Quotes application is that there is no snap window functionality, so aligning any open windows (the trade ticket, charts, top gainers, time and sales box, etc.) to fit into a grid is a bit tedious. My only other criticism would be that the quote screen window does not display the market index returns in large numbers at the top. Instead, they are small items at the bottom and do not include a percentage return for the day. Pickiness aside, Scottrade Streaming Quotes gets the job done and is an easy win for casual investors.
Scottrade's advanced platform, Scottrade ELITE, is a desktop- based platform designed for active traders seeking detailed functionality beyond what Scottrader Streaming Quotes has to offer. Over the years, Scottrade ELITE became old and outdated, falling behind the rest of the industry in most areas. That all changed in 2014 though, when Scottrade launched a brand-new version of Scottrade ELITE. Completely recoded from the ground up, not only was the new Scottrade ELITE significantly more pleasant on the eyes, but it became easier to use, faster, and had a great foundation for expansion moving forward.
In 2015, we saw subtle yet impactful tweaks to the user interface and design. Buttons, menus, and colors saw updates throughout the application. Also, the ELITE platform became the first platform to integrate Recognia's technical analysis functionality directly in the platform, something I immediately appreciated as I no longer had to use my regular browser to access the tools. Seeing Recognia event notifications as an optional watch list column, for example, make for a seamless experience.
Functionality enhancements in 2015 were also across the board. Charting saw a variety of updates and I liked the new Company Profiles which were clean, simple, and added nice visual analysis of core areas important to all investors: index and peer comparisons, dividends, as well as earnings. 2015 wasn't all rosy though, as ELITE ended free customers access to the Trade-Ideas tool. The tool is still available within the platform, however now customers have to pay a discounted $15 per month for access. See: Best Brokers for Platforms & Tools.
Other Notes
In 2013, Scottrade introduced an industry-first FRIP (Flexible Reinvestment Program). A FRIP is similar to a DRIP (Dividend Reinvestment Program), except that investors can customize how the dividend is used. Reinvestable dividends can be used to purchase shares in up to five different eligible securities (exceptions include OTCBB stocks). The FRIP is an industry first, and the customers I spoke with love it. Even today in 2016, the FRIP remains an exclusive Scottrade tool.
In April 2015, Scottrade and OptionsHouse parted ways, ending the Scottrade OptionsFirst program. In its place, Scottrade Pro, a joint initiative with Interactive Brokers, was announced. In a nutshell, Scottrade now offers customers a white-labeled version of an Interactive Broker's platform with "discounted" options commissions. I say discounted because while cheaper than Scottrade's base rates, you are far better off simply opening an account with Interactive Brokers directly. See our list of recommended brokers for options trading.
Lastly, while the Scottrade website client side is easy to navigate based on 2016 modern web principles, it is very apparent the site is outdated and in need of a complete overhaul.
Final Thoughts
Scottrade, with its network of more than 500 branch offices and strong customer support, offers customers a large selection of investments and quality research to make educated investment decisions. While the broker trails its closest competitors in several categories, such as Platforms & Tools and Mobile Trading, the rates are less expensive overall and the broker is pushing forward with innovative products to keep customers wanting more.
---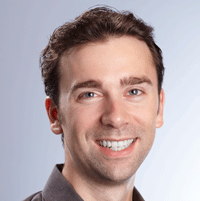 Reviewed by Blain Reinkensmeyer Blain heads research at StockBrokers.com and has been involved in the markets since placing his first stock trade back in 2001. He developed StockBrokers.com's annual review format six years ago which is respected by broker executives as the most thorough in the industry. Currently maintaining funded accounts with more than a dozen different US regulated online brokers, he's executed thousands of trades through his career and enjoys sharing his experiences through his personal blog, StockTrader.com.
---
Ratings Overall
Best in Class
Customer Service
Order Execution
Banking
New Investors
Customer Service
Investor Education
Banking
Mobile Trading
Investor Education
New Investors
Overall
Research
Investor Education
New Investors
Compare Online Brokers
Find out how Scottrade stacks up against other brokers.
---
Commissions & Fees
Commission Notes
Scottrade is an online broker with a straightforward pricing structure. To access Scottrade's active trader platform, ScottradeELITE, customers must have $25,000 in total assets or make 9 trades over a three month rolling period.

Stock Trades - All stock trades are $7 per trade with no limits on the number of shares traded. For stocks priced under $1, an additional .5% fee of the principal value will be added to the $7 base commission rate.

Options Trades - $7 + $0.70 per contract.

Mutual Funds - Mutual funds cost $17.00 per trade. Additional fees may apply depending on the fund.

International Trading - Scottrade also offers trading services for China through the Chinese version of its website.
Trade Commissions Breakdown
Stock Trade Fee (flat)*
$7.00
Stock Trade Fee (per share)*
N/A
Options Per Contract Fee*
$0.70
Options Exercise Fee
$17.00
Options Assignment Fee
$17.00
Mutual Fund Trade Fee
$17.00
Broker Assisted Trades Fee
$32.00
Minimum Deposit
$2,500.00
Margin Rates
$25,000.00 to 49,999.99
7.25%
$50,000.00 to $99,999.99
7.00%
$100,000.00 to $249,999.99
6.50%
$250,000.00 to $499,999.99
6.25%
$500,000.00 to $999,999.99
5.75%
Above $1,000,000.00
5.25%
Miscellaneous Fees
Treasury Trade Fee
Varies
IRA Annual Fee
$0.00
IRA Closure Fee
$0.00
Returned ACH Fee
$75.00
Returned Wire Fee
$25.00
Stock Certificate Processing Fee
$0.00
Stock Certificate Delivery Fee
$0.00
Paper Statement Fee
$2.00
Paper Confirmation Fee
$1.00
Domestic Wire Fee
$25.00
International Wire Fee
$40.00
---
Account Features
Compare Scottrade
Select one or more of these brokers to compare against Scottrade.