The StockBrokers.com best online brokers 2020 review (10th annual) took six months to complete and produced over 30,000 words of research. Here's how we tested.
DAS Trader Pro is a desktop platform built for direct-access trading. Traders who wish to use Das Trader Pro can either open an account with an online brokerage that supports the third-party platform, or they purchase market data through DAS directly and use the platform for analysis only with no trading.
Throughout this review, we will compare Das Trader Pro to day trading platforms offered by standalone brokerages such as Interactive Brokers, TD Ameritrade, and TradeStation.
DAS, the company that offers Das Trader Pro, is a market data provider for the CBSX, Nasdaq OMX, and NYSE/ARCA amongst others. DAS offers order routing to over 50 designations with latency-sensitive order validation.
Review Summary
The DAS Trader Pro platform shines for its direct market access but is average-at-best when it comes to total features offered. Furthermore, the mobile experience is poor and overall the platform fails to deliver when compared to using a broker such as Interactive Brokers or TradeStation directly.
Benefits:
Direct market access offered with the ability to rout to more than 50 market makers.
Standard slate of day trading features, including level II data, options chains, a short locate tool, and customizable hotkeys.
Considerations:
Poor mobile experience due to app crashes and lack of capabilities.
Fewer charting indicators and drawing tools than Interactive Brokers and TradeStation.
Monthly subscription charged for access (varies by broker) can be expensive, unless certain trading thresholds are met.
No market research is provided, e.g. fundamental analysis.
Limited selection of options tools as platform is built primarily for equities trading.
Top DAS Trader Pro Brokers
Here's a breakdown of the best online brokers that offer DAS Trader Pro as a platform option.
* Interactive Brokers clients that want to use DAS Trader Pro as their trading platform have to subscribe to DAS (monthly fees are not waived), submit for IB authorization, and send DAS their IB account information to establish the connection.
Given the costs of using DAS Trader Pro with Interactive Brokers, this is not recommended. The Trader Workstation (TWS) platform offered by Interactive Brokers is far superior to DAS Trader Pro and a better choice overall.
Charting
DAS Trader Pro offers decent charting capabilities, with 37 technical indicators, nine drawing tools, custom time bars, and the ability to quickly trade off the chart. Traders can customize chart time frames from 1 minute to 1 month with the ability to add trend lines and have pre and post-market data applied to charts. Charts update quickly and are easy to customize.

DAS Trader Pro chart
While these features are nice, they can't compete with platforms from TD Ameritrade, TradeStation, or Interactive Brokers, which all offer several hundred technical indicators alongside numerous drawing tools. Das Trader Pro also trails direct-access competitor Sterling Trader Pro in configurable studies, offering 36 compared to Sterling Trader's 60+.
DAS Trader Pro also does not provide other simple charting functions such as the ability to view historical trades or corporate events on a chart.
Using data from our broker comparison tool, here is a comparison of popular charting features between popular day trading brokers.

Das Trader Pro charting features comparison
Features
The most significant advantage of using DAS Trader Pro is having the ability to route orders through 50 different market makers. Traders can route orders based on the exchange of the underlying asset they want to trade. In this regard, the Interactive Brokers Trader Workstation (TWS) is the closest competitor DAS Trader Pro has.

Das Trader Pro Level II Data
DAS Trader Pro competes with popular day-trading platforms by offering level II quotes and data, a short locator tool, and customizable trading hotkeys. Hotkeys range from simple tasks like pulling up news or custom day charts, to buying and selling shares at a specific ask or bid prices. These features allow day-trading scalpers to collect, process, and execute trades promptly.
Using data from our broker comparison tool, here is a comparison of popular day trading features between brokerage platforms.

DAS Trader Pro Day Trading Features Comparison
Most widgets on DAS Trader Pro have multiple layers of customizability to them, allowing traders to change colors, columns, and more.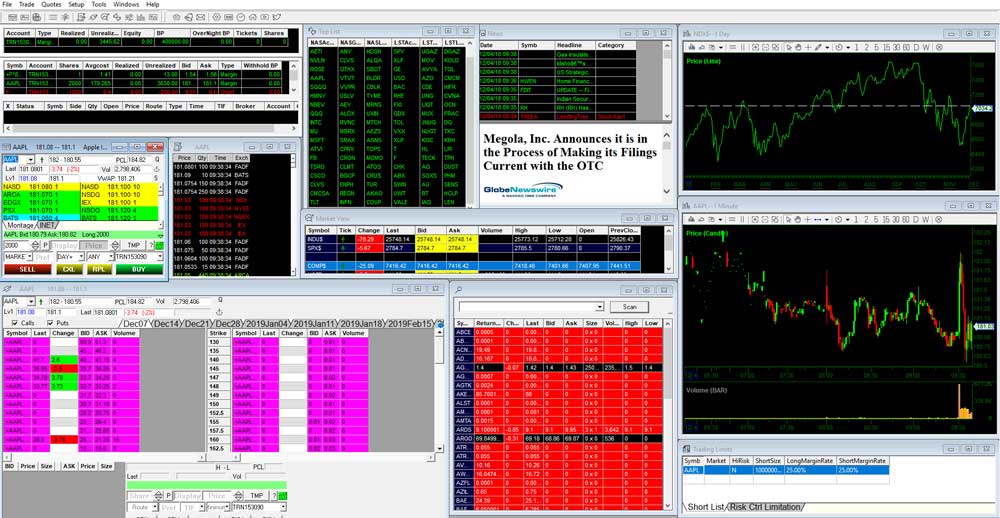 DAS Trader Pro Platform View
Another useful tool is the trade signals widget, which allows users to screen stocks based on thresholds such as price movement, volume, and percentage points gained/lost.

DAS Trader Pro Trade Signals
Offering of Investments
DAS Trader Pro only supports stock, options, and penny stock trading. DAS does not support futures trading, forex trading, mutual funds, or bonds. Another downside to DAS is the variety of available order types is limited. Contingent, Multi-Contingent, OTO, and OTOCO orders are not available.
Mobile App
DAS Trader Pro's mobile app is perhaps its biggest drawback. I experienced app crashes and frozen screens in my testing, making me question the reliability of the app. Functionality aside, the mobile experience feels bare. Apart from mobile charting, which offers 14 technical indicators, the app lacks features across the board and is in desperate need for a redesign.

DAS Trader Pro mobile
Day traders might find it challenging to trust the reliability of the mobile app, which is not the case with mobile apps from TD Ameritrade, Interactive Brokers, or TradeStation.
Platform Pricing
DAS Trader Pro data can be purchased directly from DAS, or through brokers such as SpeedTrader, Cobra Trading, and CenterPoint Securities. If you subscribe to DTP directly, you are essentially subscribing to use the trading platform without any order routing or execution.
If purchased directly from DAS, traders can expect to pay between $155 -$255 a month for data packages only, which doesn't make a lot of sense.
Das Trader Pro becomes cheaper when purchased through a direct-access broker, typically costing around $100 a month, depending on what broker and data package you select. Most brokers will waive the monthly platform fees for customers who meet a minimum trading requirement, typically set at 250,000 shares a month.
Commissions and Fees
Traders must examine their trading activity before deciding to open an account with a broker that offers the DAS Trader Pro platform.
Cobra Trading (read full review) - Cobra Trading charges a $125 platform fee to use Das Trader Pro, which is waived if you trade 250,000 shares a month. Cobra charges between $.004 - $.002 per share based on how many shares are traded each month and has an account minimum of $30,000.
SpeedTrader (read full review) - SpeedTrader charges between $25 - $104 a month to use different versions of Das Trader Pro. The cheapest version is web only, while the $104 version includes level two data. SpeedTrader charges between $.0044 - $.0025 per share or between $4.49 - $2.95 per trade, and has an account minimum of $30,000.
Interactive Brokers (read full review) - Interactive Brokers charges between $100 - $200 for different versions of Das Trader Pro. The cheapest package with level II data is $150 a month. These fees are not waived by high-volume trading. Interactive Brokers charges between $.0035 - $.0005 per share, with an account minimum of $0.
Options Trading
Das Trader Pro is not built with for options traders. While basic features are offered such as option chains, level II options data, and options routing, DAS Trader Pro lags our Best Options Brokers in a variety of areas. For instance, DAS does not offer complex options or an options screener. The platform also doesn't offer P&L charts, a probability analysis, Greeks, or rolling and grouping.
Research
As a direct access platform, DAS Trader Pro does not have provide fundamental reasearch data. In terms of research, DAS offers market news and a stock scanner, which only offers a few basic scanning variables, such as price, volume, and RSI, amongst others. Active traders who seek third party analyst ratings and advanced research will want to utilize a more traditional broker.

DAS Trader Pro research
Final Thoughts
For active traders who trade hundreds of times each month and want the ability to route trades to different market makers, DAS Trader Pro is a valid option.
However, if you are seeking a robust trading platform with third-party research, an array of charting options, and excellent mobile apps, check out our Best Day Trading Platforms guide.
Read Next
Explore our other online trading guides:
Methodology
For the StockBrokers.com tenth annual best online brokers review published in January 2020, a total of 3,540 data points were collected over six months and used to score brokers. This makes StockBrokers.com home to the largest independent database on the web covering the online broker industry.

Participation is required to be included. Each broker completed an in-depth data profile and provided executive time (live in person or over the web) for an annual update meeting. Our rigorous data validation process yields an error rate of less than .001% each year, providing site visitors quality data they can trust. Learn more about how we test.
Still aren't sure which online broker to choose? Email us a question! Whether you are a beginner investor learning the ropes or a professional trader, we are here to help. Email us your online broker specific question and we will respond within one business day.