ChoiceTrade is a brand name few investors have heard of. This may seem surprising considering the firm offers discounted trading and was founded way back in 2000. However, upon examination of the broker's website and offering, the broker's flaws are extensive and it's easy to see why the broker remains out of the spotlight.
I first headed to ChoiceTrade's "About Us" page and was greeted with bland, broad, templated text describing how the broker focuses on technology and powerful solutions for traders. "We have selected our trading applications with one goal in mind – to meet the needs of our customers and to offer them a choice." There was no information about the founder or the company itself. Instead, the content includes a stock photo image of a Wall Street sign.
This was just the start, as the deeper I explored ChoiceTrade's website, the more questions I had.
This was just the start, as the deeper I explored ChoiceTrade's website, the more questions I had. If the broker offers mutual funds trading, why isn't a commission rate posted? Is the broker even registered with FINRA, because it isn't listed anywhere on the website?
When I put the question of mutual funds rates to ChoiceTrade, I was thanked for my discovery, and ChoiceTrade promptly posted its mutual fund commission rate of $25 to the website's fees page. Has this commission rate really been missing since 2000?
Regarding FINRA, every US-regulated online broker lists their FINRA registration in the footer of their website. ChoiceTrade doesn't. Fortunately, I did find them on the FINRA.org website.
All in all, the confusion and lack of attention to detail that embodies the public-facing website was just the tip of the iceberg for my journey reviewing and rating ChoiceTrade.
Commissions & Fees
ChoiceTrade offers stock trading, options trading, ETFs, mutual funds, and margin accounts. Bonds are not offered.
The cost of regular stock trades is a flat $5 per trade. Options trades cost $5 + $.50 per contract. Mutual fund trades are $25 per trade. Margin rates are a flat 7.45%, regardless of the size of the account. Lastly, ChoiceTrade's miscellaneous account fees are all much higher than the industry averages. Examples include wire fees, IRA fees, and paper statement fees.
| View All Fees | ChoiceTrade | OptionsHouse | Firstrade | Ally Invest | Charles Schwab |
| --- | --- | --- | --- | --- | --- |
| Stock Trade Fee (flat) | $5.00 | $4.95 | $0.00 | $4.95 | $4.95 |
| Options Base Fee | $5.00 | $4.95 | $0.00 | $4.95 | $4.95 |
| Options Per Contract Fee | $0.50 | $0.50 | $0.00 | $0.65 | $0.65 |
| Mutual Fund Trade Fee | $25.00 | $20.00 | $0.00 | $9.95 | $49.95 |
| Broker Assisted Trades Fee | $25.00 | $25.00 | $19.95 | $20.00 | $25.00 |
| Commission-Free ETFs | 0 | 5 | 703 | 100 | 244 |
| Commissions & Fees | | | | | |
Trading fees aside, ChoiceTrade makes its web platform, ChoiceTrader, freely available to all clients. Three additional platforms are also made available to clients. These come with a base monthly subscription fee + any additional data fees: QuoteStream ($14.95 – $29.95 per month), Direct Pro ($135 per month), and ChoiceTrade ELITE ($29.95 per month). As of the time of this review, ChoiceTrade ELITE had not yet launched.
Unfortunately, the free ChoiceTrader platform is poorly designed, difficult to use, and outdated. Because of this, ChoiceTrade is arguably betting on clients switching to a paid platform setup where it can extract extra dollars. Any monthly platform fee will immediately wipe out the benefits of cheap trades, especially for casual or new investors.
Customer Service
ChoiceTrade performed poorly during our customer service testing. In fact, the broker ranked dead last overall and 14th out of 16 brokers for email. Without question, ChoiceTrade is the worst broker in the industry for customer service.
Platforms & Tools
Since the supplemental paid trading platforms are all third party provided, I focused my testing on the in-house ChoiceTrader platform. In short, it is the worst trading platform I have ever used.

ChoiceTrade trade platform.
It's difficult to find positives with the ChoiceTrader platform, but here goes nothing. The good news is that ChoiceTrader is free to use and provides clients a way to place trades fairly seamlessly (once you learn how to place using the confusing menu structure). The platform includes basic charting as well as advanced charting, with 20 optional studies, time and sales, basic level II quotes, and option P&L charts.
That's the plus side of ChoiceTrader. The platform provides a free way to place stock and options trades and do some simple analysis.
The drawbacks to this platform are endless. Even basic price alerts cannot be set, there are no drawing tools for charts, no stock or option screeners to scan for stock ideas, no advanced options tools; the list goes on and on.
Now for the drawbacks. Immediately I realized that navigating the platform and finding the right tools was painfully difficult. Under the Research tab is a link for Watchlists; however, navigating to them leads you to a dead page. Instead, you have to use the WatchPlus tool, which consolidates all your pre-filled trade orders that haven't yet been executed. The only way to add to the list is to fill out the trade ticket, then click a small button in a popup window.

ChoiceTrade watch list.
The same confusing experience is present with charting as well. Pull up a quote for a security and you will find a very basic stock chart with no analysis tools present. To pull up an advanced stock chart, you must enter a symbol using the left sidebar quote box, click a tiny bars icon, then from the popup window that appears, click over to the "Comparison Chart." It's a journey.

ChoiceTrade stock chart.
The drawbacks to this platform are endless. Even basic price alerts cannot be set, there are no drawing tools for charts, no stock or option screeners to scan for stock ideas, no advanced options tools; the list goes on and on.
Bottom line, if you are going to use ChoiceTrader, it should only be relied on for pulling basic price quotes, filling out order tickets, and executing trades thereafter. That's it.
Other Notes
ChoiceTrade offers little to no research. Beyond pulling basic stock quotes and conducting elementary research such as viewing a balance sheet or income statement, the equities research is weak. Equities aside, ETFs and mutual funds research is non-existent.


ChoiceTrade stock quote.
On the mobile front, ChoiceTrade offers no native mobile apps. While you can login and place trades in a mobile-friendly website, there are no native iOS and Android apps to download unless you upgrade to a paid third-party platform.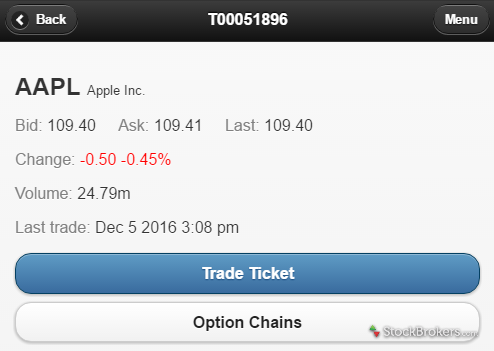 ChoiceTrade mobile trades.
As far as educational resources go, ChoiceTrade offers a basic investor dictionary and several education articles on options. The highlight is a resource page that breaks down the most popular options trading strategies with descriptions and reference images. This standout page aside, no webinars are offered and ChoiceTrade provides no other educational content to its clients.

ChoiceTrade options education.
ChoiceTrade offers IRAs but charges a $25 setup fee, a $50 annual custodial fee, and a $50 IRA closure fee when closing the account. Needless to say, do not use ChoiceTrade for your IRA.
Final Thoughts
With ChoiceTrade having been in operation since 2000 and with its focus on discounted stock as well as options trades, I was optimistic my assessment would uncover a winner.
Unfortunately, what I found were dozens of reasons explaining why the broker has had little success and remains elusive to the online investor world.
If you want relatively cheap stock and options trades with a method of placing them online without incurring additional monthly charges, then the ChoiceTrader platform is a viable option, despite its slew of drawbacks.
However, the reality is that to achieve even a decent experience using ChoiceTrade, you will need to pay monthly for access to a third-party platform. Even with a paid platform in place, clients must still be aware of ChoiceTrade's expensive miscellaneous account fees.
The bottom-line? Even if ChoiceTrade's commissions were $0, I still wouldn't trust it with my portfolio or want to use them for my day-to-day investing.
Methodology
For our 2017 Stock Broker Review we assessed, rated, and ranked sixteen different online brokers over a period of six months. In total, we conducted 349 customer service tests, collected 5,277 data points, and produced over 40,000 words of research. How we test.
Related Guides
View all ChoiceTrade Fees & Features
---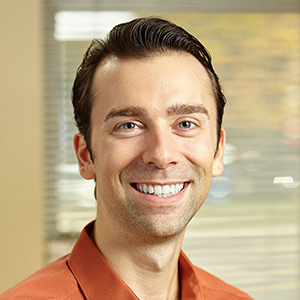 Reviewed by Blain Reinkensmeyer Blain heads research at StockBrokers.com and developed the site's annual review format, which broker executives consider the most thorough in the industry. He has placed over 1,000 stock, options, forex, and crypto trades since 2001.
ChoiceTrade Competitors
Select one or more of these brokers to compare against ChoiceTrade.
---
Ratings Overall
*ChoiceTrade was not included in the latest annual review, as a result this data may not be up to date.
Summary
Offering of Investments
Platforms & Tools
Research
Customer Service
Ease of Use
Education
Banking